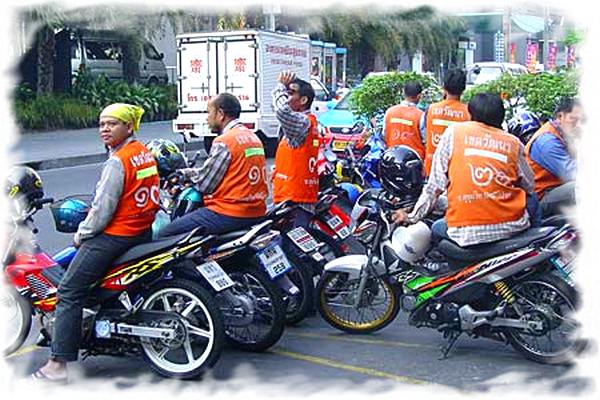 Since October 2017, Pattaya has introduced new rules for the provision of motorbike taxi services, as well as strict rules of conduct for Thai drivers who carry passengers on motorcycles and mopeds. In the last days of September, 2017, local authorities conducted a special control raid, which revealed some negative aspects in the provision of motorbike taxi services. At the same time, the commission, which visited 6 popular parking lots for motorbike taxi, reminded seven new rules by which they should be guided in their work. In this case, the most important for tourists in Pattaya will be the first two rules, compliance with which will avoid a number of controversial points and conflict situations, often arising in the process of transporting passengers to motorbike taxi.
So, the first rule is the mandatory availability of the price list for the driver of a motorcycle taxi. The price list should indicate the fixed cost of the trip for all distances. Fulfillment of this requirement will allow each passenger to know in advance the price of the trip. The second rule is that transportation of more than two passengers on one motorcycle (motorbike) is forbidden. At first glance, this rule should make the trip more expensive, but in fact, when transporting two or more (which is not uncommon) passengers on mototaxi in Pattaya, in any case, tourists had to pay for each passenger. Compliance with the new rule should improve the safety of passenger transportation and the level of their comfort.
The third rule, which is not as important as the first two, prohibits motor taxi drivers from attracting the attention of pedestrians (potential customers) with loud cries, a sound signal and a clap of hands. The remaining 4 rules regulate the behavior of motorbike drivers in parking lots and generally during the whole work shift: they can not to drink alcohol while working; they need have an ID card, they can not gamble during working hours (taxi drivers are often make it in parking lots, especially when there are few potential customers). Also they can not obstruct the traffic on the streets and alleys throught parked motorcycles.
Violation of each of the specified rules will entail the imposition of penalties (both in cash, and in the form of temporary confiscation of the vehicle or temporary suspension of the license). Also moto taxi drivers need urged to monitor cleanliness and order at special parking lots and in rest areas. It is hoped that the new rules will really make the motorcycle taxi service in Pattaya more convenient and safe for passengers.





(1 votes, average: 5.00 out of 5)


Loading...