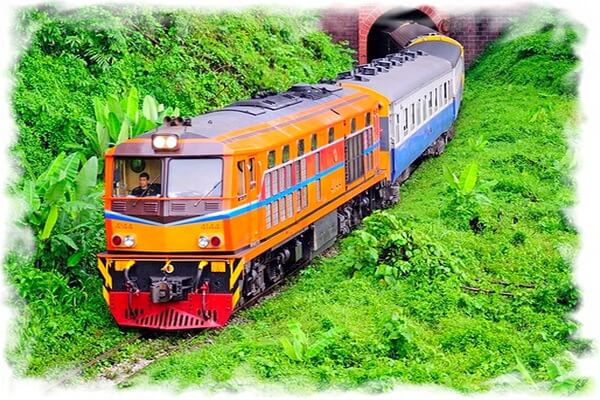 In Thailand, a new train route was launched, connecting the capital of Bangkok and a popular resort on the shores of the Gulf of Thailand – Pattaya. The main goal of such a railway route is to stimulate domestic tourism in the country. At the same time the route ends not in Pattaya, but approximately 30 kilometers to the south – in the city of Sattahip. By the way, it is in the Sattahip area that there are popular beaches with white sand, clear water and a beautiful coastline, where tourists from Pattaya come every year. And it is in the Sattahip area that the famous "military beach" or "Beach of the dancing girl" and Utapao International Airport are located.
The new Bangkok-Bang Plu Ta Luang train (the name of the final railway station in the Sattahip area) will carry passengers in a test mode for six months – from March 17 to the end of September 2018. In the future, a conclusion will be made about the expediency of this railway route. Unfortunately, at the first stage this train is a "weekend train" and will carry passengers only on Saturday and Sunday. Currently, the train timetable is the following: departure from Bangkok at 06:45 am, and the train should arrive at 09:50 on the final station Ban Plu Ta Luang. The return journey begins at 15:50 to arrive at 18:55 at the central Hua Lamphong railway station in Bangkok.
The fare on the train between the first and last stations is 170 THB one way. At the same time the train is equipped with air conditioning, but it is not a express train. Therefore, while the train is moving between Bangkok and Ban Plu Ta Luang, there are several stops. However, such stops are justified, because they are located in the area popular facilities for foreign tourists and local residents. For example, the train stops at Si Racha (where a famous tiger zoo is located), in North Pattaya, in the vicinity of Nong Nooch Park and Pattaya Floating Market, in Wat Yan Sang Wararam (the famous temple of Wat Yan). At the indicated stops of the train passengers, an inexpensive public transport will already be waiting, which will deliver directly to the nearest attractions and to the train departing station in the opposite direction.





(1 votes, average: 5.00 out of 5)


Loading...