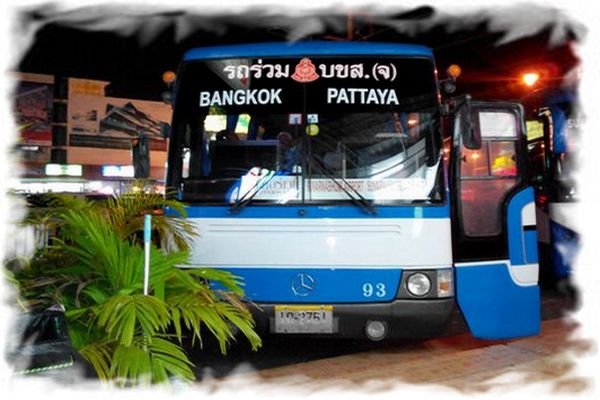 During a holiday in Pattaya, many tourists will sooner or later face the need to travel to Bangkok to visit the capital's attractions, shopping centers, airports and so on. Way to Bangkok from Pattaya can be very easy, because distance between Bangkok and Pattaya a total of about 150 km and the bus journey from Pattaya to Bangkok takes an average of about two hours. If you want use a taxi, this ride takes you even less time. The article describes the options and the cost of travel from Pattaya – Bangkok. Also you can find a few practical advice, which of the modes of transport is better to choose in a particular situation.

CONTENTS OF ARTICLE ( you can click on the link for quick transition)
Taxi from Pattaya to Bangkok – advantages and disadvantages
I just want to clarify, just in case that this article describes ways to get from Pattaya to Bangkok-city, not to one of the airports of thai capital. For more information about how to get to the Suvarnabhumi and Don Muang, using taxis and other modes of transport, you need read another detailed article How to get from Pattaya to Bangkok airports. One of the easiest ways, allowing all independent travelers to get from Pattaya to Bangkok is a classic taxi in Pattaya. The disadvantage in this method, only one – the higher price, especially if you are traveling alone and are not able to find fellow travelers with whom it would be possible to share travel expenses. Find a taxi in Pattaya is easy, even if you did not know English and, especially, the Thai language.
Firstly, you can order a taxi car in most hotels and guesthouses of resort. Even if you do not live in a luxury hotel, which have is near the parking with a lot of free taxi cars, just tell at the reception about your  need.  You can say three little words, "Taxi to Bangkok" and in 99%  cases you will be offered this service. As a rule, the cost of travel from Pattaya to Bangkok airport, from Pattaya to the BTS SkyTrain line or from Pattaya to one of the bus stations (mostly Eastern Bus Terminal Ekkamai) – will be 1,000-1,500 baht. If from you require more – you can bargain, or look for a taxi elsewhere.
Also you can find free taxi car in a typical places for this. I mean parking near one of the shopping centers of Pattaya, for example, Royal Garden Plaza or Central Festival, where passengers usually expect a number of taxis or you can order taxi from Pattaya to Bangkok in one of the numerous street points, offering taxi service. In the first case also need to specify in advance the cost of travel and who will pay for toll roads, and the second most often used for trips to the airport and has a fixed cost (but sometimes you can bargain too).
Of the advantages of taxi from Pattaya to Bangkok may be noted his speed (although not much faster than a normal bus), a slightly higher level of comfort and the ability to make way from Pattaya to Bangkok at any time of the day, because you can not use the minibuses and buses from Pattaya to Bangkok at night, when your flight can be early in the morning or in the middle of the night. Keep in mind that taxis in Thailand are usually running on liquefied gas, and gas bottle takes a lot of space in the trunk. Therefore, more than three passengers, especially with luggage, taxi drivers do not want to take.
Transfer Pattaya-Bangkok – easy, quickly and comfortably
Transfer Pattaya-Bangkok may be one of the most convenient options in the event that you are accustomed to plan in advance for all of your expenses and when you are not traveling alone, but with family or a group of several persons. Wanting to use the shuttle Pattaya-Bangkok, you can know in advance the cost of way and cost of additional services. Unlike a taxi in Pattaya, all the cars of the best international Service Kiwitaxi have at least four seats and have full size luggage department for your suitcases or for your backpacks for travel. It is important that when you are traveling in a big company or a family of 5-6 people, you can pre-order the minivan. And it will cost you much cheaper than if you ordered two taxi cars in Pattaya to bangkok or to other place in Thailand.
If we talk about the additional services that you can order via the website of the company Kiwi-taxi, it is, primarily, children's car seats – the key to a safe trip for your child. It is also possible to order a car for transportation of oversized baggage (eg bicycle or surfboard). You have the opportunity to order is not a simple budget car, and the car business class or even a limousine. An important advantage is the fact that pay for the service on a transfer Pattaya-Bangkok can be made online – using your debit or credit card. This fact will allow you to avoid extra costs to exchange your currency for money in Thailand.
Benefits of Kiwitaxi does not end described above. You can add the ability to cancel the booking without any loss of money, the ability to change the date or trip time and so on. I sure, one of most important benefits of transfer Pattaya-Bangkok – it is possible to specify your destination. As a result, the driver in advance can to prepare for the trip and he will choose the fastest and most convenient route. Because drivers of classic taxi in Pattaya often people from the Thai provinces and they do not know the streets of Bangkok very good. Therefore you can lose a very long time in the metropolitan traffic jams.
Of course, the use of the best international Service Kiwitaxi is just one of the options that allow you to easily organize shuttle Pattaya-Bangkok. Often, you can order a transfer by this route directly in your hotel. Service fee in this case often depends on the respectability of the hotel, your bargaining skills and the tourist season.
Bus from Pattaya to Bangkok – cheap and comfortable!
One of the most affordable, fast and practical way to get from Pattaya to Bangkok without intermediaries – conventional buses, which from early morning until evening run between the capital and the resort bus stations. In the article "Pattaya bus stations – detailed review" I have already given a description of the objects and methods to quickly and cheaply get to them from different areas of the resort. Therefore, below, in order not to be repeated, i just will give you some advice about  which of bus stations is better to use in a particular situation and the cost of travel from Pattaya to various destinations in Bangkok.
If you are going to get to one of the Bangkok bus terminals from Pattaya by bus, your unconditional choice – North Pattaya bus station, where buses depart at once to all of bus stations in Bangkok. You just have to explore any Bangkok map with hotels and attractions, and understand how the area you are interested in most of all, ie, from which of the bus station in the capital, you will be faster and more convenient access to the booked hotel, shopping centers or other object. If not much difference and would still need to use the local transport – the easiest way to get to the Ekkamai Bus Station (Eastern bus terminal in Bangkok), because next to it is the same name BTS Skytrain Station. Some distance by taxi or motorcycle taxi would have to do to get to the BTS Skytrain or subway from Bangkok's Northern Bus Terminal (Mo Chit bus station).
Also, this way can be done on foot, having a little along the motorway and going through a rather big Chatuchak park in Bangkok. Southern metropolitan bus station is located in the western part of the city, very far from all subway lines, but the bus station is the best choice when you want to go out from Bangkok to one of the southern resorts in Thailand – Krabi province, on the island of Phuket or coconut island – Koh Samui.
Arriving at the bus station in North Pattaya, you should buy a ticket to one of the three window under a canopy (see. Photo above). Each ticket office sells tickets only to one of bus station in Bangkok, but sometimes one of the banks does not work, then you can buy tickets in the next. As a rule, near the window you can see fare of  bus, as well as the departure time of the next bus, on which by default, and sells tickets. So if you're ready to go – just give money and specify the number of tickets. If you want to buy a ticket at a later time or on another day – tell about it to the cashier.
The fare on the bus to the Ekkamai bus station and to the Southern Bus Terminal in Bangkok –  is 124 baht, while the price of the ticket for the bus to Mo Chit bus station – 133 baht. More higher price in the latter case due not only to the large distance of Pattaya, but also travel on toll road (by the way, is now part of the road close to Pattaya reconstructed and expanded, so the movement speed drops significantly). Most of all I like to travel to the Eastern Bus Terminal (Ekkamai bus station)- the fastest way and metro nearby, great saves time on vacation.
You can remember that the last bus to Ekkamai Bus Station in Bangkok go in 23-00, bus to the Mo Chit bus station – already at 21-00, and last bus to the Bangkok southern bus terminal – altogether in 19-30 (in latter case i not sure, see table next to the cash register ). By the way, on the same bus station, in the 4th window, which  called Mukdahan (name of the bus company), you can purchase a ticket for the yellow bus to Samui (in the article "How to get from Pattaya to Koh Samui: all options" –  you can read about this bus, about his fare and about his schedule for more details.
When you have a bus ticket Pattaya to Bangkok, you can wait for a bus in the waiting room, which is located a little further to the right and under the same roof. There you can buy drinks and snacks for the road, and also you can eat some food as a snack on site (there are a few tables and chairs). Given the fact that the buses run very often, the wait will not be long. Planting is carried out with the platforms to exit gate opens to buses as the latest arrival. In the hall you can see a large electronic scoreboard, which shows information about the departure time of buses, their final destination in Bangkok and side number (the latter is usually imprinted in the ticket).
The buses have a luggage compartment, but the distance between rows of seats is large enough for the free placement of the feet and medium-sized backpacks. To avoid confusion (and in my experience they happen almost every time), remember one rule: in Thai bus the seat numbers indicated on the backside. Many foreigners are not aware of this and take someone else's place, then the confusion begins. For example, in the photo below, you can think that I'm with my girl takes the place №5 and №6. In reality, we are sitting on the seats №9 and №10, (numbers written on the backside of the back of our seats).
The most budget option: Pattaya-Bangkok by minibus
The most budget way to get from Pattaya to Bangkok alone (not including walking and hitchhiking)  – minibus with price 98 Baht. This type of transport is actively used by local residents, so go to such route minibuses very frequently – every 20-30 minutes. At the same time begin to walk the white Toyota minibus with yellow license plate in the 06-00 am and ends at 20:00 PM. Landing on a minibus Pattaya-Bangkok carried out at the beginning of Walking Street in Pattaya, in the area of South street between Pattaya Walking Street and Second Rd (second street), as well as on the very second the street near a jewelry store Tharuthong Gold Shop. On the map below points of landing respectively marked in red, blue and green.
Unfortunately, I can not say which of these points is final point, because i used this minibus just in the opposite direction and go out on the Second Road. Logically, it is the ultimate Walking Street, but because the latter is blocked to traffic at 18.00, better to look for minibus to Bangkok in the evening on the other points. Minibus arrives at a small bus station in Bangkok, near the metro station Victory Monument. The location of the bus station, I have already described in detail in the article "How to get from Bangkok to Pattaya: all ways." Ibid describes the main disadvantages of this transport, because of which I am now prefer to use regular buses, although they are slightly more expensive.
I hope that you read this whole long, but informative article and now you know exactly all the options of how to get from Pattaya to Bangkok, the price of these options, their main advantages and disadvantages. Enjoy your travels!

Easy search of tickets for buses, trains, ferries and transfers in Thailand and other Asian countries (support for many languages).
International online booking service for taxis and transfers from airports around the world. Fixed prices and many payment methods before and after the trip.
Quick search for the best hotel prices right in all popular reservation systems. The service compares and displays the best-priced options for your dates. Discounts for hotels up to 50%.
My favorite site for searching airline tickets. Quick search for the best price from 750 world airlines and from the largest dealers in your region
Easy search and armoring of motorcycles, mopeds and bicycles in Thailand and other Asian countries. Without a pledge of the original passport! Delivery to the hotel!
Rental cars and SUVs in Thailand at the best price and conditions. Fast search right in all popular reservation systems. The conclusion of a lease agreement online in your own language.