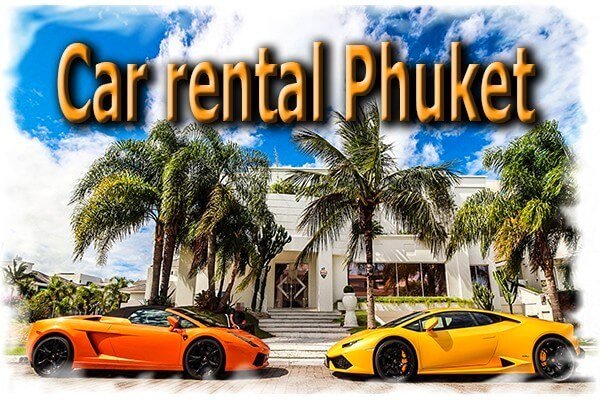 In recent years, car rental on Phuket island is an increasingly popular service. Many travelers have long realized that to spend your entire vacation on any one of the beach of this resort – not the best rest. On Phuket island dozens of great beaches and other places of interest, which you can visit only independently. Phuket Island is known for the fact that on this resort is practically not available inexpensive public transportation, and taxi drivers on the island each year are becoming more brazen and require unrealistically high amounts of money even for a short trip. Therefore rent a car in Phuket – a great alternative, which giving the feeling of freedom of movement and this service allows to save a lot of money for active travelers. Full information about the car rental benefits, about the cost of this service and secrets of car rental in Phuket can be found below.

CONTENTS OF ARTICLE ( you can click on the link for quick transition)
Advantages of car rental in Phuket
If you are flying to Phuket as part of a group tour and you will travel for free by shuttle bus to the hotel from the airport and back. If you plan that all the time you will move around only near your hotel and in the area of nearby beach, it mean that rent a car in Phuket you definitely should not. Also, this service will not be available to you in the event that you or your companions do not know how to drive a car. But if you are an active tourist who wants to visit all the interesting places in Phuket to visit the most beautiful beaches of the island with a minimum number of tourists, or go on a fascinating trip by car to the neighboring resorts – for example, to the Krabi province – you definitely should think about renting a car Phuket. Especially that this service not only makes the vacation more complete, but also saves a lot of money.
One of the main disadvantages of Phuket – the presence of the local "mafia" of taxi drivers and tuk-tuk drivers. Local authorities, which every year promise to solve the problem of unreasonably high tariffs for travel in a taxi, in reality, nothing can change (I think they are interested in financially that nothing has changed). As a result, taxi drivers and tuk-tuks want to take from you about 8-10 USD for a ten-minute trip to the nearby beach and the same amount for the return journey. And this in a situation where the cost of renting a modern car with automatic transmission is 20-30 USD per day. Those. even for small trips to the nearby beach is more profitable to rent a car than to use local transport. And if you are going to visit the viewing platforms, lonely beaches, markets and shopping centers of the island – rent a car would be much cheaper than using a taxi for this purpose. Of course, in some cases it is convenient to use a motorbike, but there are also some nuances, which can be found on the page "What is better for rent in Phuket – car or motorbike."
Where you can rent a car in Phuket
It is possible to rent a car in Phuket as in large international companies and small local offices for car rental. In general, car rental service is very popular in Phuket and in general in Thailand, so in the country are almost all global companies in this area: Hertz, Avis, National, Budget, Europcar, etc. Typically, most offices are located in the airport and on popular beaches also. Rent for a day is an average of 900 THB or more (depending on the vehicle class), and may be slightly reduced during long-term lease. The advantage of this option is a big fleet of modern vehicles with automatic transmission (and this is very good for the right-hand drive vehicles, especially if in the your country car steering wheel on the left side ), the availability of insurance against theft and accidents and good technical condition of vehicles.
The second option – rent a car in small private offices, which are located on the popular beaches. The cost of renting here will be similar or even higher (possible bargain), and the technical condition of the car can be both good and bad. Among the possible problems – fraud when you return the car, when the car owner requires the  money to repair the alleged new scratches on the body or increased compensation for repair costs in case of accident. Also, some shortcoming is registration of the contract only in Thai. I do not discourage you to use a lease option in small local firms, but I advise you very carefully inspect the car before renting and fixing even minor damage on a special form (especially on the bumpers, sills, wheels and tires), carefully examine the insurance and the availability of the franchise, as well as in any case do not leave your passport as a deposit.
When renting a car on the island in large rolling offices, you can avoid most of the problems identified. It is important that rent a car in Phuket, you can immediately after arrival to the island, because the major car rental companies have offices at the airport. Think for yourself: a taxi ride to the beaches of Karon and Kata will cost you 900-1000 baht in the one direction and the same fare back. In the same amount would cost you to rent a car for a day, ie, Two days rent to some extent can be considered for free. Unlike private companies, which concerned about the maximum benefit for themselves one times, major car rental companies strive to provide the highest quality service and making you a regular customer (not just at the time of rental in Phuket, but also in other countries).
The advantages of car rental in Phuket online
The main advantage of renting a car in Phuket in large rolling offices – the possibility of online booking and big discounts for long-term lease. Also is better to book a car in Phuket Airport are not directly in a particular company, and use the services of a special broker, which has information on all available cars on your dates. That broker is an international service "Rentalcars", through which you can in a few minutes to check the presence of vehicles on the dates you have selected at once in all rolling offices, choose your favorite model, to quickly compare prices and terms of the car rent Phuket. Using online search car rental service, you can use a number of important advantages of this service:
★ Automatically receive significant discounts on long-term lease (just check the price of rent for a day or for a week and you'll see it);
★ An important advantage for the foreign customers – service support more than 40 popular languages and you will sign the contract for your native language. Even if you know good English, to understand some of the technical issues in their native language will be much easier and faster.
★ Free cancellation of booking cars in Phuket (if the trip to the island fell through or otherwise);
★ The lack of limits on daily mileage;
★ The absence of a ban on travel outside of Phuket;
★ Save time – you have an opportunity for a few minutes to check the prices and conditions at once all existing rolling offices, without having to visit the office of each of them;
★ Possibility to read reviews and see ratings of car rental companies on various criteria;
★ Saving of money. Early booking allows you to select a car at the best price, while on arrival at Phuket your choice will be severely limited by the remaining cars are not the best price. In addition, lower prices than under the direct renting in a car rental company online.
★ The ability to pre-book a car with one or more children's seats from 100 baht per day;
★ professional counseling and service in your native language.
Rent a car in Phuket: practical tips
As I wrote earlier, it is best to use an online service for booking Rentalcars, which has been operating for many years and is the most authoritative in the field of car rental in the world. However, you should know a few nuances, which are listed below.
The price of rent cars in Phuket is very dependent on the length of rental
Do not look for a car for one day – it's not too rational, and you will be pleasantly surprised when you see the price of a long-term lease. For example, rent a beautiful new SUV Honda BRV with an automatic transmission for a day will be 55-60 USD, but if you rent this car for 5 days, you will pay only $ 40 per day. If the four of you, it's only about $ 10 per day per person! If you rent this car for a month, the price will fall below 35 USD per day. The situation is similar to the low-end cars. One day rental costs about 30 USD, and when renting for at least three days, the price is reduced to 24-25 USD per day or up to 18-19 USD per day when renting for a month.
Pay attention to the presence of the franchise and its size
Almost all the cars, that you can rent in Phuket, presuppose the existence of the franchise, ie, the minimum amount that is not covered by insurance. As a rule, the amount of the franchise is from 4,000 to 10,000 Baht (or from 110 to 290 USD). This means that the insurance company reimburse all damage just over specified in the contract amount, and smaller damage of a car you must to reimburse from your wallet. Given the fact that the most frequent vehicle injuries are scratches on the body or broken lights, this is for you is not very favorable conditions. However, there is good news: if you carefully read the terms of the lease, you may notice that some car rental companies in Phuket offer insurance at "zero deductible", ie absolutely all the damage paid by the insurance company. I recommend that you use such the lease option, even though it will cost 10-20 USD per week more.
If the selected vehicle can not be booked without any franchise, you can choose a company with a minimum deductible. And remember that the franchise is not in order to get from you as much money as possible. Rather, it is an incentive for a more responsible and careful use of car and maintain in good condition for the next customer. Therefore, it is not a reason to avoid the rental car in Phuket (unless, of course, this is not a small private hire firm with questionable quality cars and a deductible in the amount of 10-15 thousand baht). When using the recommended service online booking of cars, the presence of a franchise can be seen in the chapter  "Ts &Cs", which can be found next to the car rental company under the photo of the selected car. By the way, for some reason most often rental without deductible available when renting SUVs.
Use your smartphone as a road navigator
Most car rental companies will offer you rent navigator. It would seem very convenient in travel to another country thing, if it were not for one circumstance. Often (but not always) rental price of this equipment is almost half the cost of renting a car, all that defies any logic. More cheap for you to buy a navigator and take it than to rent. Therefore, if you want to save money and to use this device while resting, set the mobile road navigator  on your smartphone and upload useful maps (in this case, map of Phuket or full map of Thailand). To date, there are free maps, but you can use generally Google Maps if you wish, though it will have to use the mobile Internet in Thailand.
Better to book a car rental at Phuket airport and advance
As has been described above, early booking increases your chances of finding the right car class with attractive price. Moreover, when you try to book a car for a few days before the flight to Phuket, you can see in the search results for you sad phrase, "We're sorry, but the companies we work with in Phuket don't have any cars available." By the way, almost all rental companies offer a free cancellation of the reservation 48 hours before the commencement of the lease, so you need not worry about losing money when, for whatever reason, you can not to be on holiday in Phuket or a rental car on the island.
Specify the point of receipt and return of the vehicle when searching
Although it is possible to return the car in a different place, such a possibility is often charged extra. In the case of Phuket it is possible to rent a car at the airport and return it to another location (for example, in Patong) at no additional cost. This option is useful in cases when you rent a car in Phuket is not the whole period of leave, but only for a few days. It is not always for free, so you need compare prices and decide exactly what is more important and more convenient (car return in a different place or to save money). Please note that online car booking system, the standard error may be present in some browsers. When you do not specify the item return of the car, then on any date, even in half a year, you may see a message about the lack of cars on the selected day or period. When filling out all of the search form, the cars on the same dates miraculously appear :).
Use a credit card to rent cars in Phuket
International experience in the field of car rental includes the use of credit card. Please note: not debit or prepaid cards, namely credit card. Of course, just the amount for a rental car in Phuket you can pay the usual bank card over the Internet. But when you show the usual banking debit card in the process of registration of the lease at the rental desk, if even on the balance of this card will be the amount of money which would be enough to buy a car entirely, you can be denied in car rentals and even pay a fine of 1-2 days car rental.
Therefore I recommend to learn the offers of banks in your area and choose a credit card with the best terms and conditions. A rental car company usually "freezes" a certain amount in the account (for example, $ 200 or $ 500) to the end of the lease. Therefore, it is desirable that your bank is not charged for such a temporary "freeze money" commission. When you return the vehicle the deposit amount is returned to the account, but this procedure sometimes takes more than a week. In some cases, you can negotiate and make a deposit in cash. In this case, immediately after the return of the car, amount will be refunded to your wallet.
Terms of rental car in Phuket and order of booking
Since each car rental company offers its own conditions for car rental in Phuket, it makes no sense to dwell on this question in this article and waste your precious time. You can get acquainted with such conditions on the corresponding tab in the search results (see. Figure). There are painted in detail the requirements for documents, credit cards, fuel policy, rules for obtaining and return lists included and not included in the price of cars in Phuket services, etc. In general, the rules are almost identical, but you can find some differences too.
Once you have chosen a car that you are satisfied with the cost and terms of the lease, you must click on the button "Book Now" and select additional options if necessary. For example, you can get additional insurance with full coverage on everything damage (including glass and wheels) and theft, but in my opinion the cost of this service is too high, especially if you already have chosen cars with zero deductible. About rent road navigator I wrote above, but at rest with children in Phuket rent a baby seat will not be superfluous. On this same page, you may notice that additional options are payable in cash when receiving the car.
Next, go to the booking page and write your contact information: name, surname, email address, etc. and click on the button "Book Now". After payment to your email arrives your full contract with the service description (with using your native language). All documents, it is desirable to print and take with you to Phuket, but can simply be stored in electronic form on the smartphone. Then you arrive at Phuket and go with the documents (passport, driving license, credit card etc.) to the selected car rental companies. Please note that vehicle inspection and final clearance is required from 30 minutes to an hour.
During the inspection (and it happens even at zero franchise) note any damage and test the air conditioner, window washer, headlights, brake lights and other lighting devices (as is done in front of safety standards). And when you will be return the car, make sure that an manager of office wrote in a sheet inspection by the fact that you returned the car without new damage (if they were not in reality), and with a full tank. This will be an additional guarantee that your deposit amount not will be written off after no "to compensation for damage", which was not in really. However, such cases of fraud usually occur only with small private offices for car rental.
I Hope, the information in this article will allow you to cast aside all doubts and use in practice all the advantages of car rental in Phuket, raising their vacation on the island on a completely different level. Observe the traffic regulations, do not drive drunk, and enjoy your holiday. And if you've rented a car in Phuket before, your feedback can be left in the comments to this article. Wish you enjoyable and safe journeys!

Easy search of tickets for buses, trains, ferries and transfers in Thailand and other Asian countries (support for many languages).
International online booking service for taxis and transfers from airports around the world. Fixed prices and many payment methods before and after the trip.
Quick search for the best hotel prices right in all popular reservation systems. The service compares and displays the best-priced options for your dates. Discounts for hotels up to 50%.
My favorite site for searching airline tickets. Quick search for the best price from 750 world airlines and from the largest dealers in your region
Easy search and armoring of motorcycles, mopeds and bicycles in Thailand and other Asian countries. Without a pledge of the original passport! Delivery to the hotel!
Rental cars and SUVs in Thailand at the best price and conditions. Fast search right in all popular reservation systems. The conclusion of a lease agreement online in your own language.