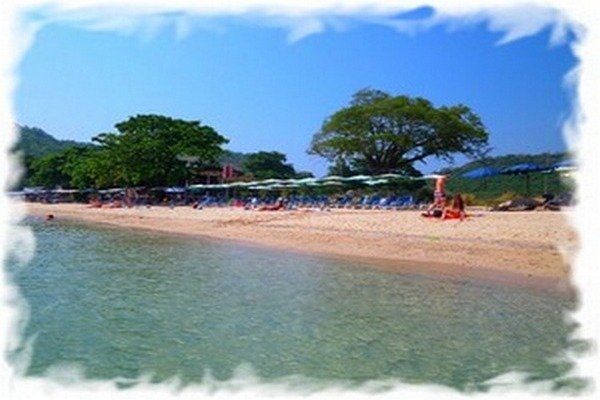 The Nual beach on Koh Larn near Pattaya is better known as Monkey Beach, but if you want to get to this beach using local transport (which is almost certainly will be  island motorcycle taxi), it's better to still use the official beach name. By the way, on the large shields with the map of Koh Larn island, which are near the ferry piers of this island, this beach is also designated as Nual beach.
In the article "Beaches of the island of Koh Larn: description and map" I have already given a brief overview of this beach along with others. However, with using one photo and a brief description is difficult to imagine what is remarkable about this beach and whether it is worth wasting your time visiting it. In my opinion, the beach is very interesting and worth a visit, but after reading the information on this page (photos, video clips and text information), you can make your own decision about whether you want to visit Monkey beach or not.
Location of Nual beach (Monkey beach) on Koh Larn
The relatively remote location of Monkey Beach on Ko Larn from both island piers makes this place quite relaxing. Of course, on the beach at the same time rest dozens of people (maybe sometimes a couple of hundred), but everything is known in comparison. So if you compare Tawaen beach on Koh Larn, where resting thousands of Chinese (and other) tourists, the beach Nual beach can be called silent and calm.
To date, there are two main ways to get to the Monkey Beach on Koh Larn: motorbike taxi and rented motobike. With the first option, everything is clear: pay 40 baht per person (sometimes a motorbike driver can claim 50 baht for a trip, but in any time not problem to find other motorbike, driver of which can drive you for 40 THB to the central part of Monkey beach, where just a small parking is located. After it you can simply walk along the beach and choose the place, which you like.
The second option is convenient to use when you two, when you want to visit several beaches in one day and just when you just like to ride motorbike, managing it yourself. Otherwise, the economic feasibility of such a method of movement from any of the Koh Larn piers is absent. Especially when renting a motorbike in the Tawaen beach area, where the cost of renting a motorbike per day is 300 baht (in the Naban pier area it is 1.5 times cheaper – see the article "Transport on the island of Koh Larn: practical advice").
I usually use the second option just because I like to drive motobike in Thailand. However, here I will briefly describe how to get by a motorbike to Nual beach from the pier of the island village of Naban (east coast of Ko Lana) and from the pier of Tawaen beach in the northern part of the island. It's easier and cheaper to get to Monkey Beach from Naban Pier. The distance that you have to overcome is about 3 km on a narrow road along the coast of the island, which is paved with sidewalk tiles (like all roads on the island of Koh Larn)
The main difficulty at the very beginning of the journey: if you stand with your back to the pier, you need to go to the road that runs along the entire western coast of the island (yellow line on the map). At the beginning of the journey, this will not be a road, but a narrow street filled with pedestrians in the village. You have to move very carefully, because pedestrians and other motorcycles are always on your way. Fortunately, this stretch of road does not exceed 150 meters, so you will soon see a beautiful Buddhist temple, which is one of the attractions of Koh Larn. You do not need to turn, i.e. The temple should be on your right as you go or drive.
Next, you need to move all the time straight and do not fold at small intersections. The road is not too picturesque because of the absence of large trees: on the roadside only shrubs and tall grass. Be very careful when you driving on the area road sections where there is a lot of sand: it's very easy to lose motobike control and fall, and any fall on motobike is a very unpleasant thing (and often very expensive). A little less than three kilometers after the temple you will find yourself in the parking lot of the Monkey bech beach on the island of Koh Larn.
A slightly more complicated and long way to the Nual beach is to be done if you arrived at Ko Larn on the ferry pier of Tawaen beach (red +yellow line on the map). After rent a motobike, you need at the very beginning of the road to overcome the most unpleasant for beginners section of the road: a steep "hairpin", i.e. A sharp climb with a more than 160-degree turn to the left. Remember about the left-hand traffic and try not to drive to the oncoming lane.
Then you should continue driving along the main road without turning anywhere. Having overcome a small pass (next to the cell phone network tower), you should go down from the hill and, after about half a kilometer, turn right (in principle, the road itself makes a turn), and after 50 meters turn left. Next, you have to go around the Buddhist temple on the left and move about three kilometers to the parking lot next to Nual beach, as described above.
When renting a motorbike on the beach of Tawaen beach, specify the possibility of returning to the pier near the Naban pier – and you are easier and closer, and the landlord is more comfortable. (As a rule, scooters are not kept at night on Tawaen beach and are brought to the village, hence the price difference). Finally, remember that it is better to leave money as a security rather than a passport. These and other subtleties are described in the article "Rent motobike in Thailand: the main rules."
Nual beach (Monkey bech) on Koh Larn – overview
Nual beach on Koh Larn is pleasant enough. In my new personal rating, he takes thrid place among all island's beaches. The beach is not very large – about 350 meters in length from edge to edge. If you stand facing the sea, on the left there are low cliffs, in some place covered with vegetation. It is near these rocks that you can meet monkeys who gave the beach Nual second name – Monkey Beach. Usually monkeys are most active in the morning hours and after the midday heat is gone. However, sometimes monkeys (marmosets) please (or frighten) holidaymakers with their presence and at middle of day.
The Monkey beach on Koh Larn is very convenient for a quiet, measured rest: there are no such crowds of tourists as on Tawaen beach, ferries and large boats do not dock here. Sometimes there are speedboats, but their number is also very moderate even in the high tourist season. Chinese tourists have already reached Nual Beach, but so far tourists are independent: couples or small companies of youth. It's not those big and walking groups of 30-50 china people, like on some other beaches of the island.
As you can see in the photo and video, the water on Monkey Beach has excellent transparency, although it does not have such a beautiful color as not some other beaches of the island with white sand at the bottom. On the Nual Beach, the yellowish shade of sand with interspersed shells predominates. However, you can walk on sand even in the heat without fear of frying the skin on your feet.
Looking at the photos and videos, you can see that the beach does not have a particular beauty: a little vegetation, a minimum of palms… However, I still like to rest on it. Firstly, I do not like just lying in the sun under umbrellas or without them. Those who like to relax so much, will easily find plenty of sun loungers and umbrellas. I really like that on the beach grow trees with a very spreading crown, in the shade of which you can just lie down, look at the sea, listen to the sound of waves or your favorite music.
Secondly, I like the fact that there are few people on the beach: there are plenty of unoccupied sun loungers, which makes it almost always possible to choose a good place without noisy "neighbors". Thirdly, it is on this beach you can find very comfortable sunbeds. Not ordinary, whish made of plastic, but woven, curved and with soft mattresses. There is nothing surprising that on these sunbeds it is pleasant not only to sunbathe, but also just to sleep, gaining strength for an active evening in Pattaya. True, such beds are available in limited quantities and are located mostly on the left side of the beach, near the rocks with monkeys. The cost of sun loungers is 100 baht per person for the whole day.
Food and drinks on the Nual beach (Koh Larn)
As I already wrote, the beach is rather short, therefore there are you not  are not many stray merchants with food, not same that in many other (more extended beaches of the island of Koh Lan). Perhaps this is simply unprofitable given the small (relative to other beaches) quantity of holidaymakers. As a result, you have to eat in a cafe located near the parking (in the central part of the beach). Also there is an opportunity to order drinks in other places, for example, near rocks with monkeys. There is an impromptu stand where you can order cocktails, fruit cervices and other soft drinks from Thailand.
Also near there are tables under a canopy, where you can look through the menu and order more serious dishes that allow you to satisfy hunger. Only food will be cooked not in place, but delivered from the same cafe in the central part of the beach. Prepare delicious, but not very fast. In addition, prices are also not encouraging compared to the more familiar to me local cafes in Pattaya, Koh Samui and, especially, in Bangkok. For example: two Thai dishes of rice with meat, vegetables, as well as a papaya salad, which my girl loves, + two shake cost about 500 baht. But compared to the prices in restaurants in Europe it is quite inexpensive ($ 15 for two person).
Therefore, if you want to save a bit, before going to Nual beach (Monkey Beach), do not be lazy to stop at the 7Eleven store in Naban village and buy inexpensive (though often not very healthy) snacks and drinks. Especially since the route to the Nual beach still passes near this shop. The toilet on the beach is located next to the cafe in the central part of Nual Beach. At this overview of this beach is over. I can only add that from entertainment is available a several jet ski, water skiing and climbing on hill with monkeys….
A small video from the beach Nual bech on Koh Larn is located on the page above. At the end of 2015, after the incident with a Russian child, who was bitten by a monkey (although the child himself caused aggression by an animal using a stick), local authorities decided to move wild monkeys from this beach to another place. However, in 2017, you can still meet monkeys on Nual Beach, and therefore the second name of this beach on the island of Koh Larn – Monkey Beach – is still relevant. Enjoy watching videos and relaxing on Nual beach (Monkey Beach)!

Easy search of tickets for buses, trains, ferries and transfers in Thailand and other Asian countries (support for many languages).
International online booking service for taxis and transfers from airports around the world. Fixed prices and many payment methods before and after the trip.
Quick search for the best hotel prices right in all popular reservation systems. The service compares and displays the best-priced options for your dates. Discounts for hotels up to 50%.
My favorite site for searching airline tickets. Quick search for the best price from 750 world airlines and from the largest dealers in your region
Easy search and armoring of motorcycles, mopeds and bicycles in Thailand and other Asian countries. Without a pledge of the original passport! Delivery to the hotel!
Rental cars and SUVs in Thailand at the best price and conditions. Fast search right in all popular reservation systems. The conclusion of a lease agreement online in your own language.