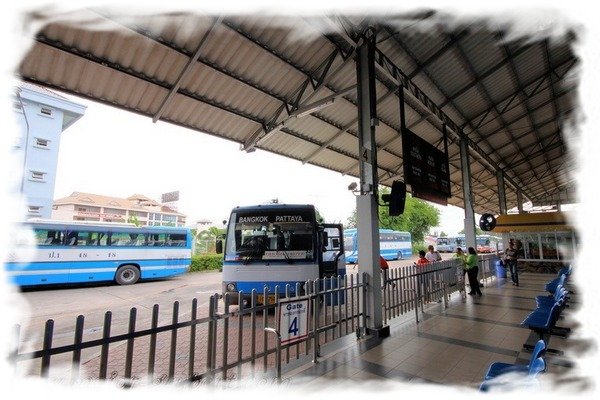 Pattaya bus stations  – is are popular points in the city for independent travelers, and through every of Pattaya bus terminal passes a large enough daily ridership. At the same time, the real status of the bus station is have only a bus terminal, located on Pattaya North Road (North Street). The others points, where you can catch the big buses and Mini Bus, most are just small regional bus station, although their importance and popularity is in no way diminished. And now you can get important information about the bus stations and bus terminals Pattaya more in actual review on Thai-Rest.com.

CONTENTS OF ARTICLE ( you can click on the link for quick transition)
Northern Pattaya bus station
The main bus station of the resort, located on North Street, 300 meters from the intersection of the latter with the track Sukhumvit. Here you can catch buses to the  three major bus terminals in Bangkok (Southern bus terminal, Northern (Mo Chit bus station) and Eastern (Ekamai bus terminal). Also you can find here buses to the Cambodian border, Yellow Bus (passing buses on the island of Koh Samui) and other flights. Daily you can get to Suvarnabhumi airport from the Northern Bus Terminal on a lot of buses. But due to certain distance of the bus terminal to the main places of tourist accommodation, I recommend to use this Pattaya bus station only in case, if you live in an area of Pattaya Naklua or, in extreme cases, in central Pattaya. Northern Bus Terminal is very compact, but everything you need is available for you on territory of station: ticket offices with friendly cashiers, clean toilets, information boards, even the waiting hall on open air. There is also a mini-market where you can replenish stocks of food and drink before the trip.
Getting to Pattaya Northern Bus Terminal
The exact location of the bus station in the northern city of Pattaya can be viewed on new Pattaya maps, where the object is marked with a special character or sometimes marked on the map as "Bus station to Bangkok." The easiest way to get to this Pattaya bus station is a taxi, which can be called up directly from the hotel (free to catch a taxi on the street in Pattaya, I personally do not never could). Another option – a trip to songthaew taxi. This is the same ordinary passenger pickup with a driver that you can rent, for a fee agreement that he will take you to express directly to the North Pattaya bus station.
Pattaya – Bangkok Bus Terminal on the Google Maps
As a rule, taxi driver initially require  two hundred or even three hundred baht for a car, but if it is good bargain, it is possible to agree on the amount of 150 or even 120 baht. Option, in principle, not bad, if you are not traveling alone, and if you have heavy suitcases, and you do not want to mess with them, overloading from songthaew to songthaew when traveling to the North Station with transfers. Another option – to arrange a trip with multiple motorbike-taxi, which you can find on the streets of Pattaya sometimes easier than buy your favorite Thai fruit. In this case, the price will be even lower, 50-100 baht (depending on the distance and your ability to bargain), but such an option not suitable in the presence of oversized baggage. On the other hand, personally I saw to the motorcycle taxi drove young couple farang-tourists, while the boy sitting with one hand holding on to the waist of a girl and the second kept voluminous suitcase behind him :). Read more about the motorbike-taxi and taxi in Pattaya can be found in a separate article.
The most low-cost way to get to the bus station in the North Pattaya is a trip on the route songthaew fixed fee. To do this, you must either be reached on the second street (Second Rd.) For 10 baht to the sculpture "Dolphins" (the intersection of the specified streets with North Pattaya Rd). And then you need go on a going in the right direction songthaew: North Street in the direction of Sukhumvit (i mean the right side from the dolphins, paying another 10 baht). Here we must consider two things: first, for some reason songthaew go on North Street is not regular in comparison with other major streets of the city (I'm almost halfway walked until managed to "catch" this transport. Secondly, be careful near statue of "Dolphin". The first time, when i did make similar way for get to Nothern pattaya bus station, I got out of songthaew already on the roundabout, slightly distracted, and the result was about 500 meters is not on North street, but on Naklua Rd (Naklua street) which is a continuation of the Second Rd for "dolphin", but turn little to the right, and knocked me from the right path.
The second method is more expensive (plus 10 Baht), but the time may be faster. You must first get to the highway Sukhumvit (by 10-baht songthaew that go towards the highway on South Street (Pattaya South (Tai) Rd.) or Central Street (Pattaya Central (Klang) Rd.). Next, you need to change your songthaew and walking on the highway in the direction of Bangkok (on the left, if you stand back to the coast of sea). On Sukhumvit road you can use white songthaew (pickup), and the fare is 20 baht. Get off at the intersection of North street and going along it for about 3 minutes, until you see on your right the building with a large metal roof with an inscription in white letters on a blue background: AIR CONDITIONED BUS TERMINAL PATTAYA-BANGKOK (see photo in this article) or read a more information about this Pattaya bus station in article: How to get from Pattaya to Bangkok – all options (section about buses to Bangkok).
The path from the North Bus Station to the main Pattaya accommodation areas are usually much easier: at the North Pattaya bus station you can find express songthaew that will take you to Jomtien beach (for 30 baht), or for 20 baht before the Walking Street and Central Pattaya. But as I mentioned earlier, it is often more convenient to use not the main Pattaya bus station, but the small bus station located close to the traditional places of residence in Pattaya – in south part of the resort.
Pattaya Bus Station on the Thappraya street (Thap Praya Rd.)
A small bus station located at the intersection of Thep Prasit Rd. and street Thap Praya Rd. Opposite the famous tower at Pattaya Park. Frankly, if you not see bus near this bus station of Pattaya, it is not so simple understand, that you near Southern bus station, because you can see the usual small square between the buildings. A good reference point for you in this case – a supermarket FoodMart, located across from the bus station area. By the way, the store prices are slightly higher than 7/11 and hypermarkets, however, in this store you can find many familiar to Europeans Products: wheat bread, pickled vegetables, cheese from Holland, salami from Germany and other products which you never not find in usual thai shops. Here you can stock up exotic fruits to be transported in the plane home, if you could not do it sooner. Prices are not the lowest, but in fact still at the airport in 2-3 times more expensive …
Bus Station for Bus №389 on the Google Maps
Inside the station you can find ticket office, where you can buy tickets to Bangkok and Suvarnabhumi Airport. It was on this bus station arrive and depart from here buses to Airport Suvarnabhumi (buses of company Airport Pattaya Bus, about which I wrote in the article "How to get from Bangkok Airport to Pattaya – all options!". Inside the compact waiting room of a few rows of seats, as well as a few benches for passengers outside, along the walls and next to the exit. Inside the bus station are free scales, with which you can know the exact weight of your luggage and not have to worry about exceeding the allowable weight of baggage at check-in. hanks to the successful location of the bus station on the Tapprayya street, you can easily and cheaply get to it from anywhere in the city. On this street, right next to the bus station, the route passes the passenger pickups (songthaew) for 10 baht, which go from the area of Jomtien Pattaya in Central Pattaya.
Nakhonchai Air bus station in Pattaya
Located in Pattaya, this bus station (although it is rather small bus station of one of the thai bus companies) close to Sukhumvit Road, 100 meters south of the junction with Central Pattaya Rd. When you walking on the Central street and went out on the highway, turn right and walk little bit. Facade of a small building of the bus station with a canopy over the platforms goes on Sukhumvit, between Sukhumvit 57 and Sukhumvit Pattaya 59 Pattaya (these streets are already behind Sukhumvit Highway, ie in the area of East Pattaya, ie, you need to cross the road.
Knowledge of location Nakhonchai bus station in Pattaya (Nakhon Chai Air Bus Station) will come in handy in case if you decide to getting from Pattaya to the major tourist centers of Northern Thailand: Chiang Rai and Chiang Mai, Rayong, Mai Sai, Ubon, as well as to the islands of Koh Samet and Koh Chang. Find the bus station is simple: you can use the previously described in the article scheme and get to his by songthaew for 10 baht (or 10 + 20 baht if you have to drive on the white pickup on Sukhumvit).
Nakhonchai Bus Station in Pattaya on the Google Maps
There are in Pattaya and the some usual stops, where starting or intermediate points for buses and Mini Bus, going to other towns and resorts in Thailand. But this article and so turned the long (i not sure that someone finish reading it to the end :)), so I will write about such stops in a separate article. Thank you for reading, if someone has any questions – ask in the comments, I will help any way I can.

Easy search of tickets for buses, trains, ferries and transfers in Thailand and other Asian countries (support for many languages).
International online booking service for taxis and transfers from airports around the world. Fixed prices and many payment methods before and after the trip.
Quick search for the best hotel prices right in all popular reservation systems. The service compares and displays the best-priced options for your dates. Discounts for hotels up to 50%.
My favorite site for searching airline tickets. Quick search for the best price from 750 world airlines and from the largest dealers in your region
Easy search and armoring of motorcycles, mopeds and bicycles in Thailand and other Asian countries. Without a pledge of the original passport! Delivery to the hotel!
Rental cars and SUVs in Thailand at the best price and conditions. Fast search right in all popular reservation systems. The conclusion of a lease agreement online in your own language.