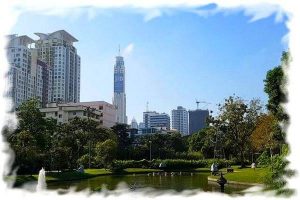 I can not call the capital of Thailand a very green city, and Bangkok's parks are practically the only corners of wildlife in this metropolis. Therefore, it is always a pleasure to visit such a green oasis among tall buildings. Today I will review Santiphap Park, a beautiful but small park in the urban area of ​​Ratchathewi. I note right away that this is not the park for which people make long trips from other areas of Bangkok. But if you live close to Santiphap Park, I recommend visiting this cozy place and spending a pleasant time there. In addition to a text review with photos of the park, below on the page you will find my small video review of Santiphap park.
Santiphap Park – location in Bangkok
Santiphap Park is located in the Victory Monument BTS SkyTrain station area. The distance from the exit from the BTS station is just over 500 meters, so you can easily walk to the park in 5-7 minutes. On the Bangkok map below, you can see that there are two ways to get to Santiphap Park from BTS Station. A simpler option is the one marked with blue dots on the map (along Rang Nam Alley). The area of ​​the park is only 8 acres. At the same time, the park has the shape of a very narrow rectangle with sides of 420 and 90 meters.
Features of Santiphap Park in Bangkok
Santiphap park in translation from Thai means Peace Park. It was opened to visitors in August 1998 and quickly became a favorite vacation spot for locals. As noted above, the park has a small area. But the space for walking is even more limited by several artificial reservoirs in various parts of the park. In one of the ponds you can see a bronze sculpture of a dove with an olive branch in its beak. It is a world-famous symbol of peace. Also at the entrance to the park you can see several quotes from the famous pacifist, philosopher and Buddhist monk Buddhadasa Bhikkhu.
The park is open daily from 05:00 a.m. to 21:00 p.m. Entrance is free for everyone, but there are restrictions. Santiphap Park is a place free of smoking and drinking alcohol. It is also forbidden to ride a bicycle and roller skates, walk animals and feed pigeons. The main visitors to the park are local residents who prefer to play sports on simulators and run in the morning and evening hours. Since there are many cheap and expensive hotels near Santiphap Park, you can also see foreigners in the park.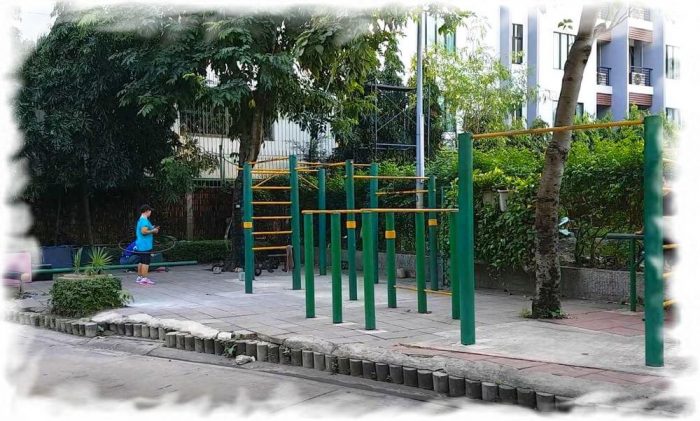 Exercise machines and horizontal bars are located not in one point of the park, but in several places around the perimeter. The length of the track for running in a circle is about 700 meters. In the central zone there are playgrounds that are more suitable for middle-aged children (not the smallest). These are various hills, ladders, bridges, etc. A large number of benches are located around the perimeter of the park and in the hot time of day they often remain free. At 18:00, free aerobics classes are held in the park for everyone (45 minutes in Thai, but everything is clear). You can find in Santiphap Park free toilets as well as many trash cans.
Locals use Santiphap Park not only as a place for playing sports, but also as a resting place. Many people come with their products and have picnics on the lawn, near artificial ponds or among trees. Moreover, in the area a huge number of 7Eleven shops and picnic products can be bought on the way to the park and not taken from home. Santiphap Park is in very good condition as It is constantly attended by workers who monitor the order (mow the grass, remove fallen leaves, water the flowers and add new plants). For security and to maintain order, surveillance cameras are installed at various points in the park.
I stayed at the small but inexpensive and comfortable Platinum Villa Hotel, which is located just a few minutes walk from Santiphap Park. But next to the park there are other hotels with a good price and a high rating of guests. For example, the Picnic Hotel is located to the right of the park, and three hotels with a rating higher than 8/10 border on the left at the park: Le Tada Residence Hotel, Le Tada Park View hotel and Royal View Resort. You can check the best hotel prices for your dates using the links.
Video review of Santiphap Park in Bangkok
Thus, Santiphap Park is a good place to relax in sports if you live in hotels near the BTS Victory Monument station or if you have free time in the city in this area. For example, when you want to visit the observation deck of the Baiyoke Sky Hotel before sunset and you need to spend about 1-2 hours before climbing to this high-rise. I hope my short overview of the park was useful to you and now you know exactly what you can expect from Santiphap Park in Bangkok. Have a nice rest!
[ad#end]