Last Updated on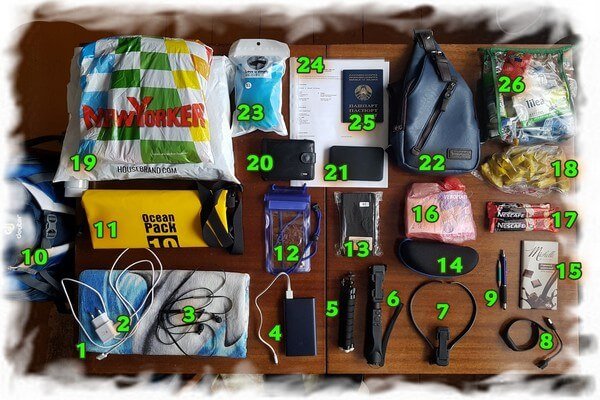 Planning your travel to Thailand, many people are thinking about a list of things that they need to take with you for a comfortable and safe holiday in this country. Of course, all people are different, everyone has their own interests and preferences for recreation. And Thailand packing list for a family with children will always differ from the set of a lone traveler or a young couple. In addition, lovers of outdoor activities will also take to Thailand with a few other things, than lovers of a quiet beach holiday. Also during the second and subsequent trips to Thailand (or other Southeast Asian countries) your personal set of things will differ substantially from the original one. In this article, I will describe in detail about my own list, which was formed after several long trips to Thailand, i.e. the most necessary things that will definitely be useful on vacation, and will not lie in excess baggage in a backpack or suitcase.
 In general, earlier on the site there was already an article "What to take to Thailand for the rest", and this article not bad revealed the topic of what can be required on vacation for the average person. But more than two years have passed since the publication of that article, so my personal views on the process of preparing for the trip have changed somewhat, and the list of things has changed in the direction of reduction. As in view of the fact that some things that previously took with them to Thailand, were unclaimed, and because it is better and more correct to buy them on the spot. So here is just my personal set of things with an explanation of why they are important to me on vacation and the reasons why they can be useful to you. Also at the end of the article I will give a brief list of things that I have ceased to bring to Thailand and why. For clarity, all the things before the trip were placed on the table and photographed, and later numbered from 1 to 26.
Important information: even for a long vacation in Thailand, I fly with 1 backpack in hand luggage, so my Thailand packing list, with which I prefer to take to travel is limited to the rules of carrying things in the cabin of the airplane (means the limit of hand luggage and prohibition to transport in the cockpit of the plane are some things, that could be useful to me in Thailand).
My Thailand packing list – what I prefer to take to Thailand
1. Beach towel. The usual beach towel, which I traditionally use only when traveling. Purchased in the distant 2012 in Crimea (Ukraine). The towel absorbs water well and dries not very long, which is important on vacation. But I plan to replace it with something even lighter and quick-drying if I find something from more modern materials. Interesting fact: in December 2017 on the beach of Samaye Beach (Ko Lan, Pattaya) next to me on a lounger was a woman from Greece with a similar towel. The only difference is the inscription Corfu under the dolphins (I have no inscriptions).
2. Charger and cable for smartphone. And, actually, the smartphone itself, which was made a photo with things on the table. During his last trip to Singapore and Thailand i am used the Samsung Galaxy S7. I chose this model because of its small size, fast charging and still a great camera, because take something more dimensional and heavy (like a mirror camera), my type of rest does not imply.
3. Headphones for smartphone. Not from box with smartphone, but not too expensive headphones, the average sound quality. I ordered in China, I use only on travel (in transport or on the beach). For their own purposes I'm satisfied, easy, flat wiring is easy to unravel, it's not too bad to lose.
4. Power bank Xiaomi 10 000 mAh. One of the most important things in the journey, which i am used almost daily. Must have in your Thailand packing list! Recently, I shot a lot of video in Full HD, and for the smartphone this mode is very energy-intensive (the battery charge decreases very quickly). Full charge Power Bank Xiaomi 10 000 mAh enough to charge the Samsung Galaxy S7 2.5 times almost from scratch. Very important that this device supports fast charging. Also i am used this power bank for charge the selfie monopod. I ordered it on AliExpress, in the Xiaomi brand store, so I did not worry that I would be sent a fake (although just in case I checked). Older models were smaller, but thick. I ordered a new, more flat and easy to use. The transportation of such products (external batteries) is permitted only in hand luggage.
5. Mini-tripod with flexible legs. Was used only a few times, for shooting time-laps video of sunsets and sunrises. Despite this, I do not regret what I took with me to Thailand, tk. The tripod is compact and almost weighs nothing. I bought in this store for 1.5 USD, there are other colors. Carving on a tripod of plastic, which is rather a disadvantage, but so far everything is holding tight. And for this price it is difficult to find something better.
6. Selfi monopod for the smartphone. Very successful model, quickly became a hit. I have a wireless model (there are models with Wi-Fi and a wire). I ordered it in a checked shop in China. I used monopod almost daily, because I traveled a lot alone. It is much more convenient to shoot photos and videos than from hands. In addition, there is no risk of dropping the smartphone while shooting while riding a bike, boat, pick-up, etc., because fixing the smartphone (especially in the bumper) is very reliable. In the folded state only 22 cm, it was easy to fit into a small bag on the chest (about it below on the page). Automatically turns off when there is no activity (I always forgot to turn off Wi-Fi). Therefore, for a month I charged this monopod three times (rather "just in case", than because of the complete discharge). At the bottom there is a thread for the tripod (used in conjunction with its mini tripod). Since the product contains a lithium-ion battery, transportation is allowed only in hand luggage. Although it is better to purchase an inexpensive and functional hand-held gimbal so that the videos look professional and the horizon does not fall on every your photo.
7. Mount for a smartphone on the neck. It's a very good decision when you need to make a video recording while riding a motorbike, bike, kayak or just free your hands. It is easy to set the right angle, reliable fixation of any modern smartphone (the mount is identical to what is used in my selfie monopod). Several times at the beginning of use the video was not recorded, because The screen touched the skin and the camera turned off. Later i made a different angle of tilt of the smartphone and the problem disappeared, although I periodically checked: whether the recording is on. Again, I ordered this device in a chinese store with best price.
8. Fitness bracelet Xiaomi. I use more than 7 months and everything suits. Completely replaced for me the wristwatch plus the function of the bracelet fitness (steps, pulse, smart alarm, notifications from the smartphone, etc.). The full charge of the battery on my Xiaomi Mi Band 2 is enough for about 25 days. My trip to Singapore and Thailand is longer, so I need add to my Thailand packing list a special cable to charge from USB (to the right of the bracelet in the photo). I ordered a bracelet in a Chinese store at the lowest price. At present, there are many analogues that perform similar functions, although they are more expensive.
9. Pen and pencil for notes. I am used to notice all costs of my travel. In principle, these things can be bought in any country in the world inexpensively, but if i have their own and they occupy a minimum of a place in a backpack or bag, I take them from home.
10. Backpack for travel. All the things that you see in the photo were placed in this backpack. In the article "How to choose a backpack for travel" I already wrote that I use the model Deuter Trans Alpine 30 from a well-known German brand. Impressions from using the backpack are positive, everything is done tightly and reliably. In this backpack there are many compartments for things, it keeps well on the back, there is lumbar and thoracic support. Despite the ventilation system, the back still sweated a little with prolonged walking. But this is probably not the problem of the backpack, and the Thai heat is to blame and in +32 will not save any ventilation. This backpack is not the cheapest, but I'm sure that it will serve me for many years without problems. In any case, choose a model that will exactly fit all the things from your Thailand packing list!
11. Sealed Ocean Pack bag. I've been using it for several years to go to the beach, ride kayaks, boats and boats, in the conditions of rain, waves, dust and sand. A bag made of special PVC tarpaulin has excellent tightness and even in heavy rain or when, during a sea excursion in Thailand, splashes from the waves cover all the passengers, I am calm for my things (smartphone, camera, selfie stick, money, documents, food and clothes). I bought in Ao Nang (Krabi province) and I chose an average size of 10 liters. Also sold on AliExpress at similar prices and with a large number of colors (in Thailand there were only yellow and blue). In my opinion, 10 liters is the optimal size for one person. There are also options for 5 and 20 liters, but the first is too small, and the second is not convenient to use in situations where you have few things. In addition, a large bag weighs more and takes up a lot of useful space in the backpack during the crossings. If you buy, I advise you to choose bright colors, so that the bag can be seen from afar. Those. Even if you swam to the buoys, you can control your bag on the beach. It is especially important for single travelers. Now on sale i can see waterproof backpacks from nylon which cost even more cheaply, and in the combined condition are located in a palm, and weigh only 75 grammes. I want to order and test, because according to reviews like a worthwhile thing.
12. Waterproof case for smartphone. One of two things that did not come in handy for me on a trip. I planned to use it for additional protection of the smartphone during a kayak trip on the islands near the island of Koh Chang and underwater photography there. But for a number of reasons this voyage did not take place (although i am rested in Ko Chang). During normal rains i not used this waterproof case, because on the smartphone there is protection IP 68 from water and dust. I bought in China for 1.1 USD a few years ago, now sold everywhere in Thailand, so if necessary, you can buy on the spot.
13. Magnetic cover for Galaxy S7. The second thing I did not use on the trip. An interesting version of the case for a smartphone, which is made of leather. In this case, the cover with pockets for bank cards and money is fastened with magnets to the leather bumper of the smartphone (that is, the smartphone in the bumper cover can be easily removed from the cover and placed on the monopod). I did not use it, because i am lost my bank card on the day of arrival to Thailand, and used a more robust bumper cover for protection, to the disadvantages of which can be attributed only large dimensions (a leather version without a cover would hardly add to the size of a smartphone).
14. Sunglasses in protect case. Beautiful glasses that were used in Thailand only a few times before they broke. Probably, the backpack was too full and the semi-rigid cover could not withstand the load. Earlier in the trips, he did not fail. Points were inexpensive, and I generally do not use them, so there's no problem, I'll buy new ones.
15. Bitter chocolate. Just to have some food on the road with a long absence of suitable food. Ate 1/3 in Singapore and as always forgot about the rest of this chocolate. Found in a backpack in three weeks in Thailand, was very opportunely.
16. A small first-aid kit. Adhesive plasters and proven tablets that are not prohibited from being imported into Thailand. For each of the travelers it will be your own set, which you will take with you to Thailand, so I can only advise you to read the article with the recommendations "What medicines to take to Thailand". I took a minimum, almost nothing, fortunately, did not come in handy.
17. Coffee Nescafe 3 in 1. I took with me to Thailand for use in the first days in the morning. Given the low prices in my country and low weight, next time I will take more. In Thailand, in 7/11, slightly larger packages are sold at a price of 14-16 THB, i.е. almost 0.5 USD per serving, which is almost 5 times more expensive. If you live not in private apartments, but in good hotels, you not need bother, because coffee will be either included in the price of the room breakfast, or a kettle with such bags you can find in your room.
18. Candy "Stolichnye" with vodka. Just an original souvenir from Belarus. In Thailand, there is no such thing and the locals were very surprised. I give this sweets for familiar girls and hotel workers. It is better to do this in the first days after coming to the country, because later the sweets can melt from the heat and become substandard. This, by the way, applies to all chocolate products.
19. Two packages with summer clothes. I am took with him to Thailand three t-shirts, denim and fabric shorts, 5 underpants and 3 pairs of socks. In general, all this can be bought on the spot, and the socks i am again first time used only at the airport before the flight from Thailand to Abu Dhabi, i.e. in Thailand and Singapore did not use. But a few T-shirts or T-shirts are exactly necessary, because the first will become wet very soon, even for go to the store or on the market there will be nothing to wear.
20. Wallet with money. Here, I think, and do not need to explain. Part of cash, bank card. Money for travel it is main thing in your Thailand packing list! Because money in Thailand does not happen much, rather the opposite, so take more, just do not store everything together. I lost my card at the cash machine at the Ekkamai bus terminal in Bangkok on the arrival night, so I had to block it. Also in my wallet there was always a business card-knife (I like to clean Thai fruit like mangoes), but I was need give away from him at the Singapore airport. Earlier the security service at the many airports could not find this knife in my backpack.
21. External HDD drive Toshiba. Another useful thing for those who want to shoot a lot of videos on the road. For example, when you are a video blogger, but traveling without a laptop. The external disk is worth a little more than a good (with a high write speed) memory card 128 Gb, while its capacity is 7 times larger. Given the large "weight" of Full HD and 4K video, even an external disk is filled very quickly. If you are shooting on a smartphone, you must first make sure that it supports the OTG function and you can easily transfer video from the phone or memory card memory to an external drive. Sometimes this may require installing additional software. For Samsung Galaxy S7, this is not necessary. The external hard drive should be a 2.5-inch format (standard for a PC can require additional power, the smartphone's power is not enough). The external disk of Toshiba is packed in a protective bag with air pockets, in which it is better to store it for security purposes.
22. Chest bag for travel. You can not walk all the time with your big backpack. Therefore, in your Thailand packing list there should be a small bag for things and documents. This bag I bought specifically for carrying important things and documents while traveling. Despite the small size, the bag is very functional. Inside there are two open pockets, where it is convenient to carry documents, a smartphone and other useful items that you better not leave unattended or which you will often use. For example, I save money and documents in this bag of selfie-stick for smartphone, power bank and headphones, as well as sometimes a sun cream and a hand sanitizer. Also, someone might be interested in the information that even a 0.5 liter bottle can be placed in this bag, although it is better if it is flat and not very high, although the standard vodka is also can be placed. Finally, in an open, but very deep outer pocket, it is convenient to carry a city map and Thai coins. I bought a bag in China from a trusted seller, the price is about 10 USD. At me dark blue, happen black and brown colour. For a month of extreme use in Thailand (and 5 months before this at home and on other trips), the bag has kept its original appearance and only a few threads have been torn at the end of one zipper. The truth before that I went a bit too far with the volume, when there was an overweight of the backpack in Singapore and I tried to stuff as many things into this bag as possible. A small five-minute repair returned the bag the first look and functionality.
23. Men's swimming trunks in the package. Going on holiday in Thailand, you will almost certainly capture your favorite swimming trunks. You can buy and on the spot, but I had new ones (bought also in China), so I took them. Swimming trunks have an interesting design, classy externally, pleasant to the touch and strong fabric, dry quickly. Perhaps next time I will order one more in the same store, only a different color, so that they can be second and i can swim without problems several times a day.
24. Printouts. In a separate file, i placed a printout of air tickets and hotel reservations (just in case), as well as copies of the main pages of the passport. There is also travel insurance, an approximate travel plan and a form for recording expenses. Well, that's it.
25. Passport. Here everything also does not require explanations. In my country, until 2019, there is a single passport (both domestic and foreign), so he took it. In the passport there is a valid Thai visa (it is possible that you do not need a visa for your country). The passport was later placed in a transparent bag with a clasp, for better safety (because the previous my passport was spoiled while traveling).
26. Beautician bag. As the actual rules for carrying liquids in the cabin of the aircraft require, they are all placed together in a transparent package. Plus other cosmetics and items. Shaving foam, sanitizer for hands, toothpaste, wet wipes, deodorant (spray, not gas), chlorhexadine, hair products, sunscreen, etc. To make the backpack easier, some items I take in minimum quantities, and then I buy in Thailand. This, above all, refers to toothpaste and sunblock and deodorants. I buy these things later in 7Eleven stores inexpensively and even bring some quantity to my home.
Another separately took a sandwich to the way, to have a snack before the plane, tk. to the airport I need to get about 5 hours plus a few hours immediately before departure andtime before lunch in aircraft cabine. The last time I took a little risk and went on a trip without any winter things at all. Since it was the middle of November and the temperature was about zero, i put on light jeans, sneakers, a T-shirt and a light jacket. In principle, everything went smoothly: in transport it is not cold, and along the street it was necessary to go a couple of hundred meters, but saved a lot of space in the backpack. Previously, I am travel to Thailand in a winter jacket, winter boots, etc., and then had to store it somewhere or carry it with him, which is very inconvenient for a large number of crossings.
When I thought of writing this article, I had no purpose to convince someone that my Thailand packing list is the only true thing for everyone. This is more likely one of the options and an attempt to show that traveling can be comfortable even with a minimum of things, when you know exactly what thing you need and can not do without it. There is a simple rule when drawing up a list of things on the road: "If you doubt the need for a thing, do not take it!". But it's easier said than done. Therefore, when going to Thailand for the first time, many will surely take with them something superfluous of things. The main thing after returning home and planning the next trip is to remember these things so as not to repeat your mistakes and take with you to Thailand only those things without which you definitely will not get along. Enjoy your travels!

You can use a bonus of up to 35 Euro for registration and coupons for € 10 and $ 50. The best prices for renting a villa with a swimming pool per days!
Easy search of tickets for buses, trains, ferries and transfers in Thailand and other Asian countries (support for many languages).
International online booking service for taxis and transfers from airports around the world. Fixed prices and many payment methods before and after the trip.
Quick search for the best hotel prices right in all popular reservation systems. The service compares and displays the best-priced options for your dates. Discounts for hotels up to 50%.
My favorite site for searching airline tickets. Quick search for the best price from 750 world airlines and from the largest dealers in your region
Easy search and armoring of motorcycles, mopeds and bicycles in Thailand and other Asian countries. Without a pledge of the original passport! Delivery to the hotel!
Rental cars and SUVs in Thailand at the best price and conditions. Fast search right in all popular reservation systems. The conclusion of a lease agreement online in your own language.