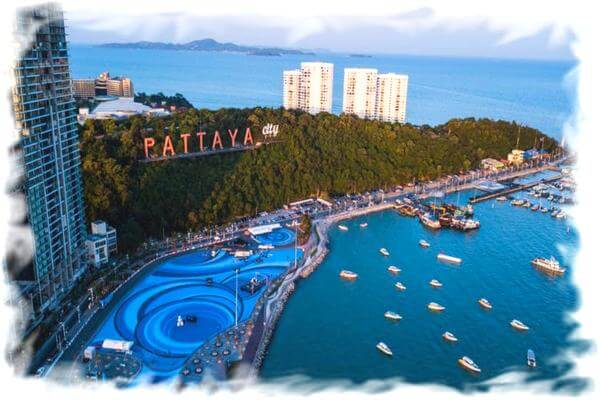 The authorities of Pattaya, a famous resort city in Thailand, together with the TAT (Tourism Authority of Thailand) and representatives of the business sector, have developed a special scheme that will allow foreign tourists to be received from October 1, 2021 without mandatory quarantine. This scheme was called Pattaya Move On and will soon be offered to the Center for Covid-19 Situation Administration (CCSA). However, some points of this plan are contradictory and many of the foreigners who have already familiarized themselves with this plan are not very optimistic. Moreover, there are still no clear answers to a number of important questions.
The essence of the Pattaya Move On scheme is the possibility of foreign tourists arriving at the Pattaya resort from countries with a low incidence of Covid-19 and who have been fully vaccinated against Covid-19 with a certified vaccine. At the same time, it is planned to establish a maximum vaccine validity period of no more than 12 months from the date of the last injection. Children under 12 years old will be able to come to Pattaya without any additional conditions, but they will have to stay with their parents at all times. And children between the ages of 12 and 18 will need to provide a negative Covid-19 certificate based on a test taken no later than 72 hours before departure to Thailand.
The second rule, causing the maximum number of questions, is the place of residence of foreign tourists. It is assumed that they will only be required to reside in the Sattahip and Bang Lamung districts. In this case, we are talking about a limited list of hotels that will have a SHA (Safety and Health Administration) certificate. For 7 days, foreigners will be able to participate in a limited number of activities, the list of which will include a visit to the beach and some other activities permitted by local authorities. On the fifth day of stay in Pattaya, every foreigner will be required to take a new test for Covid-19. If the test result is negative, foreigners will be able to visit other areas of the province from the 7th day of their stay in the country until the end of the vacation.
An important element of the plan is the mass vaccination of local residents, which should reach 70% by October 2021. Currently, the vaccination rate in Thailand is not very high, but from June 7, it is planned to accelerate the rate of vaccination many times over. According to the plan, this requires the use of about 900 thousand doses of the vaccine. Another condition for the approval of the Pattaya Move On plan is the success of a similar plan for receiving foreign tourists in Phuket. On this tropical island, the tourist season is planned to open from July 1, so in 3 months it will be possible to draw the necessary conclusions about the effectiveness of such a plan and make some adjustments.
It should be noted that this plan is not final and can be changed at any time (which has already happened several times since the beginning of the pandemic). Also, such important questions as the movement of tourists remained unanswered. For example, will foreigners be transported from airports by special transport or will they get there on their own? Will foreigners who own real estate in Pattaya be able to stay in their own apartments for 7 days or will they also be required to stay in hotels? Finally, the list of events and places that foreign tourists will be able to visit during the first 7 days in the Kingdom is not clear.
In most of the thematic forums, foreigners were disappointed with the current plan. According to the authorities, the Pattaya Move On plan will eliminate the mandatory quarantine for foreigners. But in fact, foreigners will not be able to use the hotel search at the best price and will be required to stay in special hotels from a limited list. And, most importantly, foreigners are convinced that the cost of these hotels will be as high as the price of expensive hotels for a 14-day quarantine at present. In addition, it is not yet clear whether tourists will be able to move freely or will be limited to visiting the beach and hotel grounds. In the latter case, it is very strange to talk about the abolition of quarantine, because we are not talking about any freedom of movement and choice of place of residence.
Finally, the likelihood of new outbreaks of infection after the arrival of thousands of workers from remote provinces in Pattaya, who will certainly come to the resort after its opening for mass tourism, is a serious concern. If such workers are found to be unvaccinated, this will greatly reduce the overall vaccination rate in Pattaya. And with the next outbreak of the virus, strict quarantine measures may be introduced again for everyone, including tourists. Do you like the current Pattaya Move On plan or do you find it too strict and unacceptable for foreigners? Write in the comments.

Easy search of tickets for buses, trains, ferries and transfers in Thailand and other Asian countries (support for many languages).
International online booking service for taxis and transfers from airports around the world. Fixed prices and many payment methods before and after the trip.
Quick search for the best hotel prices right in all popular reservation systems. The service compares and displays the best-priced options for your dates. Discounts for hotels up to 50%.
My favorite site for searching airline tickets. Quick search for the best price from 750 world airlines and from the largest dealers in your region
Easy search and armoring of motorcycles, mopeds and bicycles in Thailand and other Asian countries. Without a pledge of the original passport! Delivery to the hotel!
Rental cars and SUVs in Thailand at the best price and conditions. Fast search right in all popular reservation systems. The conclusion of a lease agreement online in your own language.