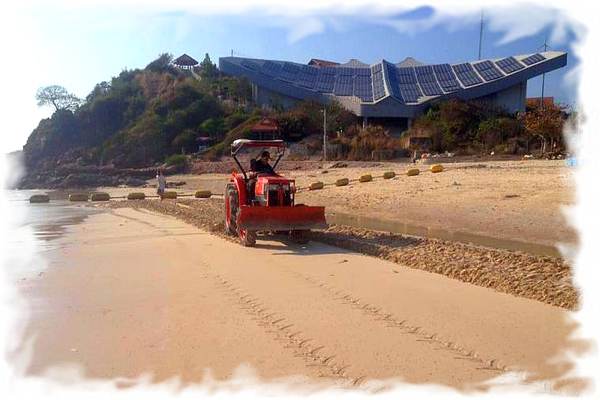 In the near future on the island of Koh Larn – the most popular place for quality beach holidays tourists, holidaymakers in Pattaya, will be banned chaise lounges and beach umbrellas. The reasons for this decision were the concern of local authorities to preserve the ecological balance of the island and create the most natural environment for all holidaymakers. However, the ban is limited to one day a week and so far only one popular beach on the island – Samae Beach.

If you have not previously rested in Pattaya and do not know which of the beaches in question, I advise you to get acquainted with the information on the page "Beaches of Koh Larn Island – detailed description and map". Samae Beach is one of the island's best beaches, with a wide coastal strip and high transparency of sea water. By the way, this is the beach, where you can getting from Pattaya to Koh Lan with using big boat for 150 baht (price for both directions).
Since the island of Koh Larn is already long time a natural addition to Pattaya, the ban on the installation of sun loungers and umbrellas will be similar – every Wednesday (the same restriction applies to the urban beaches of Pattaya). Currently, the deck chairs are removed for a longer period, and on the beach, works are carried out to improve and clean it of debris, including natural origin (seaweed, stones, dry branches and leaves).
In 2016-2017, the beaches of Koh Larn Island are visited by about 5,000 tourists every day, so the island was faced with the problem of timely garbage collection. Local authorities expect that with the help of one day "without sunbeds" the beach will be cleaner and will be more tidy, because its cleaning will be greatly simplified. Every Wednesday, all landlords of sun loungers and umbrellas are required to completely free their beach area from this kind of "amenities".
I sure, as same on the all beaches of Pattaya, such an innovation will be accepted by tourists ambiguously. However, if this really will makes the Samae beach more clean, this practice can be extended to other beaches of the island of Koh Larn. Moreover, local authorities have been discussing for about two years the possibility of limiting daily tourists on this island near Pattaya. So maybe this option will not be the worst possible.





(1 votes, average: 5.00 out of 5)


Loading...