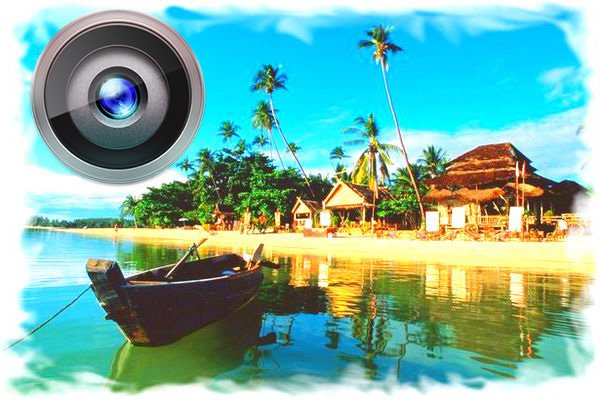 Using live webcams in Thailand, which you'll find on this page,will allow you to see real time what is happening in a particular place in Thailand. Despite the fact that the direct appointment of these webcams in Thailand is to provide security for the majority of the tourists, such devices primarily provide an excellent opportunity to assess the situation at the resort, enjoy the local beauty, as well as serve as an excellent source of information about the weather in Thailand real time. In this article you will find links to the best of available webcams online Thailand and also learn some secrets for problem-free viewing.

It is no secret that the most popular among tourists are the webcam in Thailand, installed on the well-known resorts of Pattaya and the surrounding area, Phuket, Koh Samui, as well as in the capital – Bangkok. On this site, I tried to collect all the webcams, which provide free access for everyone, wich working most of the day and aimed at most interesting places to review. Before you go to view images from webcams in Thailand, links to which are placed below, I remind you that the quality of the video stream itself and the ability to view images from a web camera depends on several factors:
★ Speed of internet connection, which you are using;
★ The presence of a broadcast from the camera to the current time (i always try to specify the time of webcams, which you can see through our website);
★ The time of day (in low light video Thai webcams leaves much to be desired, so do not forget to take into account the time difference with Thailand);
★ The presence of of temporary technical problems at the supplier of video;
★ Availability of the required software on your computer (more on this later in the text of the article).
I try to post on the website only live webcam in Thailand,who have passed the test of time and are characterized by maximum stability. It's thai webcams, which provide for a review of interesting places (beaches, streets, hotels and bars) and work around the clock or on a pre-approved schedule, without the need to view the "dancing with a tambourine" on your part. For ease of viewing images from webcams in Thailand, they are grouped by city and a popular resort. Therefore, after clicking on the link will take you to the page where the thai webcams will be broadcast only from more interesting area for you.
Such an approach allows not only to speed up the loading of online video, but also saves your internet traffic. In the process of uploading the video stream from a webcam, you can read the description of the place, which the video broadcast. Please note that some of webcams require some time to load the video stream, ie, Broadcast image begins after 20-60 seconds after clicking on the link.
List of  best live webcams in Thailand:
Cameras are located in different areas of the city, allow us to estimate the current weather, sea state, the situation on the streets and in the bars. Added camera on Walking Street, LK-Metro, Beach Road, Bali Hai Pier, some popular hotels  and city beaches of resort.
The page presents a selection of the best live webcams in Phuket Island, which are located on different beaches of the resort on the popular tourist streets in the city and in a luxury hotels in Phuket.
Mounted on the main beach and other popular tourist spots. Webcams allow you real-time to admire the bright tropical nature of the island, to assess the situation at the resort, check the current weather on Koh Samui and even see a show of transvestites in cabaret.
Located on the main streets of the capital of Thailand and transmit the image, indicate a lively rhythm of this largest Asian metropolis.
Allows you to remotely see the wonderful area of Thailand – beautiful paradise island  who has not lost its primitive beauty and is becoming increasingly popular tourist destination in Gulf of Siam of the country.
Webcams in Thailand from other cities of the country. Live Camera from such cities allow to get acquainted with the life that flows away from the popular tourist destinations of Thailand, as well as accurate information about the weather in Thailand by month and date. You can find thai webcams from Kanchanaburi, Hua-Hin, nothern provinces etc. Links to other web-camera, you can see in paragraph Webcams in the main menu of the site.
Possible problems when viewing webcams Thailand and their solution
I'm sure many of you are faced with a situation where you opened one of live webcam in Thailand or any other country, but you can not see a beautiful video, because you can see only message "Missing plug-in". This is due to the fact that watching a video with these cameras is not possible without installing additional software on your computer. The easiest way out of the situation, which until recently enjoyed myself – try to find another web camera that transmits images without any problems. However, when the situation is repeated too often, and the number of online webcams in Thailand with free access is still limited, we have to sooner or later begin to address the problems.
To see online video webcams in Thailand need to use Java machine, which may be not available in the Internet browser you are using, or sometimes may be available, but can be not activated. For more information about installing and activating Java can be found on the official website.
For broadcast video from many thai webcams online, you should have on your PC Windows Media Player or Player Adobe Flash Player (desirable last version). If you are using Internet surfing browsers Firefox, Chrome or Opera, you may need to install a special plug-in (for all of these browsers suitable universal plug-in from Firefox).
It is also highly desirable to have on your computer or laptop special codecs (audio and video), that will be useful not only to view the broadcast from webcams in Thailand, but also comfortable and easy to play any video file. I recommend to use the best and always relevant codec package called K-Lite Codec Pack. Find and download this versatile codec pack for free on the internet will not be a problem, so i do not place the link here.
Another problem if you want to observe the life in Thailand with the help of online webcams is that most of today's mobile devices do not support flash video format, so many are unable to browse with webcams Thailand on his tablet or smartphone. however, if your device runs on Android OS, you can use easy solution is. You must install the browser Dolphin (you can download it like all programs in Google Play), and then download the latest version of Adobe Flash Player and activate it. Personally, I did it, so I do not see the reasons why you do not make it same.
Have fun from viewing live thai webcams!

Easy search of tickets for buses, trains, ferries and transfers in Thailand and other Asian countries (support for many languages).
International online booking service for taxis and transfers from airports around the world. Fixed prices and many payment methods before and after the trip.
Quick search for the best hotel prices right in all popular reservation systems. The service compares and displays the best-priced options for your dates. Discounts for hotels up to 50%.
My favorite site for searching airline tickets. Quick search for the best price from 750 world airlines and from the largest dealers in your region
Easy search and armoring of motorcycles, mopeds and bicycles in Thailand and other Asian countries. Without a pledge of the original passport! Delivery to the hotel!
Rental cars and SUVs in Thailand at the best price and conditions. Fast search right in all popular reservation systems. The conclusion of a lease agreement online in your own language.