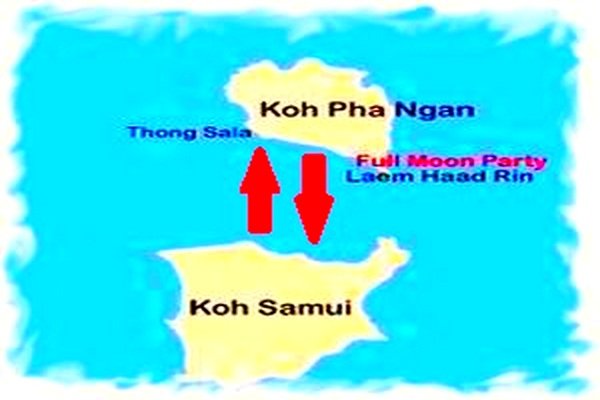 The distance between islands Koh Samui and Koh Phangan is from 8.5 to 15 km (depending on where you measure), so the visit of two of these islands during a holiday in Thailand have become a good tradition for many tourists. Moreover, despite the proximity of the two islands, they still significantly different from each other. Therefore, the information on how to get from Koh Samui to Koh Phangan and back, will be useful to all those who are going to rest in this part of the Gulf of Thailand. The article discusses the main ways to overcome the distance between islands (passenger ferries, speed boats and catamarans), given the schedule of transportation and fares on transport between Koh Samui and Koh Phangan.

How to get from Koh Samui to Koh Phangan and back
Currently, on the island of Phangan has no airport. And in the coming years on this island airport will not be exact, because the construction of its own private airport suspended in 2015 due to gross violations of environmental legislation. In addition, there is not much sense in launching flights between the islands with a minimum distance from each other (you can easily see  Koh Phangan  with the help of one of Koh Samui webcams). Therefore, all wishing to get from Koh Samui to Koh Phangan and back, should be ready to do that this route will have on water transport, ie passenger ferries, catamarans and speedboats.
In a separate article on the website: "Piers of Koh Samui: description and location" you can find an overview of the main ferry piers of island, and their detailed location on the map of Samui. Therefore, in order not to duplicate the information here I will point out only the piers, which are used to overcome the route "Koh Samui  – Koh   Phangan" and "Koh Phangan – Koh Samui". It a piers in the northern part of the island: Bangrak and Maenam (Bang Rak pier and Maenam pier). Also you can use and the main pier of the island under the name of Nathon (Nathon pier) – on the west coast of Koh Samui. If we talk about Koh Phangan, the ferries and boats usually  arrive to the two piers.
The first of them – Thong Sala Pier, which located in the southwestern part of the island, in close proximity to the main settlement of Koh Phangan. It a place, where you can find the main infrastructure of  island. The second ferry pier called Haad Rin and located almost in the very southern part of Koh Phangan (detailed arrangement of the piers can be seen on maps Koh Phangan). It is in this area of the island, near the pier, are regularly held the world famous Full Moon Party on Koh Phangan. As the name implies, they are held on a monthly basis just as the full moon, and on Phangan attracts thousands of fans of crazy fun on the beach disco, with the sea of alcohol and with deafening music.
Transfer from koh Samui to Koh Phangan (from hotels and Samui airport )
If you do not want to get from your hotel on Samui or from the airport to the ferry piers of Samui, where ferries and high-speed boats go to Koh Phangan, you can use the popular service of transport in Asia (link to the english version with the Samui-Pangan route). Among the options offered, you should choose the option from Raja Ferry with the departure point of Koh Samui (any hotel) to the pier of Thong Sala in Pangan at a price of 370 baht when you want to be taken directly from your hotel to the desired ferry pier.
If you plan to fly to Koh Samui and immediately go to Pangan island, the easiest way is to use joint ticket from Seatran Discovery directly from the airport for 450 baht. In this case, a special 10-seater minibus will take you to the desired pier, and the further way to be done on a high-speed ferry to the pier of Thong Sala on Pangan.Please note that such a transfer is usually only three times a day – in the morning, at noon and in the evening, so if your plane arrives at an unsuccessful time – you can use other options, which are described below.
Koh Samui – Koh Phangan: how to get on ferries and boats
Since the ferry service between Koh Samui and Koh Phangan performed several companies would be more correct to talk about transport between the islands, and its fares is in the context of specific companies, rather than in the context of concrete piers.
From Koh Samui to Koh Phangan by Lomprayah Hispeed catamaran
Modern high-speed catamarans of the company Lomprayah  depart  from Maenam  pier on Koh Samui and arrive at Thong Sala pier on Koh Phangan. The journey time is only 20-25 minutes (depending on the waves in the sea). Ticket fare for the boat Samui – Phangan in one direction is 300 baht or less than $10. When you purchase a round-trip ticket (available with an open date), you can get a discount, ie total price round trip is 500 baht. If you know exactly where you are going to dwell on Phangan (if not the specific hotel, then it may be a particular beach) it makes sense to book tickets on a boat through the official site of Lomprayah. In this case, in addition you get a free shuttle to the point of destination on the island of Thong Sala Pier.
Table 1. From Koh Samui to Koh Phangan – Lomprayah Catamaran Shedule
High-speed ferries of Seatran Discovery company
An alternative to the first option, which also allows you to quickly and with a high quality service, get from Koh Samui to Koh Phangan and back. Unlike high-speed Lomprayah catamaran, Seatran Discovery ferry depart from the Bangrak pier on Koh Samui (also known as Big Buddha pier). The journey takes about 30 minutes (in reality even slightly less), and the cost of one-way ticket – 280 baht. Taking into account the cost of public transport of Koh Samui does not make sense to go to the pier Bangrak with using songthaew, if you live closer to Maenam in order to save 20 baht, because public transport on Koh Samui can be more expensive. Arrive  Sitran Discovery ferry –  on the same place on Koh Phangan – at Thong Sala pier. Schedule boats can be seen in the table located below.
Table 2. From Koh Samui to Koh Phangan – Seatran Discovery Ferry Shedule
From Koh Samui to Koh Phangan – Haad Rin Queen ferries
This option is more convenient when you want to immediately get from Koh Samui  directly on the Haad Rin beach on Koh Phangan. For example, when you are only interested in Full Moon Party, which is held nearby. Also,  this option will be appear to someone interesting because of the potential to save 100 baht, because the fare of  Haad Rin Queen ferry – is 200 baht one way from Koh Samui to Koh Phangan or from Koh Phangan to Koh Samui. As a small disadvantage compared to the methods described above may be noted a greater travel time, which is around 50 minutes. It  mean that speed of Haad Rin Queen ferry almost twice as slow. Haad Rin Queen ferry depart from Bangrak pier on Koh Samui and arrive to Haad Rin pier on Koh Phangan. Below you can find Haad Rin Queen ferry company timetable and fare.
Table 3. From Koh Samui to Koh Phangan – Haad Rin Queen Ferry Shedule
Koh Samui – Koh Phangan: how to get on the big ferries and boats
There are other ways to get to Koh Phangan from Koh Samui. First of all, we are talking about large ferries known ocean carriers in the region, which are in transit through the island of Koh Phangan and Tao Island from the mainland of Thailand (for example, from the pier Donsak). The cost of these ferries is similar to the cost of high-speed boats, and the travel time is much longer (up to several hours) and comfort while driving worse. So I do not even know in which situation you want to use this option. Schedule of these ferries can be found on the official websites of the ferry companies, links to which are provided in the article "Ferry to Koh Samui: schedule and cost."
Also, there is always the option to negotiate with the owner or the captain of a small high-speed boats, which are moored close to one of the piers of the island of Koh Samui and Koh Phangan. This option i can advise for large companies, because alone like traveling with Samui – Phangan or vice versa will be quite expensive. Also, this option may be considered in cases when you miss the last ferry and want in any case to get  on the Koh Phangan (Thailand) from Koh Samui. And of course, during the monthly Full Moon Party, transfer between the islands of Koh Samui and Koh Phangan offers almost every hotel of those islands, but the cost of the boats in those days will be significantly higher, especially at night.
[ad#samui]
I hope, after reading this article, you will no longer have a question, how to get from Koh Samui to Koh Phangan, or vice versa. Just remember that in the schedule of ocean carriers in the region sometimes there are changes that are not always possible to track and correct tables. I wish you fun and safe traveling!
[ad#end]