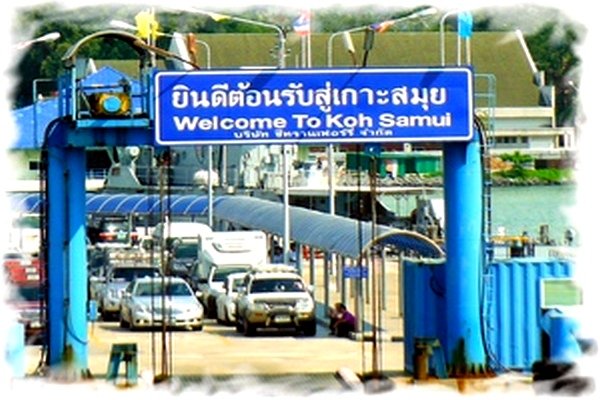 Methods that allow to get from Pattaya to Koh Samui, worry many travelers who initially plan spend several days or weeks in Pattaya, and then they wish to diversify your vacation and spend some time on the coconut island of Koh Samui, which is in many respects very different from Pattaya. In this article, I examined in detail some basic and most convenient way for travelers moving between the resorts. Just note that you can always get to Koh Samui from Pattaya with comfort and for relatively little money. Also in the article, you can find information about the approximate cost of transport to be used and the schedule of the different modes of transport, which will allow you to quickly and inexpensively accessible from Pattaya to Koh Samui.

[ad#trans] In order to get to Pattaya from Koh Samui you can use multiple modes of transportation, but in any case you can not use only surface transport, because Samui – is the island in the Gulf of Thailand. Therefore, you have to use, or aircraft, or ground transportation + the ferry. The most popular way to tourists which allows for a reasonable price to overcome the distance between the resorts – is a big bus. The direct distance between Pattaya and Koh Samui is about 400 km, but due to the fact that these resorts are located a bit from different sides of the Gulf of Thailand, overland distance between them increases slightly, which correspondingly increases the time spent in transit. Since the ways to get from Bangkok to Koh Samui are described in a separate article here describes the options that allow you to get to this tropical island directly from Pattaya.
How to get to Samui from the Pattaya by bus
The easiest and most affordable way to get from Pattaya to Koh Samui – Yellow Bus  from the company Mukdahan. Every day bright yellow buses depart from Pattaya on the tropical island of Koh Samui. Bus company has several bus services per day in both directions. Note that Pattaya is not the first starting point, therefore you need   bus route called Rayong – Koh Samui (Rayong – Koh Samui) – just such an inscription you can  see on the sides of the windshield on modern yellow buses, plying on this route.
Since the bus schedule from Pattaya to Koh Samui may change by the time, when you decide to use them, I recommend you see the actual schedule on the official website of the bus company, where you can immediately see the date and at the moment the price. For the general understanding of where and what to look at, below is a screenshot of the article from the routes schedule from Pattaya to Koh Samui (yellow frame allotted departure time from Pattaya, route number and cost of travel.
At the moment (same as several years) routes performed three times a day. According to the current schedule, the departure of public bus from Pattaya to Koh Samui carried out at 16:30, at 18:30 and 20:30 local time. The cost of travel by July 2016 is from 751 to 1188 THB + cost of the ferry to the island.  Why such a desynchronization in the cost? It's simple: one bus, and place in it are divided into classes as in airplanes. In the bus 20 standard seats (at a price) and 6 VIP seats that are almost 1.5 times more expensive.
VIP seats are located in the front of the bus interior and offer a higher level of comfort: wider and more comfortable seats with electronic adjustment, the availability of multimedia systems with the ability to view videos, listen to music and playing computer games. Must you pay for it all – only you have to decide, just keep in mind that the duration of the trip from Pattaya to Koh Samui is more than 12 hours and can be somewhat tedious for those who can not sleep in a normal bus seat.
The fare Pattaya – Samui include dinner during a stop on the route (a bottle of water or juice and biscuits). Also, all the passengers are provided blankets, with which you can protect yourself from the cold air conditioner. Choosing the first flight, which departs from Pattaya to Koh Samui at 16:30, you should be prepared that the bus takes you not to the ferry pier, but only to Donsak town. Next you will need to use local transport that will take you to the ferry pier. This means that you will need to spend a little extra money. Ferry pier has in the same town(Donsak), but at a certain distance.
Bus routes departing from Pattaya at 18:30 and 20:30 will bring you directly to the ferry terminal, where you will have to pay 150 baht for the very ferry to the island of Koh Samui. As a result, directly on the island you will find yourself around 9:00 and 11:00, respectively. The ferry arrives at the port of Nathon, which is located in the northwestern part of the island, not far from the administrative center of the resort (or "capital of the island," as it is called) of the same name Nathon.
I advise you to buy tickets on selected yellow bus in advance, at least 1-2 days, because this direction very popular and in the day of departure all the seats are occupied in the bus very often. The desired bus leaves from the Northern Pattaya bus station, which located in the district of Pattaya North street. How to get to it can be found in the corresponding article on the site. You can also just take a taxi and say to  taxi driver the destination as "Koh Samui Bus Station". Tickets for the yellow bus to Samui you can buy in ticket office №4 "Mukdahan". In the article "How to get from Pattaya to Bangkok – all options!" you can see photos of the North Pattaya bus station and ticket office for bus to the island of Koh Samui.
How to get from Pattaya to Koh Samui by plane
The second option that allows you to overcome distance between Pattaya and Koh Samui –  in much less time and significantly a lot of money – flight Pattaya – Samui. Flights on the specified route makes Bangkok Airways airline and the flight time is only 70 minutes, ie, 1 hour 10 minutes. When you want to flight to Samui from Pattaya, you need go to Utapao airport near Pattaya. Planes not very big and scheduled flights are made only once a day, at 17:15 or 17:20 (depending on the season).
Just a reminder that this information relates to the direct flight Pattaya – Samui. There are several flights with a transfer on Phuket island, but these flights are not very comfortable because of the increase in travel time (of 4 hours or more) and, as a rule, much greater ticket price. If we talk about the price of a direct flight, it is on average from $ 110 and up for a one way ticket. Accordingly tickets per person in both directions will cost not less than 7,800 baht, that is more than three times more expensive compared to the price even VIP tickets for the bus.
[ad#avia]
Actual  information about the flight schedule Pattaya – Samui can always be found by using the search form located above. By the way, my little personal observation may allow you to save some money on the way from Pattaya to Koh Samui. Everyone knows that the cost of round-trip tickets are usually much cheaper than the cost of purchasing separate flights: one way + one way. In the case of flight from Pattaya to Koh Samui, is sometimes not the case, and buying return tickets alone can save sometimes up to $ 20. Someone will laugh with this economy, but I personally believe that at any level of income to save money is not superfluous, especially in Thailand.
And since we are talking about the economy, I think it is worth mentioning that if you choose a flight to get to Koh Samui from Pattaya, you must plan and travel expenses to Utapao airport (U-Tapao airport). When you try to take a taxi in Pattaya, you will require a 700 baht, and even with a very good trading, this amount not will be much lower, although the journey time is less than 50 minutes from the center of Pattaya. If we add to this the amount that would be required to move from Samui airport to the city, you will find that even without the airfare of Pattaya – Samui path already will be more expensive than a standard bus ticket.
I'm not trying to dissuade anyone from air travel, as someone probably thought. Just I specify all the nuances to some additional costs, because those costs sometimes become an unpleasant surprise for those who have limited vacation budget in Pattaya and Koh Samui. Here you can still recall that when you use the night bus from Pattaya to Koh Samui, you can save on accommodation at the hotel. Because you sleep in the bus. And this economy just enough for a bus ticket. At that time, such as when using air travel you should have to spend the night on the island (to be occupied at the hotel on the same day).
Return flight from Samui island to Pattaya (or rather to Utapao airport) is performed in the morning at 11:10 or so and arrives in Pattaya at 12:30 (return flight longer on 10 minutes). Check their schedule again, you can use form searching flights, placed higher on the page or in the right-side column of the site, where you can also find hotels with best prices in Pattaya, Koh Samui, and elsewhere in the world, comparing the prices of one and the same number in the best booking systems.
Another point: despite the fact that Utapao is a domestic airport in Thailand, it is better to come to him in advance. Because in addition to the airline Bangkok Airways, which makes flights to Koh Samui and Phuket, this airport has a military purpose. On the territory you will notice fighter Thai Air Force, at a checkpoint run by the military, etc. Because of this fact when planning the arrival in Utapao better to order a taxi from the airport in advance, as there is little passenger traffic, and a closed area, so finding a taxi on arrival can be difficult.
[ad#trans2]
More cheap flights from other airlines to Koh Samui route can be found from Suvarnabhumi Airport in Bangkok. However, this is again a topic for another article, the reference to which is given in the beginning of this article. There are in addition to buses and airplanes will be considered an interesting option for many – a trip to the island of Koh Samui on the train. I hope the above methods that allow access to Samui from Pattaya, will help you overcome this path with the comfort and the best method for the selected price! There is also information that the Thai authorities are planning to organize a ferry directly from Pattaya to Koh Samui. But if this ferry will be – I will write about it in the pages Thai-Rest.com later.
[ad#end]