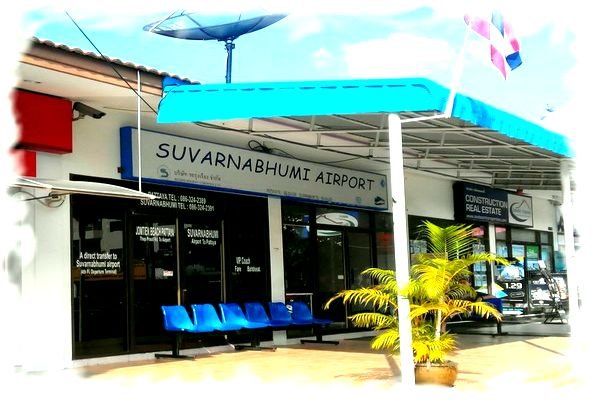 When you want to get from Pattaya to the airports of Bangkok, you need to use either a taxi or the special bus. Of course, it is easier to get from Pattaya to Suvarnabhumi Airport, which is located just 120 km from the resort, ie even closer than distance from Pattaya to Bangkok. Slightly more complicated way will have to be done from Pattaya to Don Muang airport, but in the second case, the path also can be easy and inexpensive if you know the several ways to get from Pattaya to Bangkok airports. With regard to the aircraft, the flights from Pattaya to Don Muang Pattaya is not provided, because of the close distance use of the aircraft is impractical.

CONTENTS OF ARTICLE ( you can click on the link for quick transition)
[ad#eng]
Bus from Pattaya to Suvarnabhumi airport
Definitely, the easiest and most affordable option to get from Pattaya to Suvarnabhumi – take the shuttle bus, which goes along with the approved schedule from Pattaya bus station, located in the southern part of the city. You can read article "Pattaya Bus Stations – review of all bus terminals" for details about how to get to this bus terminal (actually a small bus station). The fare is 134 baht, as bus follows the toll road. Fee for pre-sale is not provided, and clicking on the link, you can view the schedule of the bus. You need find a first picture on this page and see a second column with bus schedule (labeled "From Pattaya").
The ticket can be purchased for a few days before the departure of the bus to the airport (at least I do so), but I think that even on the day of departure is not a problem as the bus runs frequently and there generally remain free seats. Please note that the ticket is non-refundable (No Refund), so carefully think over the time of departure to the airport in advance and not be late for your flight. And you can easily miss if not accurately calculate the time required to travel to songthaew (tuk-tuk) during rush hour, when traffic on certain routes of songthaew in Pattaya almost stopped because of traffic jams.
The duration of the trip is about 1.5-2 hours (the last option – if it enters the plug in Pattaya), and the bus drives up the passengers to exit №7 in the departure  zone (4th floor Suvarnabhumi Airport). Baggage Allowance on the bus – free of charge (although correct to say is included in the ticket price), and before boarding you will get from the driver special luggage receipt indicating the number of pieces of luggage. Later, upon arrival at the airport, upon presentation of receipts, employees of the bus company (the driver and the representative) will give you your luggage. Next to the bus, you can just take a trolley Airport, by which is very convenient and easy to move around the airport even with heavy suitcases or with your backpacks for travel.
Slightly more expensive version with a bus from Pattaya to Suvarnabhumi – transfer to Bell Travel Service Company, of which I wrote in the article "How to get from Bangkok airport to Pattaya." You can book a transfer directly from your hotel door on the official website of the company. The cost will be 250 THB when ordering and paying online. At the same time the doors of the hotel to the bus station in Pattaya you will be taken to the minivan, and already at the airport will be taken on the big  bus. Earlier also it was possible to book a ticket in Don Muang for 245 baht, but some time ago this service was suspended.
The advantage of this method appreciated by those who find it difficult to get to the bus station south of Pattaya with their suitcases, while making several changes when moving to the tuk-tuk. Buses of this company depart from Pattaya to Suvarnabhumi 06-00, 09-00, 11-00, 13-00, 15-00, 17-00 and 19-00. Of course, the check-out will be used for at least half an hour. Other options to get from Pattaya to Suvarnabhumi (eg, via Bangkok) on the bus is also available, but in my opinion they do not make sense, because more difficult and expensive. They have meaning only in the case where you definitely need to visit Bangkok before returning home.
Taxi from Pattaya to Bangkok airport
Option with a taxi is a good choice when you have large suitcases when you do not like to use buses and,especially, by trip tuk-tuk in Pattaya, with the help of which you need to get to the bus station. Another option, in which the taxi car is justified – the night or very early morning flight from Suvarnabhumi when you can not use buses, because they do not drive at this time. A taxi from Pattaya to Suvarnabhumi will cost you between $ 900 to 1,500 baht (depending on the place of car order, your bargaining skills and attitudes taxi driver). I think it makes no sense to pay more because you can find a lot taxi in Pattaya and a lot of drivers, which want to get your 1000-1500 THB in any time of day and night in situation, when amounts of taxi drivers is always greater than the potential passengers.
Order a taxi to Bangkok airport, you can at the reception of most hotels, at special points of street «Taxi to airport» (see. photo) and on some parking for taxi, agreeing with the driver. You can also use the services of a proven global Taxi transfers company that is famous for its high quality services, the ability to place an order a taxi online, full-fledged four-seater or more spacious car and take advantage of additional facilities (eg, child seats, which under normal taxi you will not find) . More information about global taxi service you can read in article "Transfer Services in Thailand".
By the way, do not forget to specify to taxi driver that it final price, and if taxi driver will be use any toll road, he will pays already itself (if I am not mistaken, fare is about 120 baht). Thus, the advantage of the method is possible to note the speed (but not much faster than a normal bus), a slightly higher level of comfort and the ability to go from Pattaya to Bangkok at any time of the day. And remember that because of the gas cylinder in the trunk of a ordinary taxi in Pattaya is not usually taken into the cabin more than three passengers, if those with luggage.
Transport from Pattaya to Don Muang airport in Bangkok
Since in preset time you can not to use direct bus route from Pattaya bus station to Don Muang airport, you need to use the combined scheme. The simplest of them – bus + taxi. In the article "How to get from Pattaya to Bangkok – all options", me described in detail how to get to the bus station the capital of Thailand on buses for 124-133 baht. Wanting to get to the airport in Don Muang, best to buy a bus ticket from Pattaya to Bangkok's Northern Bus Terminal (Nothern bus terminal Mochit), since it is the closest to the desired airport.
Next to the specified bus station always plenty of taxis that will take you over the counter to the relegation zone at Don Muang for about 120 baht (or 150-200 THB without the counter, but the last option – it is a lot of Bangkok for considering that you need spend in way by taxi only around 10-15 minutes). It is also next to the bus station north of Bangkok, you can catch one of the buses, but to find the right bus to be problematic without the knowledge of the Thai language, because inscriptions in the Latin alphabet is not provided. Cost of bus about 20 baht.
Second choice: bus ride to Suvarnabhumi Airport, as described in the first section of the paper, and then to use transfer to the free shuttle-bass to Don Muang Airport, which can be found near the exit №7 from the airport in the arrivals area (second floor). You may be asked to show ticket tickets from Don Muang while landing on a free shuttle bus. Travel time from 45 minutes to 1.5 hours. Depending on traffic. This bus to Don Muang airport in Bangkok works from 5 am until midnight. From 05-00 am to 10-00 and from 22-00 to 00-00 buses departure from Suvarnabhumi interval of 1 hour. The rest of the time interval is reduced to 20-40 minutes.
Schedule of free shuttle bus to Don Muang can be found near the site of the landing on them. You can see that here are buses almost half empty, so no need to worry about availability free seats. Travel time between the airport 45 minutes to 1.5 hours, depending on road conditions. There are also city buses that go between airports, but they come with a variety of stops. Therefore, spend 30-35 baht for a long trip does not make sense. Especially since the free shuttle bass are air-conditioned, unlike some city public bus.
Taxi to the Don Muang airport from Pattaya will cost more than taxi to Suvarnabhumi, because it is located far away from the resort. Those, you should be calculated on the amount of 1500-2000 baht and up. So sometimes much cheaper access to the Suvarnabhumi Airport by taxi from Pattaya, and later find taxi in Bangkok for a trip to Don Muang. It is better to do it in the relegation zone, where taxi drivers usually leave empty and more compliant in the bargaining. Well, if the taxi driver agrees to take you on the counter, would be an option at all for the best price, because you can not use other variant to get from Pattaya to Don Muang at night. If the prospect of dialogue with the Thai taxi drivers do not attract, you can order a Taxi transfers in advance –  to get high level service, and easy get to Don Muang straight from Pattaya.
Finally, in the daytime you can use the easiest and cheapest way to get from Pattaya to Don Muang Airport. To do this, you need to use minibuses and costs 180 baht, which from morning to evening go to Don Muang from Pattaya with about half an hour interval. I did not use this transport, but this method has been tested several times with my friends and they all were satisfied. Very interested, but about minibuses from Pattaya to Don Muang with fare 180 THB, many of the local residents of Pattaya not even know, so they were surprised when I told them about it. Minibuses is sent to a small station outside Central Pattaya. Excellent reference point – a large supermarket Foodland, located on this street (Pattaya Klang, or Central Pattaya Rd).
You have to walk about 100 meters from the said store to the side of Sukhumvit Road (ie, away from the sea) and buy a ticket for the Minibus in a company engaged in the carriage. Inscriptions on the canopy at the company's office in the Thai language, with very advertising signboard and billboard on the sidewalk – on a yellow background. Next – a small gas-cylinders station. If you walk from store Foodland, it will be on the left side. You can also find this office when you walk from Sukhumvit Road, while the company's office is approximately 280 meters from the said track on the right side.
You can book a place in the van Pattaya – Don Muang, if you will call 0831121915 in Pattaya. I draw your attention that it can not be done in advance. You must call on the same day, when you want to go from Pattaya Airport. Perhaps an easier option – to come immediately before departure minibus with luggage. Minibuses run frequently from 5-30 am to 19-30 pm. Range of motion – every 30-40 minutes. The route called Pattaya – Major Rangsit (minivan on the way stops at Suvarnabhumi airport, too).
In this description of ways to get from Pattaya to Don Muang and Suvarnabhumi airports completed. I wish you an easy and comfortable road on the route from Pattaya to any Bangkok airport! Good luck!
[ad#eng]
[ad#end]