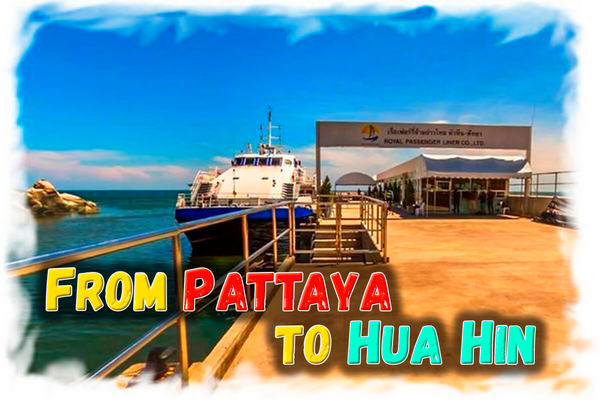 Pattaya and Hua Hin are Thailand's seaside resorts, which are located 2-3 hours drive from Bangkok. And more and more tourists want to visit both Pattaya and Hua Hin during one trip to Thailand, because the characteristics of these resorts are completely different. The bustling and cheerful Pattaya cannot boast of clear sea and beaches. And quiet and peaceful Hua Hin is the "royal resort" of Thailand, it has a clean and very warm sea, and many kilometers of white sand beaches. On this page you will find detailed information on how to get from Pattaya to Hua Hin by land and sea, the schedule of buses and ferries in both directions, as well as the cost of a taxi between cities.
Distance Pattaya – Hua Hin
Both resort cities are located in the northern part of the Gulf of Thailand, however, on different sides of Bangkok. As a result, the distance by the land between these cities is more than three times higher than the direct distance on the map. And this makes it somewhat difficult to move from Pattaya to Hua Hin, but mainly when using road transport – buses and taxis. But the use of sea transport – high-speed ferries – fully reduces both the distance and the trip time. More details about each type of transport are below on the page.
Bus from Pattaya to Hua Hin – schedule and prices
Traditionally for Thailand, the most budgetary way to move between cities is a regular bus. The Pattaya-Hua Hin route is no exception. Today, there is only one bus in each direction, but the bus schedule is very convenient. As always, you can see the current schedule and availability seats in a bus on your dates in advance using the transport search service in Asia. The bus leaves from Pattaya at 11:00 in the morning and arrives in Hua Hin at 17:00. This means that if you wish, you can swim in the morning in Pattaya and slowly check out of the hotel. And after arriving in Hua Hin, even before sunset, get to your hotel and, possibly, also visit the beach.
The cost of a VIP-24 class bus ride (with soft wide seats) is 510 THB (about 17 USD). The duration of the trip is indicative and, as a rule, the bus arrives in Hua Hin ahead of schedule. Please note that the bus leaves from Pattaya North Bus Station, and arrives at the New Bus Terminal in Hua Hin. This terminal is located near the city airport. To get to your hotel, you must additionally use local transport (pickup), which will cost 100-200 THB depending on the distance (bargaining is always appropriate). The return trip can be done in the same way (you can order a transfer to the bus station in almost any hotel).
Hotels in Hua Hin are quite good and there are many inexpensive options for those who want to save money. And if you want a 5-star resort on the first line, these offers are also available in Hua Hin and the resort town of Cha Am, which is located about 15 km north of the bus station. Using this direct link to Hua Hin hotels, you can find a large number of hotels costing up to 15-35 USD per day. Some of these hotels and guesthouses are located on the first line and these are really attractive offers.
How to get from Pattaya to Hua Hin by ferry
As I noted above, the duration of the trip from Pattaya to Hua Hin by bus is no more than 6 hours (usually less). However, there is a much faster and more interesting way to get to Hua Hin from Pattaya, or to make such a journey in the opposite direction. We are talking about modern ferries, which daily make sea voyages between these cities. If you had a rest in Pattaya and visited the main city pier – Bali Hai pier, you probably saw the necessary ferry there. In this case, we are not talking about old ferries with open decks that take tourists to Koh Larn and which cover a distance of 8 km in 45 minutes.
Modern closed ferries with soft seats run from Pattaya to Hua Hin and back. And these are actually high-speed ferries, because they cover a distance of about 110 km in just 2 hours. The ferry schedule from Pattaya to Hua Hin and back is as follows:
Pattaya to Hua Hin Ferry: 13:00 (01:00 p.m.)
Hua Hin to Pattaya Ferry: 15:45 (03:45 p.m.)
As you can see, the return trip is somewhat longer in duration due to the direction of rotation of our planet. And the ferry that departs at 15:45 from Hua Hin arrives at the Bali Hai pier in Pattaya at 18:00. A ferry from Pattaya arrives at the main city pier of Hua Hin city, which is located in the southern part of the city, next to a very picturesque rock. Since the arrival time is standard, you will not have problems with local transport to get to the hotel in any part of Hua Hin. The return transfer from the hotel to the pier is also not a problem.
The cost of the high-speed ferry Pattaya-Hua Hin and the ferry Hua Hin-Pattaya is 1250 THB (about 41 USD), and this is about 2.5 times higher than the cost of a bus ticket. In general, a sea trip can be very attractive if you are willing to pay more for it than a trip on a VIP bus. But if speed is your priority, then there is no faster way to get from Pattaya to Hua Hin (you can order a helicopter, but this service is many times more expensive).
Taxi from Pattaya to Hua Hin – when is it profitable
You can order a taxi transfer from Pattaya to Hua Hin and back using the transport search in Asia or find a taxi directly in Pattaya. The cost of a trip to Hua Hin from Pattaya will be around 3300-3500 THB. It's not cheap when it comes to one passenger. But if you divide the cost of the trip by 3-4 passengers, then the price for each of them will be quite adequate (from 850 THB). After all, a taxi transfer is a trip from hotel to hotel at no extra charge. While using a ferry or bus you have to pay extra for a trip to the bus station or to the pier, and then from the bus station or pier to the hotel in the second city. A taxi ride takes about 4-5 hours.
Also do not forget that you can always use various types of transport to travel from Patatya to Hua Hin and back. For example, you can go from Pattaya by high-speed ferry or taxi, and for the return trip use the VIP bus (or vice versa). Such a scheme will make your trip more original and memorable. I hope the information on this page was useful for you and now you can easily plan your vacation in Thailand with a vacation in Pattaya and Hua Hin. Have a nice trip!

Easy search of tickets for buses, trains, ferries and transfers in Thailand and other Asian countries (support for many languages).
International online booking service for taxis and transfers from airports around the world. Fixed prices and many payment methods before and after the trip.
Quick search for the best hotel prices right in all popular reservation systems. The service compares and displays the best-priced options for your dates. Discounts for hotels up to 50%.
My favorite site for searching airline tickets. Quick search for the best price from 750 world airlines and from the largest dealers in your region
Easy search and armoring of motorcycles, mopeds and bicycles in Thailand and other Asian countries. Without a pledge of the original passport! Delivery to the hotel!
Rental cars and SUVs in Thailand at the best price and conditions. Fast search right in all popular reservation systems. The conclusion of a lease agreement online in your own language.