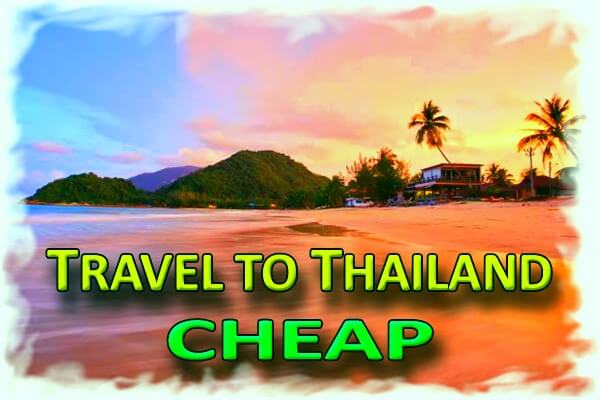 The depreciation of the Euro and a significant strengthening of the Thai baht against the US dollar in 2019 make holidays in Thailand more expensive than before. And for many people, this is a sad, but important reason to refuse to rest in Thailand. But there are some simple secrets that allow you to relax in Thailand very inexpensively, even in 2019. Below on the page you will find useful tips on how you can save a lot of money while travel to Thailand. At the same time, this is not about a noticeable decrease in the quality of your vacation, but only about really reasonable savings on things and services, which you can completely refuse. The calculations of approximate savings during a vacation in Thailand for two people are also given, which will follow my simple tips.
1. Refuse to stay in expensive hotels
Unlike Egypt, Turkey, the Maldives or Mexico, in Thailand hotels, rarely does anyone spend most of their vacation. After breakfast, you will most likely go to the beach, go on an interesting excursion for the whole day or just walk around the resort. In the evening, you will go to the night market or cafe. Hotels in Thailand traditionally offer only breakfast (and not always), so most tourists use the hotel only for the sleeping, changing clothes, taking a shower and storing a suitcase or backpack. Nobody argues that living in a 5 star hotel on the first line of the sea is very nice, but the cost of such hotels is often 200-600 USD per day. At the same time, for 200 USD in Thailand you will easily find an excellent room in a 3-star hotel and this money is not enough for a day's stay, but for a week.
The cost of the same hotel room may vary significantly depending on the booking system (Agoda, Booking, Trip, Hotels and dozens of others). Therefore, I always use a smart hotel search, which compares all market offers and gives the best price at the time of the search. In Pattaya and Phuket you can easily find good hotels with prices up to 20 USD per day. The main thing is to pay attention to the hotel rating in order to immediately weed out hotels with bad reviews. And if you want to save even more, you can stay in 2-star hotels for 14-18 USD per day. In fact, the classification of hotels in Thailand is somewhat arbitrary and I advise you to pay attention not to the number of stars (and not even to the photo in the search results), but to the price and rating of guests.
During the search, I always choose hotels with a rating of 7.5 / 10 and higher and always these were very good options for my money, sometimes even with a pool and breakfast. If we talk about saving money on a hotel, then I won't even take into account cool network hotels for 200-600 USD per day (if you read this article I doubt that you consider them too). Therefore, for example, take the average hotel near the center for 1200 THB (40 USD). If you find a good hotel for 20-25 USD, then each day of your stay will save you up to 15-20 USD. And this is really an easy way to save on a vacation in Thailand without compromising the quality of your vacation.
2. Check hotel location on map
Before booking a hotel (or buying a last-minute tour to Thailand), I recommend checking the area in which a particular hotel is located. Cafes and shops you will surely find in any area of ​​Thai resorts. You can check their availability even during a virtual walk around the desired area using Google Street View. But if your hotel too far away from the beach or from the central part of the resort can lead to additional transport costs. Especially when the Songthaew route (in Pattaya) does not go near your hotel or in Phuket, where there is no inexpensive local transport at all. Therefore, all other things being equal, choose hotels closer to the center and the beach.
Even more: in practice, I was convinced that the good location of the hotel is much more important than the price. After all, a short trip to a motorcycle taxi will cost from 40 to 60 baht per passenger (in Thailand, it is customary to pay separately for each passenger by motorcycle taxi, even when you ride a motorcycle together). Those, if you want to quickly getting together to a pier, to a beach or to any shopping center, then each trip in Pattaya will cost you an average of 100 THB (3.3 USD), and in Phuket it is even more expensive. But later you will need to return to the hotel back. And such trips for various purposes may require several per day.
I like to walk and it's not a problem for me to walk 2-3 kilometers one way, but even it can be difficult for me to do this several times a day in the heat or in the rain. Therefore, if a hotel in a good location costs 3-5 USD more than a similar hotel far from the places you will visit every day, it makes sense to choose a hotel with a good location and save money on holidays in Thailand. For calculation, we take a hotel in a good location for 25 USD per day and a hotel for 20 USD far from the center. For two round trips on a motorcycle taxi per day, you will pay an average of 400 THB or 13 USD. And the average savings will be 8 USD per day. If you use a taxi in Phuket, the savings can even amount to tens of USD every day, because even for a short trip they often require 300 THB or more.
3. Use local transport or motobike
This way to save while relaxing in Pattaya is much like the previous one. Regardless of which area of ​​Pattaya or which beach of Phuket you live in, you will certainly need to make trips to other areas of these resorts. And the cheapest way to do this is with local transport. The most favorable situation for saving money in Pattaya. City passenger pickups (songthaew) from morning to night allow you to travel long distances in just 10-20 THB. Even in the case of several transfers on the route, you rarely need to pay more than 30 THB (1 USD). The main thing is to choose a hotel near one of the routes and you will not face high transportation costs. And daily you can spend on local transport only 100-120 THB (up to 4 USD) for two. When using a taxi or motorbike taxi in Pattaya, you would have spent 400 THB (or 13.3 USD) for similar city transfers.
The situation in Phuket is more complicated, but even on this Thai island there are large open passenger buses. Such buses do not run very often, but compared to the cost of a local taxi, this is a very cheap transport. The main problem of such buses is travel time and illogical routes. For example, to get from the Patong beach area to the neighboring Karon beach with white crisp sand, you must initially get a bus for 30 THB to Phuket Town, then change the bus and get to Karon Beach for the same 30 THB. As a result, a round trip will cost 120 THB for two (4 USD). And, unfortunately, more than 2 hours on the road. Using a taxi can save time, but you will pay around 700 THB or 23 USD.
You can save on a taxi in Phuket, but for this you have to find travel companions and divide the cost of the trip for all passengers. Then a trip between the beaches can cost as little as 100 THB per person. In other words, you can save on transport even with active travel around the resorts and the amount of daily savings can reach 10 USD and more. Renting a motorbike is also a good way to save on transport, but you need to take into account possible risks and it is better not to take a motorbike without driving experience, especially in Phuket and Pattaya. If you have the right category in your driver licence (A), then with an average rental price of 200 THB per day – only one trip of an average duration already pays for the rental price.
4. Savings on currency exchange and ATMs
Most foreigners arrive in Thailand not with Thai money, but with bank cards or the currency of another country. When it comes to US dollars, always remember that the best exchange rate for banknotes in denominations of 50 and 100 USD, and for banknotes with a lower denomination, the exchange rate will be lower. For Euro banknotes there is no such restriction on face values. If you brought cash to Thailand, it is best to make the first exchange at the airport. Only not in the arrivals area, where the bank kiosks have a very unfavorable exchange rate, but on the ground floor of Suvarnabhumi Airport.
About how to change currency in Bangkok (and the airport and not only), I wrote in a separate article: "Currency exchange in Bangkok – The best points in Bangkok". I advise you to familiarize yourself with this information, because it actually will help you save money. If you are relaxing in Pattaya, it is best to exchange currency, especially USD, at the T.T. exchange network. Currency Exchange (corporate color – yellow). Due to the popularity of these exchangers, competitors began to open in Pattaya with a similar name and logos, but with a less favorable exchange rate. In Phuket, you can also find many exchange offices, the rate at which may be different. Therefore, it is better to spend a little time and check the current exchange rate in 3-5 kiosks and choose the most profitable for you.
With bank cards, the situation is more complicated. With cashless payment of hotels, transport in Thailand or online purchase of excursions there are no problems. But, despite the rapid transformation of Thailand into a developed country, many many people and sllers prefer to use cache and it is difficult to do without cash money even in large cities, including Bangkok. For example, in 7Eleven stores you can use the card to pay only when purchasing goods worth more than 300 THB and only MasterCard. There are many ATMs in Thailand, but this country is also known for its high level of ATM and bank card fraud. Therefore, some western banks may block operations on your card after spending transactions in Thailand. It will be possible to solve this problem by calling, but it's better to check with the bank's support service about this possibility even before the trip.
You must remember that in Thailand there is no longer the possibility of withdrawing cash from ATMs without a commission. And for each cash withdrawal operation, Thai banks charge 150-200 THB. You can save on this if you will not use an ATM, but contact the bank branch and ask a living employee to give you cash from your card. Of course, for this you will need to have a passport with a name that matches the name of the card holder. There are times when a bank employee for some reason does not want to give you cash and points with his hand at a nearby ATM. Then you must either ask him again to provide the service (only without raising the vote), or use the services of another bank.
5. Reasonable savings on food and drink in Thailand
Thailand can offer dozens of delicious dishes, many of which are not spicy at all and have no unpleasant odor. Therefore, I still cannot understand why, during a 2-3-week vacation in Thailand, many foreigners prefer to visit their national cafes and restaurants and order the usual pizza or hamburgers there. I have nothing against these dishes, but why pay for them so expensive in Thailand, when in a couple of weeks you will cook or buy them at home many times cheaper (more often and tastier). To save on food in Thailand, try Thai food. Moreover, there are many secrets on how to do it cheaply. You will find detailed information on the page 12 Ways to Save Money on Food in Thailand. Why pay about 250-400 THB by pizza when you can order Pad Thai with chicken or shrimp for 50-80 THB or buy other Thai dishes at a similar price.
In Thailand, it is very important to choose not only dishes, but also the place of purchase or ordering food. For example, buying food and drinks on the beach is not the best way to save. You can buy plain rice with chicken or shrimp in an outdoor cafe across the road from the beach for 60-80 THB. But if you order the same dish on the beach, then cook 150 THB. And if you also choose the time of purchase, then instead of 300-400 THB per day per person, you can eat well for 5-6 USD per day. Saving for two person per day turns out from 10 to 15 USD. The easiest way to save on alcohol in Thailand is to abandon it and consume fresh local juices and fruits. But I understand that not everyone is ready for such a step. Therefore, I can only advise you to drink local alcohol – from beer to strong. In fact, alcohol in Thailand and Thai beer (detailed information with prices on the links) are of good quality, and you will always find a variety of whiskey, rum or beer that you like.
For example, I prefer Sang Som rum (4.5 USD per 0.3l bottle in hypermarkets). And it's hard to choose your favorite beer from a variety of beers for a number of reasons. But all beer brands are produced on modern equipment and, often, by well-known world beer concerns under local brands. Imported beer costs about 30-50% more. The average tourist drinks a few bottles a day, so the savings can be noticeable. Moreover, if you want to save money, do not order beer on the beach, but buy it in advance at the store, even in the evening (alcohol sales in Thailand are limited in the daytime). For example: a bottle of beer (1 pint), which costs about 55-60 THB in a store, will be sold to you for 100 THB on the beach. As with food, the cheapest alcohol can be bought in hypermarkets. But even there, imported alcohol is expensive (about 2-2.5 times more expensive than Duty Free stores). Please, remember: you can enter only 1 liter of strong alcohol per adult person to Thailand (for exceeding – a very large fine (up to 500 USD) and confiscation of the entire volume).
6. Buy excursions and entry tickets at the best prices.
If you come to Thailand on a package tour and want to visit some interesting places in this country, it is better not to buy excursions from the hotel guide of your tour operator. In general, only the lazy did not write about it and did not tell. But if such guides still exist and continue to sell tours at very high prices, their business is still relevant. Everyone spends money as he wants, but if you want to save money on entertainment and excursions in Thailand, it is better to buy excursions not at the hotel, but book online. After all, it is important to understand here that on some excursions the presence of an English-speaking guide (or a guide speaking your other native language) is not necessary at all. Who cares who takes you to a military beach in Pattaya or to some tiger zoo and then takes you? And never buy "unique goods" on a sightseeing tour if you agreed to it.
By the way, if you flew to Thailand on your own, you can also buy excursions, if only for the reason that it is often more profitable to visit some locations on your own. For example, I'm interested in excursions, the cost of which almost coincides with the cost of the admission ticket of the place where me will be taken and brought. It turns out a good saving on transport (especially when there is no cheap local transport). As a rule, excursions are limited in time, but I move quickly and usually manage to see everything that I planned to see. But there are interesting places in Thailand that are more profitable to visit on their own, without an excursion. On average, for two weeks of vacation in Thailand, you buy 2 not very expensive excursions or discounted tickets on the Internet. To do this, I recommend using the proven Klook service (link to the English version in the direction of Thailand), then the savings can be 30-50 USD per pair. If you plan to attend excursions and paid attractions more often, you will save even more money in Thailand under this expense item.
7. Ask for a discount in the markets
Thailand is not Egypt and the prices of goods and services were not initially overstated at times. However, a reasonable discount when buying souvenirs, clothes, shoes, beach towels, hats and other things is always appropriate. Unless, of course, we are talking about buying in the markets and in small stalls. A bargain will be especially successful if you buy not one thing, but several identical or similar ones. Beach vendors are very good at dropping the price, but the point here is rather that even after a big discount their goods will be more expensive than in the markets. Very successful is a bargain with taxi drivers, including a motorbike taxi.
It should be remembered that always and everywhere in Thailand you need to bargain correctly. You should not neglect the product, because seler know that for some reason you want to buy it. And your bargaining will always be more successful if you do it positively and with a smile. In Thailand, it is not customary to bargain when buying food and drinks, because most dishes have a fixed price and do not change for many years. It is also not accepted to bargain in massage parlors. Quite the contrary: it is recommended to tip the masseuse, because this is their main income.
How much money can you save in Thailand?
If we summarize and calculate the possible savings in Thailand with the proper planning of your trip, we get the following results per week for two in USD (for calculation I will take the minimum savings).
Hotel stay: 15 * 7 = 105 USD
Savings in transport due to choosing a hotel in the right place: 8 * 7 = 56 USD
Savings on transport during the holidays: 10 * 7 = 70 USD
Saving on food: 10 * 7 = 70 USD
Savings on excursions and entrance tickets: 30 USD
Thus, even without taking into account the savings on alcohol (I did not take them into account, because not everyone drinks alcohol), without taking into account discounts in the markets and without taking into account savings from a competent currency exchange, you can save more than 300 USD per Week. Considering that the average vacation time in Thailand is 14 days, the amount can be doubled and get 600-700 USD savings. This amount is already comparable to the cost of a regular ticket from most countries to Thailand and back. Even more. Sometimes, when you use smart search for airline tickets, you can even buy tickets for two persons to Thailand and back for similar money.
If you fly for 3 weeks or a month (my favorite vacation time in Thailand), you can save about 1000-1200 USD only by following the simple money saving rules described in the article. Also you can save on washing clothes, at hotels as a result of night transfers between resorts, etc. I would also like to add that each of your new trips to Thailand may cost you less than the previous one. And not because you need to visit fewer excursions (In Thailand a lot of interesting places will always be found), but simply because you will have personal experience and your secrets of saving during your vacation. If you can already share useful ideas, write about it in the comments. All a good vacation in Thailand at a reasonable price!

Easy search of tickets for buses, trains, ferries and transfers in Thailand and other Asian countries (support for many languages).
International online booking service for taxis and transfers from airports around the world. Fixed prices and many payment methods before and after the trip.
Quick search for the best hotel prices right in all popular reservation systems. The service compares and displays the best-priced options for your dates. Discounts for hotels up to 50%.
My favorite site for searching airline tickets. Quick search for the best price from 750 world airlines and from the largest dealers in your region
Easy search and armoring of motorcycles, mopeds and bicycles in Thailand and other Asian countries. Without a pledge of the original passport! Delivery to the hotel!
Rental cars and SUVs in Thailand at the best price and conditions. Fast search right in all popular reservation systems. The conclusion of a lease agreement online in your own language.