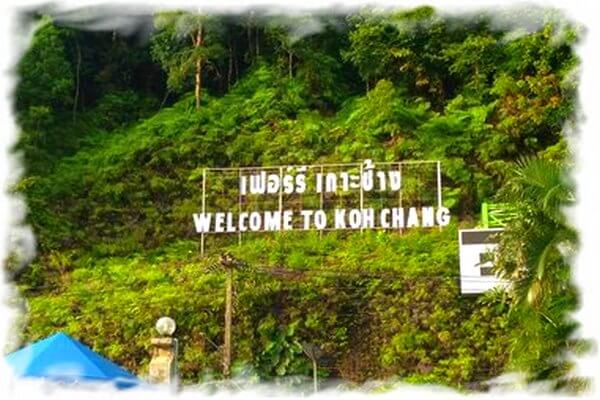 The desire to get from Pattaya to Koh Chang often arises among tourists who spent some time in Pattaya and were somewhat tired of its unbridled fun and, in general, from the noise of a large resort city. In this regard, Koh Chang is the exact opposite of Pattaya. It is a quiet and very picturesque island with magnificent beaches, high mountains, coconut palms and other tropical vegetation. It is not surprising that the number of tourists who want to spend several days on the island of Koh Chang is constantly increasing. This article describes the simplest and most popular ways to get from Pattaya to Koh Chang quickly and comfortably. You will also find out in which cases it is more profitable to use one or another option.
First of all, the article deals with transfers by minibuses. Despite the fact that the transfer of Pattaya – Koh Chang is not the most budgetary way to get to the island, it is recommended by all experienced travelers who once convinced of its advantages. A very small overpayment for the specified transfer compared to other methods described at the end of this article and also allowing you to get to Koh Chang from Pattaya and back, is completely compensated by the convenience and simplicity.
Today in Pattaya it is easy to find many tourist offices that are happy to sell you a shuttle service to Koh Chang Island, but not everywhere the prices are the same and you can pay 400 THB or 1200 THB for the same way. This is due to the fact that not all sellers and transport companies themselves deliver passengers along the Pattaya – Koh Chang route: many are only intermediaries. As a result, the transfer cost for customers of such companies will often be higher than for tourists who turned directly to the transfer organizers.
CONTENTS OF ARTICLE ( links for quick navigation)
Transfer Pattaya – Koh Chang by Mango Travel

This way to get from Pattaya to Koh Chang appeared in July 2018 and is popular with tourists who prefer to get to Koh Chang Island from Pattaya quickly and without additional transfers. The essence of this proposal is delivery from hotel to hotel. At the same time, your move to Koh Chang consists of three stages:
one). A minibus picks you up at Pattaya Hotel and takes you to the pier in Trat Province.
2). You overcome the water section of the route by big ferry to Koh Chang.
3). You again take your place in the minibus, and it takes you to the hotel on the island of Koh Chang.
You can order a transfer from Manga Travel on the Transportation in Asia website. In this case, you do not need to visit the company office in Pattaya and spend your time and money on it. Payment is possible using Paypal and bank cards. The transfer price includes a ferry ticket. However, there are some restrictions regarding the location of hotels in Pattaya and Koh Chang. In Pattaya, a free shuttle service includes the entire southern part of the city (Jomtien and Na Jomtien areas), all of central Pattaya and the Cholchan area in North Pattaya.
At the same time, the company does not take tourists whose hotels are located on Sukhumvit Road. Free shipping to Koh Chang is available for hotels located on the beaches of White Sand beach, Klong Prao beach, Kai Bae beach, Lonely beach and Bailan beach. Those, this is almost the entire western coast of Koh Chang, where 90% of all hotels are located. The price also includes the carriage of one baggage per passenger. Before the trip, you must print a voucher that was sent by e-mail after paying for the transfer.
The trip from Pattaya to Koh Chang takes about 6 hours, but in reality, the trip to the island may take longer. The collection of tourists in Pattaya hotels begins at 7:00 in the morning, and the departure from the city is usually around 07:40. During the trip, there are 1-2 stops at the gas station, where tourists can visit the free toilets and buy something in shops and cafes. The minibus includes 14 passenger seats and is equipped with air conditioning (it is better to use a light jacket if you do not tolerate chilled air.
The cost of a Pattaya – Koh Chang transfer from Mango Travel at the time of this writing is 990 THB. At first glance, this is not very cheap, especially if you are not traveling alone. For example, you can order an individual transfer by car for 3500-4000 THB for 4 people. The cost for each passenger will be approximately the same. And comfort and speed are higher. But if you compare with other offers of transfers by minibuses, then the option can be considered.
You can easily find transfers for 500-600 THB from Pattaya to the pier in the province of Trat, but then you must additionally pay a ferry ticket (+80 THB) and a pick-up taxi to the desired beach (from 50 to 150 THB in day time, but maybe more expensive in the evening time). It turns out that instead of 500-600 THB, the cost of your trip increases to 700-900 THB, which is not much cheaper than the transfer price. Plus, you may have to go some way on foot to the hotel from the main road on the your beach.
In other words, I recommend choosing a transfer from Mango Travel in cases when you want to receive a full transfer from hotel to hotel without additional transfers and communication with local taxi drivers. If you want to save money, especially when you are not traveling alone, I recommend using the following option, which I always use myself.
Transfer Pattaya – Koh Chang by 35 Group Pattaya
The company with the best prices today and an excellent reputation is 35 Group Pattaya, whose office is located on the third street in Pattaya, near the intersection with South Street. If you go from the beginning of Walking Street along South Street, you need to go through several small intersections, i.e. Third Street is not the next intersection after Second Street, as many people think, but much further, but I always walked without problems. Your landmark – a traffic light at a more big intersection than the previous ones and a small repair of motorbikes in front of it, located in the building on the right in the direction of travel (although it is useless to describe establishments and signs in Pattaya, as everything is changing rapidly).
At this intersection, turn left and go through several buildings until you see a 4-storey pink building with balconies, again on the left side of the corresponding sign (see photo) and a glass door. By the way, on road signs the street is designated as Pattaya Tai (Latin alphabet). In order not to look for an office for a long time in reality in the conditions of the hot Thai sun, I recommend that you first look at your path using Google Street View. Before entering the office you should take off your shoes (you will see a lot of shoes in front of the door and remember this).
At the office of the transport company you will be asked which island you want to order the transfer to (Pattaya – Koh Chang), the date and time of departure you need. You must also provide the name of your hotel and its address in Pattaya. If your hotel is small and little-known, take a business card with the address at the reception so that the driver will definitely find you before driving to Koh Chang). Also it will not be a problem if you prefer to live in private apartments in Pattaya, as I do with Airbnb (here you can get a gift of 43 USD for registration in this service). You will also need to leave a phone number for communication in Thailand. You are probably using mobile communications in Thailand and this will not be a problem either.
35 Group Pattaya operates three flights on the Pattaya – Koh Chang route per day: at 07:00 and 09:00 in the morning and at 13:00. The transfer price from Pattaya to Koh Chang from 2013 to the present is only 400 baht, while the indicated price includes a ticket for the ferry Trat – Koh Chang (which costs 80 baht when buying separately). If you plan to return from Koh Chang to Pattaya (and not to Bangkok, for example), I advise you to immediately book a ticket in the opposite direction, i.e. transfer from Koh Chang to Pattaya. Previously, this way you could save another 100 baht, because a round-trip transfer until the end of 2017 cost 700 THB). Since 2018, the cost of a round-trip transfer has been 800 THB. The return ticket can be taken with an open date (tell the girl in the office that you need an "open ticket"). With the return transfer, there are some nuances that are described in the next section.
After paying for tickets, you will not need to take any action in order to get from Pattaya to Koh Chang. Just expect a minibus at the right time in the right place (the girl in the office will write to you in advance on paper what time the minibus will pick you up at the hotel or condo). At the appointed time, you will be picked up and taken by Toyota's comfortable VIP minibus to the pier in the area of ​​Trat, where ferries depart for Koh Chang. Near the pier there is a small office of 35 Group Pattaya, whose employee will give you ferry tickets to Koh Chang. Ferry ticket to Koh Chang – red. If you paid a return transfer to Pattaya, make sure that you received a return ferry ticket from Koh Chang Island (green).
Next you must go to a small waiting room and wait for the nearest ferry to the island. In fine weather, you can see the island from the mainland. A ferry takes you to Koh Chang in about 30 minutes. There is a cafe on the passenger deck and you can take a free Ko Chang card. The Koh Chang ferry pier is located on the east side of the island, and most hotels and beaches are on the west. Therefore, you may have to use a songthaew (passenger taxi pickup). To the nearest Koh Chang beach, the description of which is given in a separate article – White Sand Beach – the trip will cost 50-60 baht, to Kai Bae Beach and Lonely beach – 100-150 baht (depending on the time of day and the total number of passengers in a pickup truck).
If you do not want to spend time visiting the office of 35 Group Pattaya, you can buy a transfer to Koh Chang on the minibus of this carrier in Internet. Such transfers are sold by intermediaries and the cost will be higher by 100-200 THB per person. However, such offers often do not include a ferry ticket. And this is another 80 THB to your expenses, so keep in mind and clarify all the details.
When ordering a transfer from Pattaya to Koh Chang, you can pay for shipping directly to a specific hotel on the island. Of course, it will cost more, about 600 THB one way or about 1200 THB for a trip in both directions. but for some, the option will seem convenient, especially if you managed to save a lot by using the hotel search and price comparison form in various reservation systems, which is located a little lower. Please note: the reputation of 35 Group Pattaya is really very good, therefore it is increasingly necessary to book a Pattaya – Koh Chang transfer in advance. I myself was faced with a situation where I had to postpone the trip to Koh Chang for one day due to the lack of free seats in the minibus. Therefore, if you want to guaranteedly leave for Koh Chang Island from Pattaya cheaply – book a transfer in advance.
Minibus transfer Koh Chang – Pattaya from 35 Group Pattaya
If you ordered a return transfer, be sure to ask the employee of the 35 Group Pattaya company, which will meet you upon arrival at the pier, for a return ticket for the ferry. For some reason, she immediately refused to give such a receipt to me and I had to demand more insistently, indicating that there was a ticket with an open date back. If the return transfer was originally ordered for a specific date, you just arrive a few hours before leaving for Pattaya to the island pier, exchange the ticket receipt and go to the ferry.
But if the return transfer is Koh Chang – Pattaya with an open date, you should definitely call the company office two days before the planned departure from the island and reserve a place in the minibus. If this is not done, there may be no free seats on the bus and you will have to look for other options for returning to Pattaya and overpay for it. A small clarification: by phone, employees only speak Thai and English (as in the company's offices). You will need to indicate the number of the transfer agreement, date and departure time from ferry pier on mainland to Pattaya.
An exchange of a ticket receipt is made in the window at the entrance to the pier on the island (before departure to the mainland). You can get to the pier in the same way as when arriving on the island – using songthaew. By the way, it is better to arrive at the pier in advance so as not to be late for your return transfer. Having arrived by ferry to Trat (Natural Bay Pier), you must again contact the office of the 35 Group Pattaya company, next whose doors buses leave and show your ticket. Often, at the same time, a bright sticker with the name of the company will be glued to your T-shirt so that you do not get lost.
If the minibus of the company arrived at your chosen time, and there was no place for you in it, you should not panic and curse, "losing face." Another minibus will arrive soon and you will definitely be taken to the hotel in Pattaya from where you were originally taken. On the way there and back, the minibus must make stops at the gas station, where you must leave the bus for a few minutes. You can just stretch your legs, or you can have a bite to eat with local food, eat fruit or go to the 7/11 store (not at all gas stations) and buy Thai soft drinks or thai beer there. Just don't mix up minibuses, there are usually a lot of them and all white. Therefore, pay attention to the name of the company (in the photo highlighted with a yellow marker) and remember fellow travelers.
Why transfer Pattaya – Koh Chang is more convenient than a big bus
More accessible at first glance ways are regular buses passing through Pattaya to Trat. Their cost is about 200-250 THB. It would seem that the amount is almost two times less than the cost of an organized transfer to the island of Koh Chang in the Gulf of Thailand. However, if you add 80 THB per ferry ticket to this amount, you already get about 300 THB. Plus, you need to get from the hotel to the North Bus Station in Pattaya or Sukhumvit Highway (10-20 THB for a songthaew or much more by taxi), find a suitable bus (and this is also not easy if you use the Sukhumvit highway passing through Sukhkumvit through Pattaya, which you need to stop yourself or ask the locals to do this, also for a small fee).
In addition, from Trat city itself it will be necessary to independently get to one of the ferry berths, using for this local songthaew, which will again cost you about 50 baht. In other words, the amount is similar, plus or minus 30 baht, while there are much more difficulties, especially if there are problems with English or Thai. If you book a transfer in both directions, then this method is not only the fastest, but also the cheapest and the method with regular buses cannot compete at all.
Also remember that a trip of about 270 km in length on a VIP minibus with comfortable leather seats will in any case be faster in time and more convenient than on a regular intercity bus that goes to Trat for about six hours with many stops. Decide which way to get from Pattaya to Koh Chang is more convenient, anyway. I wish you a successful and comfortable trip!

Easy search of tickets for buses, trains, ferries and transfers in Thailand and other Asian countries (support for many languages).
International online booking service for taxis and transfers from airports around the world. Fixed prices and many payment methods before and after the trip.
Quick search for the best hotel prices right in all popular reservation systems. The service compares and displays the best-priced options for your dates. Discounts for hotels up to 50%.
My favorite site for searching airline tickets. Quick search for the best price from 750 world airlines and from the largest dealers in your region
Easy search and armoring of motorcycles, mopeds and bicycles in Thailand and other Asian countries. Without a pledge of the original passport! Delivery to the hotel!
Rental cars and SUVs in Thailand at the best price and conditions. Fast search right in all popular reservation systems. The conclusion of a lease agreement online in your own language.