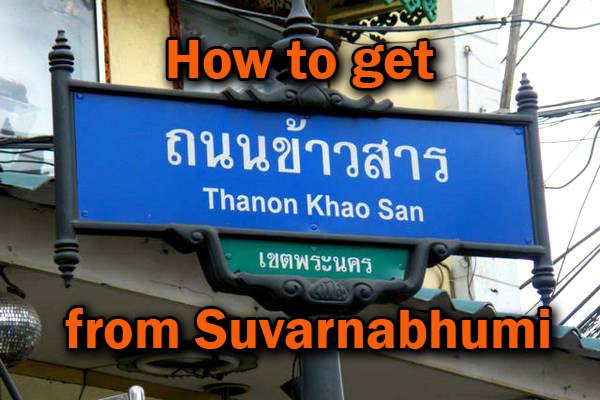 Khao San Road in Bangkok long ago became one of the most tourist places of the capital of Thailand. Every year, hundreds of thousands of foreigners visit this street of cheap hotels,around the clock fun and interesting acquaintances. Therefore, many backpackers and ordinary tourists after arriving in Thailand immediately go to the Khao San Road area, using various modes of transport in Bangkok. At the same time, many are not even aware that today it is possible to get from Suvarnabhumi airport to Khaosan Road is fast and cheap – just THB 120 (or US $ 3.5). On this page you will find information on direct transport from the airport to Khao San Road, as well as some other types of transport, which can also be used to overcome this route.

In order not to waste your time in vain, at first will be described the simplest and most convenient way to get from Suvarnabhumi to Khao San Road, and just below – other types of transport, information on which can be useful in cases where the use of the first method for you is not possible or when for various reasons, these methods are more advantageous or convenient for you. At the end of this article you can also find a map of the area Khao San Road in Bangkok, on which are marked for cheap hotels and the cost of living in them (prices in USD).
CONTENTS OF ARTICLE ( you can click on the link for quick transition)
Transfer from airport to Khao San Road for 120 baht
In 2016, an opportunity to get from Suvarnabhumi airport in Bangkok to Khao San Road, with using vans of Suvarnbhumi Travel company. The method is suitable for everyone, but especially for those tourists who are still poorly oriented in Bangkok and its transport system. Agree, very convenient to make landing in Minibus at Suvarnabhumi Airport and get out of it directly at Khaosan Road, without having to change vehicles during a route somewhere in the city. Minibuses depart on schedule from 07-00 am to 23-00 pm with an interval of one hour. The end point of the trip is the intersection of Khao San Rd and Chakrabongse Rd.
Transport company stipulated that the tourists arriving in Bangkok, as a rule, have a minimum of a backpack or suitcase, so only 10 passenger seats provided in every minibus. To be sure to get from the airport to Khao San Road at the right time, you can book a place in advance by using the service of cheap transport in Asia (direct link to the route to the Khao San Road). You only need to enter a travel date, and select the right time (right at the top of the list will be cars business class, and just below – Minibus with cheap fare). As you can see, the cost of this way on the minibus in all cases will be the same, and is 120 baht (or slightly less than $ 3.5 at current exchange rates). Payment is possible by credit card or through PayPal. You must know, that use this service is convenient and profitable for other journeys in Thailand also.
Travel time to the Khao San Road is just one hour. Minibuses are equipped with air conditioning, so even in the hottest weather Bangkok heat will not bother you. By the way, using an online booking trips from Suvarnabhumi on Khao San Road, you have the opportunity to avoid a currency exchange at the airport, where traditionally unfavorable exchange rate for tourists. Among the disadvantages of this method of travel is only possible to allocate the inability to use it at night, but the same lack of inherent and other options using the urban public transport.
I can also advise not to book passage on the route immediately after your arrival in Bangkok, because passport control and baggage may be slightly delayed. Even if all the procedures at Suvarnabhumi passed quickly and you are left with free time to your minibus, you can always go to a cafe or food court at the airport and pass the time with a few portions of Thai dishes, buy a sim card in one of the offices of mobile operators in the arrival zone or buy anything from food and non-alcoholic beverages in Thailand  – in the 7Eleven or Family Mart stores.
A taxi from the airport to Khao San Road
Despite the fact that the option of a taxi from Suvarnabhumi airport to Khaosan street for obvious reasons, is more expensive than the transfer by minibus, this option also has the right to life. As I wrote in the previous section, you can use minibus only from 07-00 till 23-00, but taxis operate around the clock. For more information about using a taxi from Suvarnabhumi Airport can be found in a separate article entitled "How to get from the airport in Bangkok – all ways." Immediately, I note that the trip to the Khao San Road will cost about 350-400 baht (about US $ 11.5), subject to a small bargain with the driver. If you pay for a taxi at the airport counter, you will have to pay 450 baht without bargain (50 baht – airport fees).
Of course, it is more than three times more expensive than a trip from Suvarnabhumi to Khaosan Road by Minibus. But only if you are traveling alone. And if you have two or three friends, the cost of the trip becomes almost comparable. However, when using a taxi you will have to change at the airport some amount currency in the Thai baht, because you can not  to pay currency to the taxi driver. But in this case there is a good alternative: you can use KiwiTaxi from Bangkok airport. In this case, you can count on the fact that right in the arrivals hall you will be greeted (as a VIP person) driver holding a sign with your surname and after meet you he will drive you at a pre-agreed address.
In this case, you can also count on the possibility of paying by your bank card Visa or Mastercard and other advantages, which you can read in the separate article. Of course, in this case not be able to bargain with the driver, but i know that for many travelers more important comfort in the way, not a small economy. As in the case of transfers, you can use KiwiTaxi not only for trips from the airport, but in the opposite direction, as well as for longer journeys to Thailand.
From Suvarnabhumi to Khao San by Skytrain + taxi
This option is a kind of alternative to the two methods, and involves the use of two modes of transport in Bangkok described above. Initially, you need to go down to the lowest floor of the airport and take advantage of the railway line Airport Rail Link, connecting Bangkok and Suvarnabhumi Airport. I recommend using the blue train City Line, which cost three times cheaper than the red train Express Line. Read more about the use of these trains and the difference you can find on page "How to get from the airport in Bangkok."
The second step in this case there is a trip by taxi or motorcycle taxi directly from Phaya Thai Metro station to Khao San Road. As a rule, near the descent from the aerial platform place you can find a motorcycle taxi (you can recognize them by special bright vests). On the same street of the city, you can see a lot of taxis and you can find a free car. The cost of a trip to Khao San Road is approximately 100-120 Baht (in the case of a motorcycle taxi – this fare per person). Taxi drivers in this area of ​​the city is not always willing to negotiate and use the meter, but taxi in Bangkok a lot and there is a chance to find compliant. Among the disadvantages of this method can be noted while the trains from the airport – from 6 am to midnight. And, of course, motorcycle taxi is better not to use when you are traveling with a suitcase or with big  backpack for travel.
Cheap hotels on the Khaosan Road in Bangkok
When planning to stay for a few days at Khao San Road in Bangkok, you can book your cheap hotel in the area of ​​the city. Of course, you can find a hotel on the spot, but if you are traveling with a heavy backpack or suitcase, the search of the hotel is not very convenient, especially when in the midst of the fun, and Khao San Road, this street together with its surrounding alleys filled with tourists. In this case, it's much easier to book a hotel for themselves at Khao San Road in advance and not lose a lot of time in Bangkok. Especially because with the help of the map of hotels (located below) you can find options that will suit you as the level of comfort and price for the hotel.
Map of hotels on Khao San Road with prices
In general, the article does not consider all the options that allow you to get from the airport to Suvarnabhumi Khaosan Road. There are still inexpensive buses on which you can get cheaply from the bus terminal near the airport (there from Suvarnabhumi can be reached by free shuttle-bass) and city buses passing by Phaya Thai station. But all these cheap buses without air conditioning and with a large number of passengers – not the best conditions for a comfortable travel. Therefore it is better to use more convenient and affordable ways to comfortably get to Khao San Road from Suvarnabhumi Airport, which are described in this article. I wish you pleasant journeys!

Easy search of tickets for buses, trains, ferries and transfers in Thailand and other Asian countries (support for many languages).
International online booking service for taxis and transfers from airports around the world. Fixed prices and many payment methods before and after the trip.
Quick search for the best hotel prices right in all popular reservation systems. The service compares and displays the best-priced options for your dates. Discounts for hotels up to 50%.
My favorite site for searching airline tickets. Quick search for the best price from 750 world airlines and from the largest dealers in your region
Easy search and armoring of motorcycles, mopeds and bicycles in Thailand and other Asian countries. Without a pledge of the original passport! Delivery to the hotel!
Rental cars and SUVs in Thailand at the best price and conditions. Fast search right in all popular reservation systems. The conclusion of a lease agreement online in your own language.