Last Updated on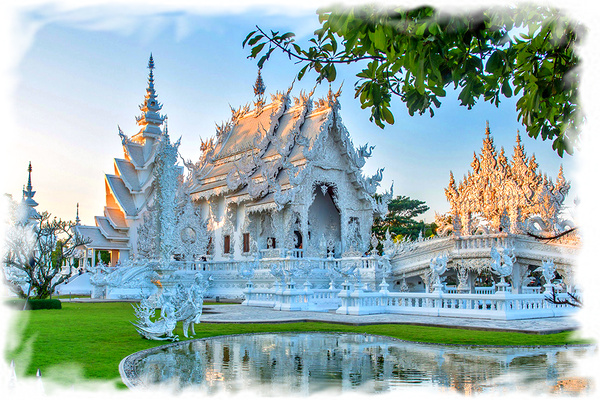 Chiang Rai is not a big city by Thai standards in the north of the country. At the same time, next to this city are unique attractions of Thailand, for the sake of which many tourists depart to this city from Bangkok. In order to get to Chiang Rai from Bangkok, you can use several modes of transport, each of which has advantages and disadvantages, and also differs in price. Below on the page you will find useful information about the methods that allow you to make the journey from Bangkok to Chiang Rai and back. You will also find out the current prices for transport between cities
CONTENTS OF ARTICLE ( links for quick navigation)
Flights from Bangkok to Chiang Rai  (from 580 THB or 18 USD)
Unlike some other destinations for traveling in Thailand, in the case of Chiang Rai, an airplane is an excellent choice for covering a distance of almost 700 km. This is due to the fact that low-cost airlines have access to the Chiang Rai international airport, offering one-way flights from Bangkok Don Muang Airport for only 18 USD or 584 THB. You can check the actual tariffs for the dates you need by yourself using this direct link to the Bangkok – Chiang Rai direction.
You should also know that this is one of the rare cases when searching for airline tickets on the official websites of Thai airlines may be preferable. For example, I found a flight ticket for Thai Lion Air for 525 THB, while the cost of a ticket for the same flight in a Transportation in Asia service was 584 THB. But this rule does not always apply, so check both options. Also, Thai Air Asia and NOK Air airlines operate flights from Bangkok to Chiang Rai.
When you purchase tickets in advance, you can get from Bangkok to Chiang Rai not only quickly – the flight takes about 1 hour 15 minutes – but also cheap: 500-600 THB for a one-way flight. Sometimes it's cheaper than using a VIP bus, especially if you don't have bulky luggage. Still, most low-cost airlines have a drawback: transporting a big suitcase by plane can lead to additional costs, which may be higher than the cost of the ticket.
If there are no cheap flight tickets left for the dates you choose to visit Chiang Rai, you can check the option of flying from Bangkok to Chiang Mai, where there are usually even more low-cost flights, for example, from Lion Air, which has established itself only with the best price flights, and the novelty and cleanliness of their aircraft. Read more about this in the article "How to get to Chiang Mai from Bangkok: methods and prices."
I'll note right away that it's easy to get from Chiang Mai to Chiang Rai by buses running between these cities, which run regularly once per hour or an hour and a half (depending on the time of day). For the price of such a 180-km trip, it will cost about $ 6 (185 baht) on an air-conditioned bus of the 1st class. Airplanes between the cities of Chiang Mai and Chiang Rai do not fly. You can, of course, find flights at an unreasonable price with a change in Bangkok, but what's the point :). International airport of Chiang Rai is located about 8 km from the city, and information about transport can be obtained in the article "Chiang Rai Airport: a detailed overview".
How to get to Chiang Rai from Bangkok by train
There are no direct trains from the Thai capital to Chiang Rai due to the lack of railway lines laid there. Therefore, train lovers will be forced to choose one of two combined options of the "train + bus" type. The first option is to get from Bangkok to Chiang Mai, and from there already take the above mentioned buses to Chiang Mai. The train journey from Bangkok to Chiang Mai takes about 11 hours. It will take another 3-3.5 hours to find the right bus and get to Chiang Rai on it.
The second option takes a little less time: a train ride from Bangkok to Lampang (about 9 hours on the way), and then a bus transfer to Chiang Rai (about 2 hours on the way). As you can see, the options are not the fastest, but perhaps the cheapest of all, especially when choosing budget places in a train. It also makes sense to consider this option for those who do not want to make local flights and do not tolerate long bus trips: for many, spending the night in a lying position in a train compartment is much more pleasant. The return transfer from Chiang Rai to Bangkok using the train and bus is also possible – everything is similar, but in the opposite order.
Buses from Bangkok to Chiang Rai
If you want to get to Chiang Rai from Bangkok by bus, you should remember that all the northern direction in the country is served by bus companies that operate flights from the North Bus Station in Bangkok (the overview and schedule can be found here). There are both morning and evening (night) buses, which are in transit from about 11 to 13 hours. The number of night buses is greater, but this is understandable: it not only saves tourists time (and working time for locals), but also saves on hotel accommodation, because you can also get some sleep in a bus chair, especially if you choose VIP bus.
Despite the availability of cheap second-class buses with fans instead of air conditioners in the cabin, this is not the most convenient option. It can be hot in such buses even at night, they make more stops, and there are few places for legs, especially if you are taller than average. Better to pay a little more and choose a first class bus with air conditioning at a price from 645 THB. And even better – a VIP bus with comfortable wide seats, rugs and included in the fare water and snacks. The cost of VIP buses is approximately 900-1100 THB, depending on the chosen bus company.
You must remember that there are several bus terminals in Chiang Rai, and buses from Bangkok can arrive not only in the center, but also on the outskirts of the city. However, getting from one bus station to the second is not difficult and not expensive: there are regular songthaews (pickups, tuk-tuks) between the terminals, which cost 20 baht per person. In the article "Bus Stations in Chiang Rai: Overview and Bus Schedules" you can get more specific information, including about buses that allow you to get from Chiang Rai to Bangkok.
How to get from Bangkok to Chiang Rai by car
Due to the sufficiently large distance between cities, using a taxi is neither economically nor temporally rational: the costs are much higher than using buses and even airplanes, and it takes a lot of time to travel. Therefore, the use of a car in order to get to Chiang Rai from Bangkok, rather means renting this type of transport to visit not only Chiang Rai and the surrounding area, but also other cities of Northern Thailand and settlements and interesting places located along the way from Bangkok to it.
The optimal route for such an independent trip will help to lay a navigator that today is in almost every smartphone, or the Google Maps service. And to rent a car at the best price, EconomyBookings will always help, which compares the cost of similar cars in the best rental offices, thereby allowing you to save a lot on travel, especially if the car is taken for several days.
Also, the choice of large rental offices that are presented in the EconomyBookings service is convenient because you do not have to return the rented car at the same city, where the rental was made. This allows, if there is such a desire, to return the car in Chiang Rai or Chiang Mai, even if you started a rental in Bangkok. In the same way, you can rent a car in northern Thailand and return it to your car rental office in Bangkok after your trip.
I remind you that the article was discuss the ways to get to Chiang Rai from Bangkok and back. Information about the ways to get to Chiang Rai from other cities in Thailand will be posted a little later on a separate page.

You can use a bonus of up to 35 Euro for registration and coupons for € 10 and $ 50. The best prices for renting a villa with a swimming pool per days!
Easy search of tickets for buses, trains, ferries and transfers in Thailand and other Asian countries (support for many languages).
International online booking service for taxis and transfers from airports around the world. Fixed prices and many payment methods before and after the trip.
Quick search for the best hotel prices right in all popular reservation systems. The service compares and displays the best-priced options for your dates. Discounts for hotels up to 50%.
My favorite site for searching airline tickets. Quick search for the best price from 750 world airlines and from the largest dealers in your region
Easy search and armoring of motorcycles, mopeds and bicycles in Thailand and other Asian countries. Without a pledge of the original passport! Delivery to the hotel!
Rental cars and SUVs in Thailand at the best price and conditions. Fast search right in all popular reservation systems. The conclusion of a lease agreement online in your own language.