Last Updated on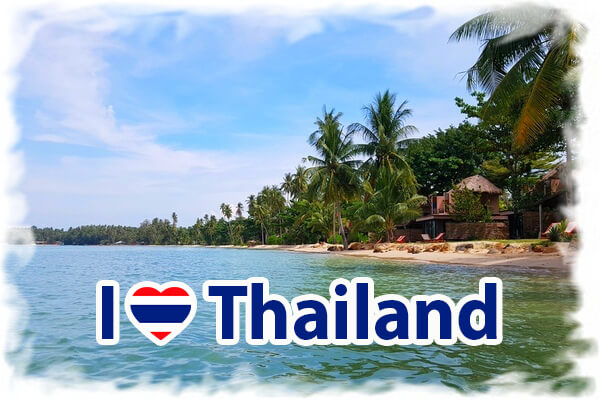 Despite the fact that I traveled to Thailand most often, I am ready to return there again and again. This country has a special place in my heart, and within a few months after returning from Thailand, I begin to miss this country very much. On the one hand, I understand that on our planet there are many other places that I could visit. But, on the other hand, it was in Thailand that I found everything that is so important for a good rest and vivid memories. Perhaps because it is in Thailand that I feel at home, or even better. If you have already been to Thailand, you can agree or disagree with my TOP 10 reasons why you can truly love Thailand. And if you haven't yet, then these reasons may make you think about traveling to this Asian country for the first time.
1. Warm weather
Despite the fact that I was born in the snowy winter before Christmas and in the center of Europe, I always loved the warm summer weather. And I could divide my whole life into periods of 3 months of summer and 9 months of expectation of next summer. And Thailand is a country of eternal summer, where it is never cold, there is no snow and frost. This means that at any time of the year you can go in shorts and a T-shirt (unless you are traveling in the mountains in northern Thailand). Maybe January in Thailand will seem little bit cold to someone, but not to me.
Of course, the hot season and the rainy season in Thailand are also not the most comfortable period for traveling. But the length of daylight in this country allows you to fully enjoy your vacation in the morning and after early sunset, when the temperature becomes comfortable. And the rainy season is observed in different regions of Thailand in different months. This allows you to plan your comfortable stay in the Kingdom of Smiles at any time of the year.
2. Tasty, wholesome and not expensive food
You can probably try Thai food even in your city, but real Thai food is only available in Thailand. Each time I get a vivid impression of the new Thai dishes. I admit honestly: I would not eat some of these dishes for the second time in my life (and not only because of the amount of chili peppers). But there are Thai dishes that I could actually eat every day. Even taking into account the fact that the taste of the same dish may differ depending on the particular cook. Most Thai dishes surprisingly harmoniously combine sweet, bitter and sour tastes. In addition, cooks in Thailand use a wide variety of spices and herbs, the name of which I can only guess.
Thailand has access to the waters of two oceans, so the availability of fresh and inexpensive seafood has a positive effect on the diversity of the local menu and its usefulness for the body. I really love sea fish and large shrimps. In Thailand, you can eat fish and shrimp cooked in various ways, as often as you want. Thailand is a country in the tropics, so the variety of local fruits is simply amazing. As well as the rich taste of some of the usual fruits. I am sure that you will try some exotic fruits only once, for new experience. But the local aromatic and juicy mangoes, the sweetest pineapples in the world and other fruits will be one of the reasons why you want to return to Thailand again.
It is very important that the food in Thailand is not only tasty and healthy, but also very affordable. And when I say affordable, it means more than just a low price. In Thailand, a real cult of street food. Few people cook for themselves daily, even in small villages, because it's easier, faster and cheaper to buy ready-made meals from street vendors. Street food brings people together and erases many cultural and social differences between Thais from different walks of life, between Thais and foreigners. Where else can you spend only 2 USD for a large plate of fried noodles with chicken or buy 6 skewers of chicken for the money?
At the same time, the taste of street food will be no worse than for similar Thai dishes in expensive restaurants. Such, by the way, in Thailand are also available in large quantities. Thai food is available at almost any time of the day, especially in Bangkok and the resorts. It doesn't matter if you went out to eat at 5 p.m, at 1 a.m. or 5 a.m. in the morning – you will surely find street food in Thailand. It is very important that in addition to Thai dishes, you can always find establishments with European food, Japanese, Chinese and Indian food. There are also many halal establishments.
3. Locals
The people of Thailand are very nice persons. They give the impression of happy and optimistic people who are always ready to help. It is no coincidence that Thailand is called the Land of Smiles, because Thais are really very welcoming and smiling. I noticed that even representatives of professions that are associated with hard physical labor, basically remain very positive. There is an opinion that the Thai smile is no longer sincere at the resorts, but this is only partially true. Thais really feel your sincerity, and if you treat them with respect, they will reciprocate.
In addition, Thais have a good memory. Therefore, even in tourist places, they remember the regular customers of their shops, massage parlors and bars. And they are even more friendly to such clients. I really like that most Thais are very honest people. Of course, some tourism workers cannot resist the temptation to make easy money by deceiving an inexperienced foreigner, but this is rather an exception to the rule (to avoid this, read "The main methods of fraud in Thailand"). Perhaps it is Buddhism and faith in karma that is the reason for such honesty, although other world religions teach to do the same…
A few years ago I was very struck by one case. On the way to the pier in Pattaya, I bought sunscreen at 7Eleven. And in order to get change by banknotes only, I added a few coins. But the seller made a mistake in the calculations and instead of 380 THB gave me only 80 THB. I remembered about this on the ferry to Koh Lan. I didn't even dream of getting my money back, because I didn't even remember the exact location of the 7Eleven store (they are found on Second Road every 50-100 meters). Moreover, I was not sure that I could prove something to the seller, even if I saw him. Therefore, I was very surprised when the same seller ran out of the store and handed me the money with an apology, when I just passed next this shop by 6 hours after the morning purchase!
4. Sea and Thai beaches
If you like the sea and beaches just like me, you should definitely visit Thailand. Even in popular and mass resorts you can find great beaches where you can spend most of your vacation. But if you want to find the best beaches with crystal clear water and coconut palms on the shore – you have to go to one of the islands. You can find great beaches even on Koh Chang, Phuket and Koh Samui. Most of the beaches there are still in good condition and not much affected by human intervention. Despite the fact that very near there is the most modern infrastructure.
And the beaches on small tropical islands in southern Thailand are perfect for those who want to relax in a natural paradise and away from noisy resorts. Holidays in Thailand several times and visiting various resorts of this country, you will surely find that very favorite beach, which you will definitely want to return to. I know that many people love the ocean. But in the ocean there are usually big waves and colder water. Therefore, I prefer the sea – warm and relatively calm. But if you are a fan of big waves for surfing – in Thailand there are such places. Personally, I really love Thailand because of the small number of tourists on the beaches (when compared with European resorts).
5. Excellent logistics
Thailand is a country with well-developed transport logistics – domestic and international. Internal logistics makes the country very convenient for travel. Between most major cities in the country there are flights that allow you to get there and back from Bangkok in a very short time – just over an hour. In addition, such flights are usually operated by numerous local low cost airlines, so your trip will be not only fast, but also inexpensive.
And wherever airplanes don't fly, you will always find buses, from ordinary ones with air conditioning, to VIP buses with comfortable wide seats. You can usually use night buses for long journeys. This saves you time and allows you to save on overnight at the hotel. Also, internal logistics includes a large number of transfers between resorts, ferry services, and railways. And with the help of website of transport in Asia, you can find ready-made options from point A to point B, even when it comes to islands, and you must use several types of transport. It's comfortable!
Thailand is the largest transportation hub throughout Southeast Asia. Therefore, it is Bangkok that becomes the first city in which tourists fly from afar. This is a real gateway for the whole region, because from Thailand you can easily and inexpensively get to neighboring Cambodia and Laos, Malaysia and Myanmar. Of course, you can find flights at a good price to Singapore or Kuala Lumpur, but then you should also use an airplane, while for traveling to neighboring countries from Thailand you can choose both air and ground modes of transport.
6. Thai nature
The nature of Thailand is very diverse. The country has a rich fauna and flora. Until now, a large territory of Thailand is occupied by the jungle, walks along which are enjoyable, even when it comes to the special trails of naturalists. In addition to the warm seas and white sand beaches that I wrote about earlier, I really like coconut palm plantations, which for some reason always cheer me up. Coconut palms on beaches have the same effect. The great advantage of Thailand is the presence on the mainland and islands of mountains and cliffs, some of which are located in the sea. All this makes the country very picturesque.
If we are talking about the nature of Thailand, I cannot help but recall the numerous large and small waterfalls in the jungle, each of which has its own unique look. At the same time, you can visit some waterfalls all alone, when no one disturb to enjoy the sound of falling water and the sound of the surrounding jungle. You can enjoy walking along special paths and paths above the ground in national parks, visit lakes and do river rafting, look into the mysterious caves and take a walk through the forest with thousand-year-old trees, improve your health in healing hot springs, etc.
7. Low prices and choice
Thailand cannot be called a very cheap country. The standard of living of local residents has grown significantly in recent years, so the cost of some goods and services has also increased. At the same time, for many years you can get a number of goods and services in Thailand at exactly the same price. First of all, this applies to Thai street food, the cost of local and long-distance transport, entrance tickets to national parks and main attractions, renting motorbikes, etc. Similar prices for many years remain at local souvenirs, clothes, fruits. The cost of hotel accommodation has increased slightly, but with smart search through Hotellook you can always find a great hotel at a low price. Also, the value of land and real estate in Thailand has risen very noticeably, but for many foreigners this does not matter. In general, inflation in Thailand over the past 5 years was only 3% and this is a very good result for the economy.
If you are resting in Thailand for the first time, you will always pay slightly more than the second and subsequent visits to this country. Not even because you will try a lot of new things for yourself, but from a lack of experience. I love Thailand for giving me a wide choice of how I can spend my next day or another vacation. You decide how much money you want or you can spend on food, on a hotel or apartment, on city or intercity transport. At the same time, Thailand still allows you to live very cheaply, because you can fully eat for 5-10 USD per day, live in the city center or on the beach for 15 USD (price for a separate room or bungalow, not a bed in a 10-bed hostel room) , independently move around the country on a rented motorbike for 60-80 USD per month, etc.
At the same time, you have the opportunity to live in a luxury hotel, visit expensive restaurants and sky bars, rent yachts and expensive sports cars. In other words, regardless of your financial capabilities, you can fully relax in Thailand and get maximum pleasure and comfort for your money. And you always have a chance to save money when such a need arises. For example, you can save a lot on food if you know 12 ways to do this. Thai Baht is one of the most stable currencies in the world. For example, in 2019, the Thai baht strengthened against the USD by more than 5% and this is a record high for all world currencies. Of course, this makes vacationing in Thailand a bit more expensive for foreigners. But Thai money. that you didn't spend during your vacation, they will certainly not be destroyed by inflation and you can spend them on your next trip.
8. Variety
Thailand is a big country that you cannot see completely even in 1-2 months. Each region has significant differences from the others, so while traveling in Thailand you can discover more and more new places, and it never bothers. You can enjoy the view of sheer cliffs in the province of Krabi, enjoy the coconut beaches on Koh Samui, Koh Chang or Koh Phangan, visit Isan, a huge region in eastern Thailand, where are not one foreigner you can see in a week, but find many ancient temple complexes . You can visit northern Thailand, with its temples, the country's highest waterfalls and hill tribes. You might be interested in Southern Thailand, where Thai Muslims live, very kind and not like the others. In Thailand, there are about 15 large islands and more than a 100 small ones. Despite the similarities, each Thai island has something unique. Moreover, the islands are located in different seas and oceans, have different flora and underwater world.
You can get lost for several days in the bustling Bangkok, which at first glance seems like a noisy and uncomfortable city, but which in reality is very comfortable for living. Even the capital of Thailand can please you with variety, because you can visit beautiful parks, including the world's largest Park Museum Siam Ancient in the suburbs of Bangkok. You can spend many days visiting ancient temples and palaces, original museums, and enjoy traveling by high-speed river transport. But there is still the largest Chinatown in the world, the Indian Quarter, the original Bang Cachao district in Bangkok. When you think that you have seen everything in Thailand, somewhere around the corner, something new and unknown will surely open up for you. And for that, I also really love Thailand.
9. Shopping
Thailand is a real paradise for shoppers. Here you can find products of almost all international brands, as well as many really unique Thai things. Therefore, when I once again go to Thailand, I take only the most necessary things into my suitcase. Sometimes I even fly to Thailand with one backpack, and already during the rest I buy a suitcase in order to place all my purchases in it: souvenirs, clothes, shoes, some useful things for the home, etc. Shopping in Thailand will be pleasure not just for only gold credit card holders, but also budget travelers. Indeed, in addition to branded boutiques and super modern shopping centers in every major city of the country and at resorts, you can find dozens of markets.
And if you flew to Thailand and don't want to waste a lot of time visiting markets and shopping centers, you can just visit just one of the biggest shop. For example, it has become a tradition for me to visit the Big-C hypermarket in Bangkok or Pattaya on the first day after arriving in Thailand. There I buy everything I need for relaxation: T-shirts, shorts, shoes, cosmetics, breakfast products, etc. It is very convenient that you can pay for all this at one box office. Thailand has a large selection of souvenirs, and even after many trips you will always find something new and interesting to please your friends and family.
10. Nightlife
The daylight hours in Thailand are not very long, and from mid-autumn to mid-spring, when the best time to travel to Thailand comes, the sun sets at around 18:00. But this does not mean at all that life in Thai resorts also falls asleep until the morning. Quite the contrary: after sunset, nightlife begins, which is even more lively and fun than daytime. Neon lights are lit everywhere, beach restaurants and nightclubs open. And the many bars, which usually start working in the afternoon, are filled with a noisy and cheerful audience.
I know people who come to Thailand solely for the nightlife of Pattaya or Phuket. They can afford to go to the beach once every three weeks, but every night until morning they hang out at popular nightclubs. Personally, I prefer a more active daytime vacation, but during a holiday in Thailand it is difficult to resist night walks in popular places and meeting friends. If you like this entertainment option, then the vibrant nightlife is another reason to visit Thailand. And also in Thailand you can visit the largest night discos – the Full Moon Party on Koh Phangan.
I am not trying to idealize Thailand, because each of you will definitely not like something in this country. And in a new article, "The Disadvantages of Thailand – Why Not Love Thailand," I will try to talk about them too. Immediately, I wrote only about ten reasons why I love Thailand. But in fact, there are many more such reasons. This Thai healing massage, and trips on a motorbike along picturesque roads, funny monkeys, huge and cute elephants, local holidays, very cute and sensual local girls, amazing sunsets and many other reasons. Therefore, there is nothing surprising in it, but I can confidently call Thailand the best country to travel and my most beloved country!

You can use a bonus of up to 35 Euro for registration and coupons for € 10 and $ 50. The best prices for renting a villa with a swimming pool per days!
Easy search of tickets for buses, trains, ferries and transfers in Thailand and other Asian countries (support for many languages).
International online booking service for taxis and transfers from airports around the world. Fixed prices and many payment methods before and after the trip.
Quick search for the best hotel prices right in all popular reservation systems. The service compares and displays the best-priced options for your dates. Discounts for hotels up to 50%.
My favorite site for searching airline tickets. Quick search for the best price from 750 world airlines and from the largest dealers in your region
Easy search and armoring of motorcycles, mopeds and bicycles in Thailand and other Asian countries. Without a pledge of the original passport! Delivery to the hotel!
Rental cars and SUVs in Thailand at the best price and conditions. Fast search right in all popular reservation systems. The conclusion of a lease agreement online in your own language.