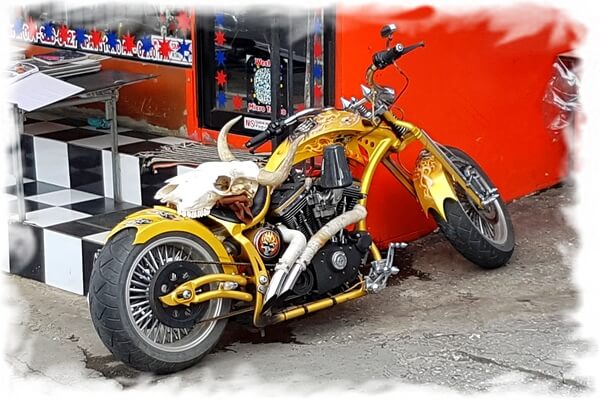 Not very pleasant news for those who prefer to rent a motobike or car in Pattaya and move around the resort on their own. Local authorities in Pattaya have decided to tighten the rules for renting vehicles. First of all, it concerns the increase of the fine for driving motorbikes and cars without the presence of international driving licenses for tourists and fines for rental companies that have given out a lease to such tourists. In addition, a list of documents that every foreigner should have with him when using leased vehicles is published. More details about fines and consequences – in full article.
According to the Pattaya Police Department, foreign nationals will be fined 1,000 THB (about USD 31) for driving vehicles in Pattaya without the necessary documents. These documents include: a passport (or ID card), an international driver's license (with the required category) and a national driving license. Clarifies that these documents are not just necessary to be available (for example, to lie in the hotel safe), but should be with you while driving a car or motobike. Thai citizens will also be fined if there is no driver's license, but the amount of the penalty will be less and at the moment it is not yet definitively determined.
However, this is not all innovations. Vehicles (cars and motorbikes) will be confiscated on site and delivered to a special parking lot. In this case, the arrested vehicle can be returned only by the real owner (for example, a rental office). And the rental company will also pay a fine of 2000 THB. Of course, first of all, the new rules will lead to difficulties for the rental of motobikes, because it was difficult to rent a car without an appropriate driver's license and before the introduction of new rules. At the same time, money in Thailand solves many issues and it is quite possible that rental offices will simply require an additional cash deposit (in the amount of 2000 THB) from every foreigner who wants to rent a car in Thailand or a motorbike without the necessary documents.
As a reason for the tightening of the rules, local authorities have called the ever-increasing number of accidents and road accidents in Pattaya, which are caused by tourists. It is foreigners without the necessary knowledge of local traffic rules and without practical experience that often become the culprits of an accident. In addition, there is information on the increase in the number of crimes that foreigners commit on vehicles rented in Pattaya. Thus, renting a vehicle in Pattaya will become more difficult for foreigners. And one more way out of this situation will be obtaining a Thai driver's license, which a foreigner can receive even during temporary residence in Pattaya or in another city in Thailand.

Easy search of tickets for buses, trains, ferries and transfers in Thailand and other Asian countries (support for many languages).
International online booking service for taxis and transfers from airports around the world. Fixed prices and many payment methods before and after the trip.
Quick search for the best hotel prices right in all popular reservation systems. The service compares and displays the best-priced options for your dates. Discounts for hotels up to 50%.
My favorite site for searching airline tickets. Quick search for the best price from 750 world airlines and from the largest dealers in your region
Easy search and armoring of motorcycles, mopeds and bicycles in Thailand and other Asian countries. Without a pledge of the original passport! Delivery to the hotel!
Rental cars and SUVs in Thailand at the best price and conditions. Fast search right in all popular reservation systems. The conclusion of a lease agreement online in your own language.