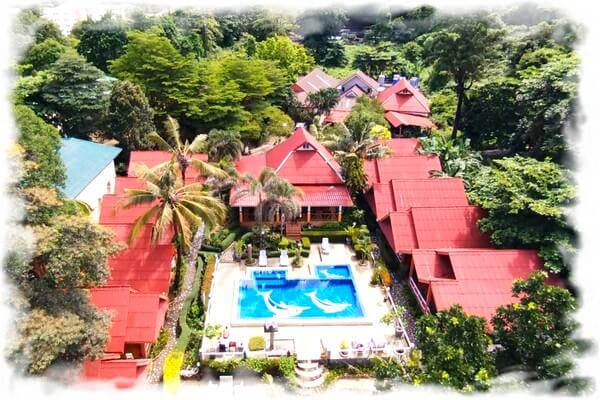 Although Penny's Resort has a category of only 2 stars, this is a very good place to stay on Koh Chang and this hotel is in reality much better than some 3 and 4 star hotels on this island. On this page you will find a detailed review of Penny's Resort and my review of this hotel after staying there. I will try to give an objective assessment of this hotel and designate all of its advantages and disadvantages so that you know: this hotel is suitable for you or it is better to search for another hotel in Koh Chang.
Location of Penny's Resort in Koh Chang
One of the main advantages of Penny's Resort is its location on the first sea line. One important fact should be noted here: in all hotel search and reservation systems it is indicated that Penny's Resort is located on White Sand beach (main and the most popular beach of the island). In reality, Penny's Resort is located on the territory of Pearl beach, which has significant differences from almost all other beaches on the island. On a separate page "Pearl beach on Koh Chang" you can learn more about the features of this beach, its advantages and disadvantages and see photos and videos.
The main island road is located about 350 meters in a straight line from the sea. If you getting from Koh Chang Pier to Penny's Resort in a passenger pickup, you will pay THB 70 per person for delivery to the hotel door. This is the standard price for hotels in this area of ​​the island. To reach the road, you must exit the hotel and walk about 100 meters along the sea along the road and turn right. After 400 meters there will be the main island road and, very importantly, the Big-C supermarket. On the main road, you can easily stop a pick-up taxi and drive 50 THB per person to the White Sand Beach beach if necessary.
Review of Penny's Resort (Koh Chang)
The entire territory of the hotel can be divided into two parts: to the right and left of the access road. On the right is the reception desk, an open-air restaurant overlooking the sea and the pool, bungalows around the pool. On the left side of the road is another group of bungalows with small terraces. There is you can find the rooms of the class Superior, where I lived. By the way, for me personally it was in some way a surprise that the more expensive superior rooms are located farther from the sea and the pool than standard bungalows with a lower price. There are also large family bungalows with higher prices near the pool.
The territory of the hotel on the first line is not very big, but very picturesque. Already near Reception, you can admire Penny's Resort's blue swimming pool, which offers direct views of the Gulf of Thailand. As a result, the hotel looks much more expensive than it is in reality. As a rule, on Koh Chang almost all hotels with a swimming pool on the seashore are 4-5 star hotels with prices ranging from 60-100 USD per day (Penny's Resort costs at least two times less).
Around the pool you will find a sufficient amount of plastic and modern wooden loungers. Also, lounge chairs, concrete tables and benches are located in the area behind the pool, next to the sea. The pool has a special non-deep compartment for children. The sea near the hotel is not very deep, but you need to go into the water carefully, there are slippery round stones. Stones are also found in water, but because of the very good transparency of the water, they are clearly visible from afar, especially in calm weather. Near the pool there is an outdoor shower.
Penny's Resort's restaurant is located under the roof at the Reception counter and serves traditional Thai and European dishes. My girlfriend and me visited the restaurant once: the service is very good, nice view of the sea and the pool, everything was beautiful and tasty. Prices are not the lowest and it is cheaper to eat in ordinary cafes, but I advise you to visit at least once. For example, in the photo you can see our lunch for two (meals and drinks), for which 700 THB or 33 USD were paid (the amount includes small tips). About 100 meters from the hotel, right by the road, there is an inexpensive Thai cafe.
Penny's Resort has rental motorbikes, which are mainly used by hotel guests. During our holiday, only 2 models were available – with a 110 and 125 cm cube engine. By tradition, I rented a Honda Click 125i. It was not exactly a new bike, but it was in good condition, although there were scratches and chips on the body. As in the case of a restaurant, the rental price of motorbikes is higher than at rental locations on the main island road. I rented a motorbike for 250 THB per day, a model with a 110 cm cube engine cost 200 THB per day. If you want to rent for more than 1-2 days, you can save money and easily find a new Honda Click 125i motorbike for 200 THB (if you are interested, write in the comments, i will advise the checked place). Parking for motorbikes is located near the reception, next to there is parking for cars.
Overview of Penny's Resort's Superior Rooms
Due to the low price, the hotel enjoys high popularity and for our dates only 1 superior room (Superior) was available, which I booked. Especially since before that we lived at the Keereeta Resort and Spa (link to my review), which was within walking distance from Penny's Resort. As noted earlier, the superior rooms are located across the street from the Reception building and the restaurant (in fact, this is not a big public road, but way to the hotel, almost a dead end). To reach the bungalow, you should go along a beautiful path among trees, trimmed shrubs and flowers.
Each superior room has a private terrace with a wooden table and chairs. My friend and I used them for drying towels and swimming accessories, as well as for eating in the evening. We did not see mosquitoes, but on the walls there were quite a few small geckos that destroy all unwanted insects. Superior rooms have an area of 30 m² / 323 ft² (the standard ones are just a bit smaller – 28 m² / 301 ft²). Each terrace is equipped with individual lighting. Beautiful lighting is available in the entire hotel territory.
In the superior rooms you will find a standard set of furniture: a comfortable king-size bed, a bedside table, a table and a chair near a large mirror, a built-in wardrobe with hangers. There was also a TV stand, in which a small refrigerator was installed, and a towel hanger. All rooms at Penny's Resort are equipped with modern, quiet air-conditioning, and the windows have light-proof soft blinds. The bathroom has a modern plumbing and instantaneous water heater. At the same time, the shower zone is separated from the toilet by a high partition, which is not always the standard solution for Thailand.
Advantages and disadvantages of Penny's Resort
Actually, I really enjoyed staying at Penny's Resort. This hotel really looks more expensive than it really is. Very quiet and beautiful place, first line, beautiful swimming pool with panoramic sea views, well-groomed area, very polite staff with good knowledge of correct English, the possibility of renting a motorbike at the hotel, proximity to Big-C supermarkets and Tesco Lotus.
Among the shortcomings, I can point out the lack of a sandy beach (although for me this is not essential), the need to go to White Sand beach for entertainment (who is interested in bars), higher prices for food in the hotel restaurant compared to regular cafes and higher rental prices motorbike. By cons with some stretch can be attributed to the old TV with a small screen (not LCD). I can also note the lack of hard surface on the road to the hotel (last 20 meters), which is why you should move slowly and carefully on the motorbike. Of course, the last two drawbacks can already be eliminated at the time of your stay.
Summing up, I can confidently recommend Penny's Resort Hotel for those who do not need noisy parties and a sandy beach within walking distance. Those. this place is more likely for those who come to enjoy peace and tranquility, to admire the beautiful sunsets and relax by the pool. And all the disadvantages are easily solved by renting a motorbike (it is possible at a hotel or any other place) and fast moving to shopping centers, sandy beaches, noisy bars and beach parties. To find the minimum cost of living in this hotel, I recommend using the smart Hotellook search (direct link to the hotel), where options from all popular booking systems (Booking, Agoda, ZenHotels, etc.) are presented. Enjoy your stay at Penny's Resort Koh Chang!
P.S. A video review of the hotel will be added later.

[ad#end]