Last Updated on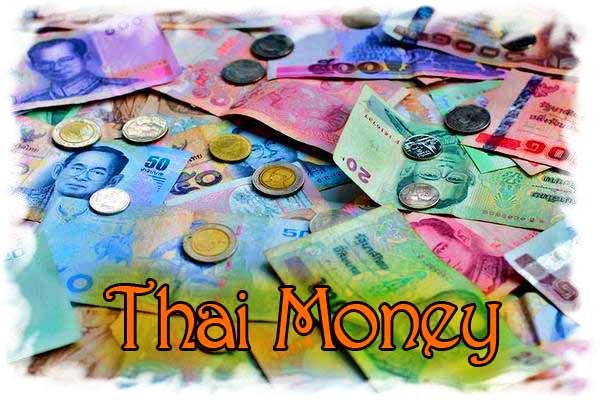 Thai money – this is what you'll use every day during his vacation in this country, because the Thais are very respectful of their currency and are reluctant to agree to make payments in the popular all over the world US dollars or Euro. Therefore, after arrival at Bangkok airport, foreigners forced immediately to exchange a certain amount of money for the local currency, which since 1928 is officially called the Thai baht. Thai money have an international classification code ISO – 4217, and the abbreviation for the currency of Thailand – THB. In this article you will find information on Thai money – banknotes and coins, as well as information about the exchange rates in Thailand – where and how to make exchange the most profitable.

CONTENTS OF ARTICLE ( you can click on the link for quick transition)
Thai money – banknotes and coins
Currently in Thailand used paper notes only five denominations: 20 baht (in the design of banknotes is dominated by green color), 50 baht (note blue), 100 baht (in the design of banknotes is dominated by red color), 500 baht (purple banknote) and the largest banknote has a nominal  of 1000 baht (in the design of which used shades of brown). For a better perception of the thai money, below I posted pictures of them, which clearly demonstrated how look  is the paper money in Thailand and the Thai coins.
From the metal coins you likely will use only Thai baht – from 1 to 10. Coins in one and five Thai baht have same silver color, but a 5 THB  coin much larger. Also because this coin have the original coinage, where the image of King is hosted in polyhedron, a coin at first glance does not seem round and faceted. I sure, that 2 THB coin you will meet much less frequently than THB 1, and you can see on photo that they made of yellow metal. The largest of the thai coin (biggest thickness and diametr) – 10 THB, bimetallic, ie It is made of two metals: the most part, located in the center – yellow, and on the edge of the ring of silver metal.
Thai Baht coins (1, 2, 5 and 10) – this is not the smallest of money in Thailand, because one Thai Baht is divided into 100 satang. Now small coins go into satang 25 and 50, while both have a reddish-brown hue. However, the probability that you can see and use these small coins during normal tourist trip to the Land of Smiles for up to 2 weeks, not too high, because virtually all prices in shops and in the markets for a long time is rounded up to the baht.
Sometimes in 7Eleven stores you can get delivery of the smallest of the Thai coins, but it really small money and to buy something you can not, so these small coins, therefore for many tourists this small coins remain as original Thai souvenirs. By the way, the first time can be very unusual that the Thai metal coins minted in the same manner as US coins: to view the reverse side of the coin it is necessary to turn it vertically, ie top-down or bottom-up, rather than horizontally, as is customary in many other countries.
Exchange rates in Thailand
During the process of planning a trip to Thailand, you have to remember that only the national currency is accepted for payment in the country (with a few exceptions, about which i will talk about later), so the information on the current exchange rates in Thailand will not be superfluous. Find out this information not difficult: you can use the special exchange calculator below this text, which can quickly recalculate the amount available in the US dollar on Thai Baht, as well as learn reverse course, ie, transfer price of the product or service that is listed in the local money to USD Exchange-to-date. In addition, you can select any other currency you are interested in the pull-down menu (the British pound, Australian or Canadian dollar, etc.) and learn its course over the Thai baht today.
If you are just interested in the exchange rate in Thailand at the moment, this information can be obtained from the following tables placed, the information which is periodically updated with one of the largest banks in Thailand – SCB Bank. The date and time of last update currency exchange rates can be seen in the table itself, in its last line. In the exchange offices of other banks in the country, located in the resorts, the exchange rate may be slightly different, but not so much that it will have a significant impact on the budget of your holiday in Thailand. As you can see, in the table is present  most popular world money. If you can not find here money of your country – you can click "More" at the bottom of the table and see the whole exchange rate tables on the website of the bank.
If you are going to exchange money in Thailand for the local currency, you should know that not all exchangers the exchange rate the same. By long tradition of tourist countries, the exchange rate at the airport most disadvantageous for foreigners. All banks use the fact that tourists need local money, at least in order to get from Bangkok airport to Pattaya by bus or a snack at the airport, so the artificially low rate of purchase of foreign currency. Also, do not differ profitable course exchangers located on the territory of hotels and guesthouses. At first glance, the difference is not very significant, but personally I prefer not to lose during exchange money  80-100 THB from every $ 100, because  it's the cost of dinner at a local café or two bottles of tasty cold thai beer.
Each bank in Thailand sets its exchange rate for the offices located at a particular resort, so often the exchange rate in Thailand in two adjacent exchangers varies. Want to gain more THB – bypass several exchangers and choose the best course. Exchangers lot (in tourist areas), so you not need lose many time for looking. And very convenient that many exchangers work late, even in night time. Earlier, I preferred to exchange currency on Walking Street in Pattaya, where i know one point of exchange with an excellent exchange rate  (the first exchanger to the right, if you follow by Walking Street from the Beach Road Entrance through the automatic sliding glass door. But later I found a lot of other great . places for exchange currency in Thailand in various areas of Pattaya and other Thai resorts. Just look – and you will find!
What currency to take to Thailand?
When planning a vacation in Thailand, you should know, and that the Thai baht exchange rate fairly stable in recent years, but slight variations are observed on a daily basis. In addition, some savings can be achieved if you will take in your travel a large banknotes. First of all, this relates to the US dollar (USD). As a rule, all banks are put up on the scoreboard just three dollar buying rate: the lowest (unfavorable for you) for banknotes $1 and $2,  a little more favorable for banknotes in $5, $10 and $20, and the most profitable for the banknotes of 50 and 100 USD.
What's interesting, for other world currencies, including the Euro, this separation does not exist. You should also know that US dollars issued do not take in street exchange offices until 1996, so it is best to leave them at home or exchanged for a new trip before. Problems can arise with the sale of banknotes of 2004 (which this year is specified). And i have some information, that better not use banknotes USD, that was made in 1998 year, but in practice i am not tested, because I have all the banknotes were from 2006.
I must remind you that all the Thai money like coins and banknotes have the image of Thai King, so treat them should be carefully (at least in the presence of Thai people). You do not need to throw thai money to the ground, you must not make drawings on banknotes (for example, draw a mustache for the king), etc. And in any case, do not step on the money because because of the great love to his monarch,  thai people may start the beat you, and then open a criminal case for the desecration of the King. It is possible, and nothing terrible will happen, but is it worth risking your freedom? Probably heard the story of a drunken russian tourist, which  is something painted on the King on a street poster, and then for it was a severe punishment by deprivation of liberty?
I hopefully the information about the Thai money and the exchange rate in Thailand has been useful to you. I end this article, but the theme of Thai money will be continued in a separate article entitled "ATMs in Thailand: commission and possible dangers", where in detail i told about the secrets of the use of plastic cards in the country and the main problems and dangers, with which you may encounter during using ATMs in Thailand.

You can use a bonus of up to 35 Euro for registration and coupons for € 10 and $ 50. The best prices for renting a villa with a swimming pool per days!
Easy search of tickets for buses, trains, ferries and transfers in Thailand and other Asian countries (support for many languages).
International online booking service for taxis and transfers from airports around the world. Fixed prices and many payment methods before and after the trip.
Quick search for the best hotel prices right in all popular reservation systems. The service compares and displays the best-priced options for your dates. Discounts for hotels up to 50%.
My favorite site for searching airline tickets. Quick search for the best price from 750 world airlines and from the largest dealers in your region
Easy search and armoring of motorcycles, mopeds and bicycles in Thailand and other Asian countries. Without a pledge of the original passport! Delivery to the hotel!
Rental cars and SUVs in Thailand at the best price and conditions. Fast search right in all popular reservation systems. The conclusion of a lease agreement online in your own language.