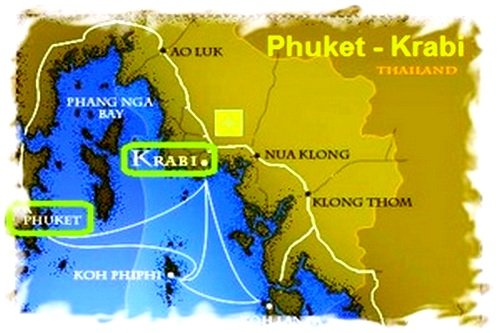 How to get from Phuket to Krabi quickly and cheaply? This is a very popular question independent travelers. Phuket and Krabi is located close enough to each other, but at the same time the largest island of Thailand (Phuket), and the resorts of the most picturesque province of this country have significant differences from each other. Therefore, it is not surprising that during one travel to the country, many tourists do not give up the opportunity to significantly diversify their vacation, having visited both the island of Phuket and the province of Krabi. Especially that the distance between these resorts can be overcome quite easily, inexpensively and quickly, using various transport options along the Phuket-Krabi route (or in the opposite direction), which are described in detail in this article (with the fares of such trip).

CONTENTS OF ARTICLE ( you can click on the link)
How to get from Phuket to Krabi by bus
I did not accidentally put this option in the first place in the article, because using the bus on the route Phuket – Krabi in my opinion is the best option for moving between resorts in terms of price, speed and comfort, especially if you are traveling alone. To take a bus on this route from Phuket, you need to arrive at a new bus terminal in Phuket Town and purchase a ticket for between 120 and 150 baht (about $ 4-5). Buses are equipped with air conditioning, and the journey time is about 2.5 – 3 hours. Buses run from morning till night with a convenient interval for tourists in one hour.
If the budget of your trip is significantly limited, but you have more free time, if you do not like air-conditioners or you just want to get acquainted with the places of residence and, in some way, with the life of local residents, you can use second-class buses without air conditioning, which follow On the route Phuket – Krabi with numerous stops in small villages along the road. As a rule, passengers nearby you on such buses will be exchange several times during the trip. Before you can get to Krabi, you will be in way in about 7-8 hours, and at a price the trip will cost only $ 2 (65 baht).
It should be noted that there are buses Phuket – Krabi to the bus terminal Krabi, from which you still need to travel directly to Krabi Town or to other resorts in Krabi Province, for example, in Ao Nang or on the Peninsula of the Railey. It is best to use local songthaew (passenger pick-up) for this, since the taxi in Krabi is not a very budget option. In addition, it is better not to choose the most recent flights for this trip: you will be able to reach your hotel in any case, but making it at night will be somewhat more complicated and more expensive than during the day.
In the category of buses, you can include a transfer on the route Phuket – Krabi on the minibus, which are sent from both bus terminals of both cities, and ordered at the local tour desk. The fare on the minibus is almost no different from the cost of the bus, but the speed of traffic is greater. However, there is one nuance: often the minibus are filled to the maximum and in conditions of limited space and lack of luggage compartment will have to keep a bag or backpack on your lap. With large suitcases, the option is completely unsuccessful: it is better to use a large intercity bus (a trip from the bus station) with a spacious luggage compartment.
From Phuket to Krabi by ferry – features of moving and prices
To get to Krabi by ferry from Phuket is easy enough, but such a move has some features associated with the duration and cost. There are several options that are very different from each other. Choosing the first option, you should be prepared for the fact that such a trip will take you almost the entire light day. Those. ferry sails away from the pier in Phuket in the morning and arrives in Krabi – evening. Why is such a low speed? It's simple: after a two-hour ferry voyage makes a long stop on the island of Phi Phi Don, where passengers have 4-5 hours to explore the island. After the specified time, you must again go to the ferry that will take you directly to Krabi.
Ferry tickets can be purchased either directly at the quay of the island of Phuket (or in Krabi, if it is a question of a reverse move), as well as numerous sightseeing bureaus. Keep in mind that the latter option sometimes can be cheaper, because Ferry companies make good discounts to wholesale buyers, in whose role organizers of transfers act. In addition, often such an acquired transfer includes transportation from the hotel to the pier, which in Phuket with its slightly "oborzevshimi" taxi drivers is important. Like almost everywhere in Thailand, there is an opportunity to purchase tickets for the ferry on the website of ferries company.
The cost of the ferry Phuket – Krabi is about $ 25, while the time spent on the road is a lot. Therefore, this method can be recommended again for those who adore sea voyages or do not tolerate shaking in buses, as well as those who necessarily want to spend at least a few hours on the famous island. Alternatively, the ferry can be used when there is a desire to relax a few days on the island of Phi Phi Don and continue the journey to Krabi. In the latter case, in the process of purchasing tickets for the ferry, please specify that you want a ticket from Phi Phi to Krabi with an open date (for Phuket-Krabi ferry in any case, two tickets are issued – Phuket – Phi Phi and Phi Phi – Krabi).
The second option, which allows you to get to Krabi from Phuket, is to purchase a direct ferry ticket online – on the website of transport in Asia. When you click on this link (the English version of the booking service), you can see that there are not many variants. Typically, this is just one ferry a day that departs from the Phuket (Rassada pier) at 11-00 and arrives in Krabi (pier Klong Jilard) at 15-00. It means, that time in a way at a choice of a direct ferry between resorts – 4 hours. The cost of the ferry is almost the same, but sometimes it can save you time and you will arrive in Krabi and have time to get to your hotel during the light time.
How to get to Krabi from Phuket by taxi or rental car
Probably the fastest option, but requiring maximum monetary costs. Everyone knows the appetites of Phuket taxi drivers, so even if you know how to bargain in Thailand correctly, you do not have to count on an adequate amount. If you still want to go by taxi, it's better to count on the amount of 4000 baht and above. Somewhat better is the situation with a taxi on the return route from Krabi to Phuket, because in the latter case the taxi fare will be around 3000 baht (there are options for 2500 baht that can be ordered online). Often during a high season, taxi drivers call even greater price and do not want to reduce the price during bargaining.
I suspect, it's also because taxi drivers do not really want to make long journeys, because after making short trips to their resort and carrying a lot of passengers for short distances, they can earn even more and without much "straining". By the way, there is another option to get from Phuket to Krabi, not only on a classic taxi, but also on a "sea taxi". Wishing to take advantage of this option, you should contact the local tour desk or try to negotiate directly with the captain of the boat on one of the piers. The cost will be negotiated depending on the number of people, and the travel time on the speedboat will be about 3 hours.
Those who doubt their bargaining skills and are afraid that the boat is not for him, it is worth paying attention to the taxi transfer. If you do not want to get nervous again and bargain with local drivers, we advise you to book a taxi in advance at the international transfer company Kiwitaxi. This method will be cheaper (from the airport about 3000 baht) than a taxi on the street with a good bargaining, and in this method you do not have to communicate with local taxi drivers. The taxi driver can meet you in the airport arrival hall and take you to the necessary place in Krabi or Ao Nang. This option is especially useful when you are traveling with children or in a large company of friends.
Also you can simply rent a car in Phuket and independently reach it in Krabi, especially if you do not rest alone, but a company of 3-4 people. The distance is small, very high quality roads. In addition, a rented car will be very handy and when resting in the province of Krabi, where there is a large number of scattered around the area of ​​natural and cultural attractions, which are not accessible by public transport, and renting a car with a thai driver is 1.5 – 2 times more expensive. Given that renting a car in Phuket costs about 1000 baht per day, renting a car for 3-4 days will be cheaper than paying a taxi for one way.
When you use rent a car in Phuket,  you can rent car navigator for an additional fee. But today, when almost everyone is resting with modern smartphones, the usual Google maps maps perfectly with the role of a navigator even without the presence of the Internet. By the way, depending on the place of return departure, you can either return to the island of Phuket in a rented car, or hand it over to one of the company's branches in the province, for example, at Krabi Airport. Of course, this option is possible only when using the services of well-known companies that have branches throughout the country.
There is also the possibility to get from Phuket to Krabi by plane, but the relatively short distance between the resorts, together with the amount of time that is additionally expended for moving to the airport, waiting for the flight, and the need to get from Krabi airport to the city or resorts on the coast makes this option, To put it mildly, is not entirely justified both in terms of price and in terms of time. I hope that after reading this article you will not have any difficulties if you want to get from Phuket to Krabi or from Krabi to Phuket. 

Easy search of tickets for buses, trains, ferries and transfers in Thailand and other Asian countries (support for many languages).
International online booking service for taxis and transfers from airports around the world. Fixed prices and many payment methods before and after the trip.
Quick search for the best hotel prices right in all popular reservation systems. The service compares and displays the best-priced options for your dates. Discounts for hotels up to 50%.
My favorite site for searching airline tickets. Quick search for the best price from 750 world airlines and from the largest dealers in your region
Easy search and armoring of motorcycles, mopeds and bicycles in Thailand and other Asian countries. Without a pledge of the original passport! Delivery to the hotel!
Rental cars and SUVs in Thailand at the best price and conditions. Fast search right in all popular reservation systems. The conclusion of a lease agreement online in your own language.