Last Updated on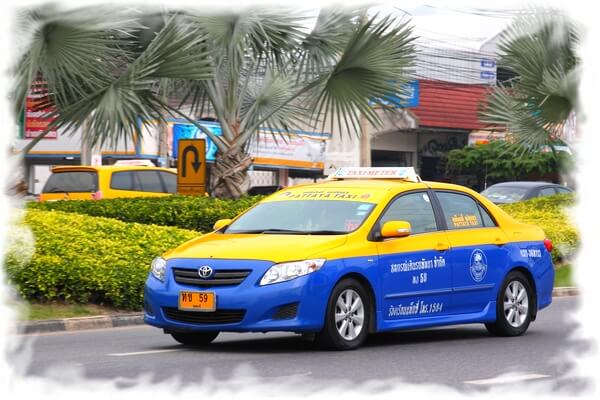 Not all tourists for the movement around the Pattaya to prefere cheap public transport which called songthaew. Despite the convenience of their use and the developed network of routes connecting all areas of the city among themselves, sometimes it is required to use transport, being away from the main routes. In this case, a taxi in Pattaya can significantly save your time and energy, while the cost of such services in the resort is still quite democratic, if it is a trip in the day time. In this article I will tell you about the three main types of taxi in Pattaya: motorbike-taxi, songthaew taxi and classic in our understanding of a taxi cars. Also on this page you can get information about taxi fare in Pattaya.

CONTENTS OF ARTICLE ( you can click on the link for quick transition)
Motorbike-taxi in Pattaya
I'll start with the most accessible, widespread and, in the opinion of many tourists, a dangerous kind of city taxi – mototaxi (or motorbike-taxi). Walking around Pattaya (and other cities of the country), you will surely notice a lot of motobikes run by locals in colored vests (green, red, yellow, etc.). These Thai people are moto-taxi drivers, operatively carrying their passengers to their destination or returning to their permanent parking spot, trying to find passengers at the same time. I not accidentally write passengers, because in Pattaya and in general in Thailand, three or more people on a motorbike is a common thing.
Moreover, more than once I saw how a whole Thai family of 4 and even 5 people moved on motobike. At the same time, the policemen did not care about this. Imagine how happy will be our road police, if they will met such a "gift" on the road :). But I'm a bit distracted. Finding motorbike-taxi in Pattaya is not a problem even in places that are not tourist. As a rule, they are on duty at intersections, near major stores, just on the street under special canopies from the sun. In addition, motorbike taxi drivers often attract the attention of tourists with a sound signal if they see the latter as going. By the way, you can see the classic parking of motorbike taxi almost near the every of big crossroads  in pattaya and other thai cities and resorts.
This is due primarily to the very common opinion that the walking foreigner (farang) is one who has not yet found a taxi in Pattaya, and not at all someone who just wants to walk. In most cases, this is really so, because in the hot sun even the Thais themselves prefer not to walk and actively use the services of mototaxists. I was sometimes a little strained by such increased attention to my person from the mototaxists, when I just walked to various places in Pattaya, which are not quite in tourist places and which can not be quickly considered when traveling by transport.
The cost of mototaxi services depends on a number of factors: distance, time of day, number of passengers (1 or 2), destination and availability of luggage. The cheapest way is a short trip up to 2 km, for example, to the nearest grocery store (although in Pattaya it will be difficult for you to find such a store more than 500 meters, ie not within walking distance). Usually the cost of a short trip is 30 baht. If on the  motorbike-taxi will be ride two passengers, then it is quite realistic to bargain for 50 or even 40 baht for the same section of the road. On average, the cost of a motorcycle taxi ride in Pattaya is 50-60 baht per person or 100 -150 baht when you need to travel a long distance, for example, from Pattaya Naklua to Bali Hai Pier or from Pratamnak Cape to Pattaya Northern Bus Station with a suitcase (yes, do not be surprised, the suitcase for mototaxi is not at all an obstacle).
But this is after bargaining, because every self-respecting motorbike-taxi driver never immediately calls the minimum price, for which he agrees to take you to the right place. By the way, useful advice from personal experience. During the bargaining, do not rely too much on the fact that all Thais know the English numerals well. So, one day I came back from the souvenir store Lukdod and agreed that the mototaxist would take me for 60 baht (the original price to Walking Street was 100 baht). When we arrived at the place, the taxi driver, having received the promised 60 THB, began to resent and show on the phone a figure of 80, repeating "sixty baht."
It's good that there were other mototaxists near by with which I managed to convince my that the "sixty" are just 60, not 80. Therefore, I advise always in the bidding process to use the same phone and draw on the screen figures, and not rely on hearing ( If you do not have a phone with you, he will definitely be with a Thai). Also, some motobike taxi drivers like at the end of the journey, when you pay with them, to demand an amount that is more than the original agreement. As I understand, they do it "just in case", but you can just smile and say that the arrangement was such and such. Usually they also smile after that and say OK.
About the fact that many consider motorbike-taxi a dangerous mode of transport. The truth is there, but in my opinion the danger comes solely from the presence of farangs on the road, many of whom like to ride "under the degree" during the rest. In the ability of the mototaxists themselves to manage with their iron friend, I have never had any doubts, so I do not think that one should be afraid of falling or that one can fly into a pillar or a truck. What should be feared when riding a mototax is that the front wind will spoil the hairstyle. Therefore, the ladies who are very concerned about this, I advise you to use other types of taxi in Pattaya.
Songthaew-taxi in Pattaya 
It is an ordinary songthaew ( passenger pickup truck with two benches and a roof), which I described in detail in the article "Transport in Pattaya – public transport routes on the map". The only difference is that this transport goes not on a certain route, and where you need it. Due to the fact that a large number of people can accommodate in the passenger compartment of songthaew, this method is especially beneficial for large families or companies. Even if you are traveling with three other person, the total cost of 120-200 baht per trip per passenger is no more than 50 baht, which is already cheaper than the motorbike taxi. Plus the security of the mode of transport still higher, and luggage can be placed on a bench or on the floor, rather than keep the hand while driving, as it has to do when riding a motorcycle.
Taxi fare in Pattaya also depends on time of day and distance. Of course, in the daytime this type of transport is much cheaper than at night. In this case, it is necessary to bargain during the day: everything is the same as in the case of motorbike taxi. If you want to drive from Walking Street in the middle of the night to a hotel located in the north of the resort (Pattaya Naklua) or in the Jomtien area, you need to be ready for the declared price of 400 and even 500 baht. By the way, a few years ago it was quite possible to travel the indicated distance and for 300 baht, but rich foreign tourists finally spoiled the Thais and they practically do not want to bargain, especially if there are no competitors nearby.
Finding a songthaew-taxi in Pattaya is the easiest next to popular tourist sites: bus terminal and bus stations, markets, supermarkets, hypermarkets and shopping centers, at the Bali Hai Pier, from where many resort guests travel to the beaches of Koh Lan. By the way, it is not at all necessary to look for a special songthaew-taxi, because at the resort it is easy to "take off" any empty passenger pickup, which previously was considered a public transport and was waiting for its 10-baht passengers. After tuk-tuk (songthaew) turns into a taxi, it completely passes to your disposal and does not pick up the other passengers.
Classic taxi service in Pattaya
The most common for tourists is the kind of taxi in Pattaya, which is a classic car with air conditioning. Externally, such a taxi in Pattaya is easy to distinguish by a bright yellow-blue and yellow-green color. This type of taxi is just beginning to spread in the resort but number of cars are not so much, as in other cities, so it's not always possible to simply stop even an empty car on a city street. The easiest way is to find a free car near shopping centers, markets or bus stations, however sometimes the best way is to book a car by phone of taxi service in Pattaya. Although in 2017 the classic taxi in Pattaya is already about twice as large as it was in 2014.
The most convenient time for using classic taxi cars in Pattaya is in the evening. In a day time cars away from shopping centers can be really small amount, and many cars parked at the pavement without a driver. Once I saw that the taxi driver slept so sweetly at the wheel that I was ashamed to wake him. But with the onset of darkness, the classic taxi becomes noticeably larger, especially near the shopping centers of Pattaya. By the way, if you still decide to use an taxi service in Pattaya without a preliminary order, I recommend that you pay attention to the windshield: if the taxi is available, a luminous sign indicates this. Those. If the lamps do not burn, the taxi rides on the call and there is no sense in trying to stop it on the city street.
Since yellow-green taxis work for organized companies, they are required to carry passengers using meters. Therefore, if the taxi driver initially tries to name the price and does not include the counter, hint to him that you will only go with taxi-meter.  Usually after that the counter will be includes, and your trip is cheaper than it would be in case of a pre-agreed price. I remind you that due to the fact that there is a gas cylinder in the luggage compartment of many taxis, you should not expect that you can get to the right place with five passengers and with luggage on one car. In the latter case, it is better to hire a taxi minivan, having informed about it in the taxi service during the order.
By the way, the easiest way to order a taxi in Pattaya, provided that your Thai is far from perfect, you can always be at your hotel, asking the employee about this at the front desk (it is advisable to leave a little tip for it). You can order a taxi and on special racks in the street, but there prefer passengers who need to go not to the terrain, but to the airport. Also, a taxi to Pattaya can be ordered even before arrival in the country, so that the driver met you right at the airport and drove to the resort to the hotel doors. But this is the case if you do not want to save much and get from Bangkok airport to Pattaya cheaply, as I told in the relevant article.

You can use a bonus of up to 35 Euro for registration and coupons for € 10 and $ 50. The best prices for renting a villa with a swimming pool per days!
Easy search of tickets for buses, trains, ferries and transfers in Thailand and other Asian countries (support for many languages).
International online booking service for taxis and transfers from airports around the world. Fixed prices and many payment methods before and after the trip.
Quick search for the best hotel prices right in all popular reservation systems. The service compares and displays the best-priced options for your dates. Discounts for hotels up to 50%.
My favorite site for searching airline tickets. Quick search for the best price from 750 world airlines and from the largest dealers in your region
Easy search and armoring of motorcycles, mopeds and bicycles in Thailand and other Asian countries. Without a pledge of the original passport! Delivery to the hotel!
Rental cars and SUVs in Thailand at the best price and conditions. Fast search right in all popular reservation systems. The conclusion of a lease agreement online in your own language.