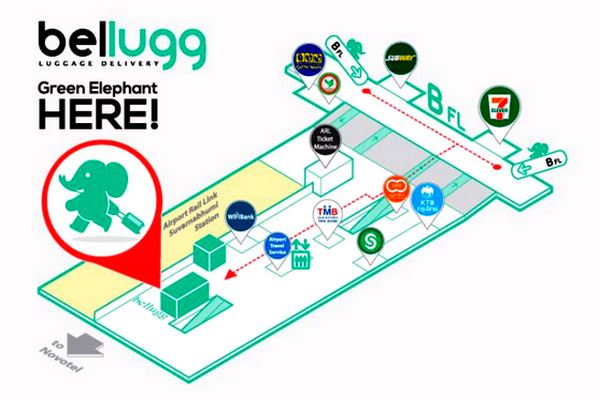 Left-luggage offices at Bangkok Airport are a useful service for tourists who spend their holidays not in the one hotel in one resort, but prefer to travel around the country. Luggage storage is especially popular in the winter months, when many tourists arrive in Thailand in warm winter clothes and shoes. These things take up a lot of space, have considerable weight and therefore they create additional difficulties for traveling in Thailand. Therefore, storing such things at the airport is a good idea. In this article I will talk about the baggage storage service at Suvarnabhumi Airport in Bangkok: the location of 2 baggage storage points, storage tariffs, baggage requirements and the procedure for the left and receipt of your belongings.
Left luggage location at Bangkok Airport
Until 2019, there were 2 luggage lockers at the Bangkok airport, which you could find on the 2nd and 4th floors of the airport under the sign LEFT LUGGAGE. But in 2020, both left-luggage offices operate under a new brand: Bellugg Left Luggage (see photo). The first left-luggage office is located on the 2nd floor of the airport, not far from the escalator and exit No. 4. This is the arrivals area, so I advise you to use the left-luggage office on the 4th floor, because it is there that you will check in for the return flight and it is in the departure zone that buses from resorts, taxis from Bangkok and taxi transfer to Bangkok airport arrive.
Finding a luggage room in the departure area (4th floor) is not difficult. It is located in the area between gates 7 and 8. Having entered one of these gates, you must cross the airport building, i.e. walk past the check-in desks in zones P and Q. Another landmark is one of the huge statues of a demon with a sword from Ramayana, behind which you should notice the signature sign of the luggage storage and the Bellugg logo in the form of an elephant with a suitcase.
Bellugg Left Luggage lockers work hours – around the clock and seven days a week (24/7).
Luggage Storage Rates at Suvarnabhumi Airport
Depending on the size of your backpack, bag or suitcase, you will have to pay a different amount for storage. As you can see in the photo, the cheapest price to store things is up to 55 centimeters (or 22 inches) in size. The first day of storage of your luggage, the size of which does not exceed this limit, will cost you 100 Thai baht (about 3.1 USD). After the end of the first day, a 12-hour tariffication starts, and for each next 12 hours of storage you will be required to pay 50 THB. A bit more expensive storage a luggage, the size of which is in the range from 22 to 28 inches (from 55 to 71 cm). The first day costs 120 THB, and for the storage of each next 12 hours you will be required to pay 60 THB.
Finally, for storage of baggage that is larger than 28 inches (71 cm), you will be required to pay 150 THB for the first day of storage and 75 THB for each subsequent 12 hours of storage. Payment for luggage storage is not made immediately, but at the time of baggage claim, so do not forget to leave the right amount of money. For some reason, in February 2020, you could only pay in cash, but perhaps by the time you use these service at the Bangkok airport, the option to pay by credit card will already be added.
How is luggage checked in for storage
The luggage check-in process at Suvarnabhumi Airport is very simple. There are tablets in the service room with which you enter all the necessary information: your name, country, email address, phone number and, most importantly, passport number. To receive baggage, you will need to show not only a printed receipt with a QR code of your baggage, but also the passport that you specified during the registration process. In the photo below, you can see how the receipt for luggage for storage looks like. I left my main backpack and suitcase in the luggage room, so I had to pay 100 + 120 THB for the first day, although my things were stored for only 7 hours (the departure from Bangkok was at 2 a.m. and I decided to spend time after my eviction from the condo in Pattaya in Bangkok).
What can not be stored at Bangkok Airport
There is a list of things that are forbidden to be left in the luggage storage of Bangkok Suvarnabhumi Airport. Firstly, these are fruits like durian, which have a persistent unpleasant odor. This category also includes food products that can deteriorate during storage and smell unpleasant. Secondly, it is forbidden to leave weapons, ammunition and explosives in the storage room – for obvious reasons. For some reason, sharp objects like scissors and knives, including folding ones, have been added to this category.
Thirdly, it is forbidden to leave valuable items, money, expensive jewelry and consumer electronics in the form of laptops, cameras, phones, tablets, etc. The same category includes alcoholic beverages and glassware. I think you can leave it, but as always: the left-luggage office is not responsible for the safety of this kind of thing. Finally, it is forbidden to take luggage to the storage room, in which there are representatives of the fauna – animals and birds. Thus, there is a whole list that significantly limits the use of lockers at Bangkok Airport.
However, as often happens, the severity of the rules is compensated by the non-bindingness of their implementation. For example, in my luggage there were a lot of fruits, alcohol and several knives. However, none of this was forbidden to be left, although the entire baggage was checked with a scanner. Perhaps because I immediately said that I would pick up my things the same day. On the other hand, if you just flew to Bangkok and want to leave your belongings for a long time, you probably will not have any fruits, no alcohol, or other items that are forbidden to be left in the storage room.
Thus, luggage storage at the Bangkok airport is a convenient service, but the cost of storage is not low, especially when used for a long time. And if your trip to Thailand lasts for two weeks, then the minimum fee for storing one piece of baggage will be 1400 THB (45 USD). Accordingly, if you flew for a month travel, then luggage storage will cost 3000-3600 THB (or 90-115 USD). This is not a small amount of money, and in some cases it is more reasonable to leave things in the country of departure (if the fee for luggage storage at your airport is lower) or even use old clothes and shoes, which will not be a pity to throw away after arriving in Bangkok.
[ad#end]