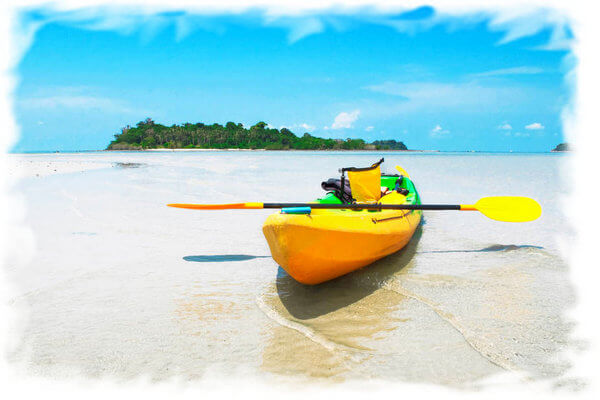 One of the most accessible and interesting active activities on the island of Koh Chang is kayaking. A sea trip on the Kayak on Koh Chang is especially interesting because there is a group of small uninhabited islands near the beaches of this island, to which anyone can reach by kayak. Below you will find detailed information about kayaking on Koh Chang: the cost of this entertainment, interesting places for self-visit on a kayak and the best beaches for swimming on uninhabited islands. You will also learn some of the features and dangers of such a kayaking on Koh Chang. By the way, here you can find useful information on how to get from Pattaya to Koh Chang, as well as how to get to Koh Chang from Bangkok.
Best kayaking spots on Koh Chang
If you come to Koh Chang island and want to take a sea trip on a kayak, you can be sure that even on the smallest beaches, which have at least 1-2 hotels, you will find such a service as renting a plastic kayak for an hour, 4 hours or all day. And if your hotel on the island of Koh Chang is located on one of the popular beaches with developed infrastructure, then you will certainly find kayak rents every 100 meters of the beach. In other words, in Koh Chang has no problem finding a kayak for a sea trip.
But if you want to take an interesting walk to the uninhabited islands, and not just go kayaking along the shore of Koh Chang island by sea, then the best option is to rent a kayak on the beaches of Kai Bay or Lonely Beach. Kayaking in the southern part of Koh Chang, where there is also a group of islands, can also be interesting. But very few tourists get to that part of the island, and several times I took a kayak trip from Kai Bay beach, so I can tell you about such a sea adventure in detail and based on personal experience.
On the map above, you can see the coastline of Koh Chang Island and the beaches of Kai Bay and Lonely Beach. You can also see a group of uninhabited islands, which are indicated by numbers from 1 to 4. As you can see, it is most convenient to rent a kayak in the southern part of Kai Bay beach or from the northern part of Lonely beach (marked in yellow on the map). In these cases, you will have to spend less time and effort to get to all the islands, spend some time there and return the kayak to the rental point on time, without overpaying for extra hours.
The cost of renting a kayak on Koh Chang
To rent a kayak on Koh Chang, you do not need to fill out an agreement and leave your signature, but in most cases you will have to leave a deposit. It can be a sum of money or your passport. In such cases, I prefer the idea of a cash deposit, especially since the amount is not too high and amounts to 1000 THB. The standard kayak rental prices for Koh Chang Island are:
★ 100 THB per hour
★ 300 THB in half a day (4 hours)
★ 500 THB per day (8 hours)
The price is for renting the entire kayak, while kayaks are most often 2 or 3 seater. For example, the first time I rode a kayak to the islands with two friends, and each of us paid 100 baht for 4 hours. And the second time I was alone and paid 300 baht for a double kayak for the same time. It should be noted that I did not see full-fledged triple kayaks on Koh Chang. As a rule, on the beaches you can find plastic kayaks for three passengers, but with two double-sided oars and two full places. The third place in the central part of the kayak is not very convenient and is more suitable for a child than for an adult.
Kayaking on Koh Chang – places to visit
Ko Yuak Island
Before going on a kayak boat trip, I recommend buying plain white bread for toast at any 7Eleven or Tesco Lotus Express store (you can find all of these stores in the Kai Bae beach area). This product comes in handy when visiting Ko Yuak Island (No. 1 on the map). Depending on the direction of the waves and their height, you will need to spend 40 minutes to 1 hour on the way to the island (about 3 km). A feature of this island is a small sandy beach on the east coast (which is closest to Koh Chang), clear water of emerald color and a huge number of bright striped fish.
It is for feeding fish that I advise you to take white bread in the store, because this is an unforgettable experience – feeding fish directly from your hands! In the morning, you can sunbathe on the beach, but closer to noon and in the afternoon time the sun hides behind the high coast of Ko Yuak Island. In addition to relaxing on a small beach with swings, swimming in the clear water and feeding fish on the island of Ko Yuak, there is nothing to do. You can try to climb the rocks island, but the jungle is very dense and there can be poisonous snakes, so entertainment can be dangerous. After all, there is not always a speedboat with tourists on the beach, on which you could quickly get to the shore to get medical help.
Ko Pli island
The second island you can visit during a kayak boat trip is called Ko Pli. It is the smallest island, but it is located very close to Ko Yuak and may be interesting to visit. Its main feature is the coast in the northern part, where it is most convenient to moor in a kayak. Small beach covered with a thick layer of dead corals. Because of this, while walking along the coast, an interesting sound is created. There is a small shady meadow where you can have a picnic (please do not leave trash after yourself). But you cannot completely to be alone there, because From time to time, other kayaks will moor to the island. It is impossible to approach to other sides of Ko Pli due to sheer smooth cliffs and reefs (from the open sea side).
Ko Man Nok island
The third island you can visit is called Ko Man Nok. This island is about 2 times larger than the island of Koh Pli, but you can also carefully moor on one side only. In other places, the shores of this rocky island are too high and formed by not very high, but steep cliffs. I did not go ashore on Ko Man Nok, but I saw that even during a high tide, there was the opportunity to carefully go down into the water near the shore and pull the kayak to land. I think there's nothing to do on Ko Man Nok either, but if you are kayaking with your soulmate, you can have a little picnic. The main thing is to carefully look under your feet so as not to meet with poisonous snakes or scolopendras.
Ko Man Nai island
This island (No. 4 on the map) is located closest to Koh Chang, and you can visit it even as part of a 1-hour kayak rental. The size of the island almost coincides with the island No. 1 (Ko Yuak), but for a number of reasons this island may be the most interesting to visit. From the sea side in the rocks there are several grottoes where you can see many large crabs. The water in the grottoes has a bright blue color, which in combination with light cliffs makes such grottoes very picturesque (you will definitely get beautiful photos). It's difficult to land on a kayak and go ashore in this part of the island because of = high rocks and reefs in the water. The reef area on the map is marked in red and you must sail very carefully so as not to damage the kayak or oars. And at low tide due to the shallow depth, you won't be able to swim at all near this part of Ko Man Nai.
But in the north-eastern part of the island is the most picturesque beach, which you will see during a boat trip on a kayak on Koh Chang. The beach has a length of more than 50 meters and consists of fine sand. This makes it easy to moor in a kayak and get a good rest. On the beach, tall coconut palms grow and the relief of the island in this part is more or less flat. There is only one drawback at the beach – a shallow depth. It is very important to choose the tide time for visiting Koh Man Nai when you get the most out of swimming here. During low tide, the water level drops rapidly and during swimming you can scratch your knees against stones in the water. Most of the stones are small in size and rounded in shape, but there are also sharp stones, contact with which will be unpleasant.
The island of Ko Man Nok is convenient to visit last, because the distance to the coast is only about 600 meters. At the same time, the distance to the nearest stretches of Kai bae and Lonely beach is approximately the same, approximately 700-800 meters. This means that you can overcome this distance on a kayak in 20 minutes without any problems. In other words, you can stay on Ko Man Nai for as long as your kayak rental time allows. And then go to Koh Chang 25-30 minutes before the end of the lease (the nearest rental points can be reached in 15-20 minutes).
Tips Before Kayaking on Koh Chang
As with any outdoor vacation in Thailand during daylight hours, be sure to use sunscreen (even in cloudy weather). At the same time, even when using a cream or spray with a protection factor of 50+, you need to reuse the cream every hour. Read more about this in the article "How to sunbathe in Thailand correctly." I also recommend using hats and glasses that will help you avoid heat stroke and help keep your eyesight.
As I mentioned above, to visit the island of Ko Yuak it is better to grab white bread (the usual price is 35 baht or 20 baht for half). ALWAYS take water with you, at least a liter for each (with a tour duration of 4 hours). On the islands there are no high cliffs with waterfalls and springs, so it will not be possible to replenish the supply of water. While working with oars, you will spend a lot of energy, which will need to be replenished with food. Bring something tasty and high-calorie with you (also take a garbage bag, as there are no garbage containers on the islands).
Dangers during a kayak sea trip in Koh Chang
When going out on the open sea, be sure to use the life vest that you will receive at the point of rental of the kayak. Make sure the vest is properly worn and fastened. While driving on a kayak, it is better to be in a sitting position and not swing the kayak. For this, it is also important to work the paddle evenly on the right and left sides of the kayak. Speedboats and yachts that sail near your kayak are a danger. Large motor boats create a high wave, which can cause the kayak to roll over. In fact, a kayak should not drown, and you, being in a life jacket, also. But it's better to deploy the kayak perpendicular to the big wave and wait until wave passes under you.
The design of kayaks allow ensure that water can easily penetrate under your "fifth point". To protect your clothes and phone from sea water, I recommend using a special sealed bag. I was kayaking in swimming trunks, and my things and clothes were in the OCEAN Pack – a yellow sealed bag. You can order it online or buy in Thailand. Sealed compartments in the kayak can also be used. During my first trip in a triple kayak I kept clothes in such, but in a double kayak such a sealed compartment seemed to me very uncomfortable.
Use extreme caution when using a kayak near the islands. As I wrote above, the shores of uninhabited islands near Koh Chang are 90% rocky, while sharp stones are in the water off the coast. Therefore, when maneuvering around such islands, move in a kayak slowly and carefully so as not to pierce the bottom of your boat against another sharp stone. Remember that a kayak, even with a few passengers, can easily be thrown by a wave. For this reason, try to keep a distance of several meters from the rocks. And while approaching the rocky shores, it is better to carefully descend into the water and pull the kayak ashore. Also, be careful with plastic oars – they can break when actively pushing away from stones in the water or the bottom.
Thus, a kayak sea trip on the island of Koh Chang is actually an interesting active entertainment that will appeal to both adults and children (accompanied by parents). This is one of the good ways to have fun and interestingly spend several hours on Koh Chang, see beautiful places and feed bright sea fish with your hands. I hope the information on this page will be useful to you and you can be well prepared for your swim and enjoy the safe and interesting kayaking around the islands near Koh Chang. Have a nice trip!

Easy search of tickets for buses, trains, ferries and transfers in Thailand and other Asian countries (support for many languages).
International online booking service for taxis and transfers from airports around the world. Fixed prices and many payment methods before and after the trip.
Quick search for the best hotel prices right in all popular reservation systems. The service compares and displays the best-priced options for your dates. Discounts for hotels up to 50%.
My favorite site for searching airline tickets. Quick search for the best price from 750 world airlines and from the largest dealers in your region
Easy search and armoring of motorcycles, mopeds and bicycles in Thailand and other Asian countries. Without a pledge of the original passport! Delivery to the hotel!
Rental cars and SUVs in Thailand at the best price and conditions. Fast search right in all popular reservation systems. The conclusion of a lease agreement online in your own language.