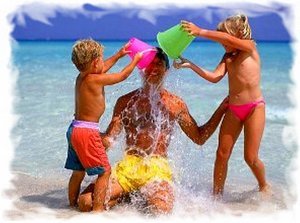 Travels to Pattaya with a kids are becoming more popular every year, because this resort in the Gulf of Thailand is rapidly transforming from a city for single men to a real family resort, and a vacation with kids in Pattaya is truly full-fledged and interesting for both adults and children . Do not be afraid that children in Pattaya will be bored: today there are so many entertainment facilities in the resort and its environs that to visit each of them at least once you will have to make more than one trip to Pattaya with a kids. The text contains links to other articles on the site, each of which in more detail reveals one of the aspects of a holiday in Pattaya with children.
I'll note right away that if your child is very small, then like in all other resorts of the world without exception, the kid will have to entertain either on his own or you need use special animators for small children. If the children in Pattaya are a bit older, i.e. age of three years or more, then you should not worry about relaxing with kids in this resort at all. Moreover, in all of Thailand there is no other resort where the issue of relaxing with children would be thought out as carefully as in Pattaya.
Holidays with children in Pattaya: visiting excursions
The excursion program in Pattaya can be envied by many other popular world resorts, especially since many such excursions not only allow you to look at exotic animals, fish, butterflies, birds, but also become witnesses of fascinating theatrical performances and performances in which all kinds of animals are involved. Going to Pattaya with your kids, you can be sure that they will like the performances of elephants playing football and basketball, like giraffes and little cubs, which your kids can not only stroke, but also hold on your lap, feeding milk from a bottle.
Children of a slightly older age are likely to be interested in shows with snakes and crocodile shows, a visit to the butterfly park and an orchid park, a visit to the Pattaya dolphinarium and the oceanarium, which contains interesting inhabitants of the deep sea. In order not to repeat myself, in this article I will not describe where and what is described above: in more detail you can read about this in a separate article, "The Best Excursions in Pattaya: Description and Prices". I can only add that you can save up to 60% of your money on entry tickets, excursions and transportation in Pattaya and other countries of the world if you use the Klook service and order everything online in your first language.
In addition, there are a number of excursions that may be of interest to both kids and adults. For example, an excursion to the Kwai River, which includes such interesting places for children as swimming in the crystal clear Erawan waterfall with exotic fish and rafting in special vests along the river (for children from 5 years old). Children in Pattaya can also be taken to the grandiose Safari World Zoo in the vicinity of the Thai capital, the tiger zoo in Siracha (Siracha Tiger Zoo), the Khao Kheo Open Zoo and other interesting places in the vicinity of Pattaya and Bangkok.
To Pattaya with a child: adventures parks
Almost all children in Pattaya will certainly beg you to visit one of the amusement parks that they are likely to hear about from other children vacationing with you in one of the family hotels in Pattaya. With the amusement parks in Pattaya, everything is also in order, more precisely not in Pattaya itself, but closer to Bangkok, but even small children can endure the hour and a half bus ride, not to mention the older children. Going on vacation with kids to Pattaya, you should be prepared for the fact that you have to take them to the Dream World, which is rightly called the Asian Disneyland.
In addition to the attractions for children of all ages (and adults too), this park constantly hosts performances for the youngest, theatrical parades with the participation of cartoon characters, performances of stuntmen, dynamic scenes from real action movies, etc. Discounted Dream World tickets can also be bought at Klook. By the way, in the vicinity of Bangkok there is another amusement park called Siam Park Adventure.
This park is known for its huge water zone, one of the largest swimming pools with artificial waves in the world, as well as attractions that are designed more for older children, so if you are going to Pattaya with a child older than 10-12 years old and you want to not only entertain him, but also to get vivid impressions for yourself, I advise you to choose this particular park. Whatever recreation park you choose, I advise you either to go there yourself and as early as possible, or choose excursions where you are guaranteed a greater amount of time to visit the parks, because most likely the children will not want to return to Pattaya, until they will finish watching everything and tryed every rides.
If the bus crossings do not attract you or are poorly tolerated by your children, there is an alternative option with attractions that has already been appreciated by many children in Pattaya and their parents. I immediately warn you that despite the lack of the need to move to another city, you won't save much, because the attractions in the Pattaya Royal Garden Plaza shopping center are the most modern, so they are not cheap. However, when buying tickets for the whole family through Klook service, you can save a lot of money. In this article, you can clarify the location of the Royal Garden Plaza shopping center in Pattaya, find out the cost of tickets and get an idea of ​​the attractions there.
Water Parks for kids in Pattaya
In cases where you do not want to spend the whole day visiting any excursions and want to spend as much time as possible in the sun by the water, it makes sense to visit the water park in Pattaya, located on the territory of the Pattaya Park Hotel. Entrance to the water park is paid for everyone, including tourists living in the hotel, but it is very democratic and is only 60 baht for children (growth below 1 meter) and 100 baht for adults. The water park is known for its high water slides as well as a large ring-shaped pool.
The territory of the water park is well ennobled, and in addition to the slides and pools on the territory there are a sauna, a jacuzzi, a fitness center, jogging paths, a diving center and other entertainments. As a result, both adults and children can relax there and use their health benefits. If rest with children in Pattaya has already tired you a little and you just want to relax a bit from them, sunbathe and swim – the water park of Pattaya Park Hotel is a great place for this. While the children frolic on the water slides, you can sunbathe and relax under the umbrellas on the sun loungers by the pool, drinking Thai beer or chilled soft drinks in Thailand, tasty and healthy.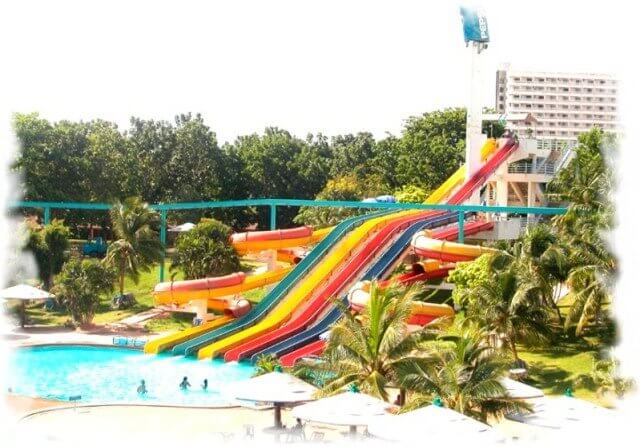 If you are going to Pattaya with children and want to visit real modern water parks in the Pattaya area, I recommend the ultra-modern Ramayana water park for this, which was opened in April 2016. This water park is located just 15 km from Pattaya and amazes with its grand size, a set of water slides, as well as other water attractions for adults and kids in Pattaya. Of course, its cost is much higher than the cost of Pattaya Park water park, but it should be borne in mind that huge amounts of money are invested in the object and the result at the exit is impressive.
A big advantage of the Ramayana water park in Pattaya is the relatively small number of visitors. For this reason, there are almost no queues on the water slides and you can use them as often as you want. An alternative to the Ramayana water park is Pattaya's second major water park – Cartoon Network. It was built before, but is still an interesting holiday destination for children and adults. You can also buy entrance tickets to both water parks with a good discount using the international service Klook.
Beach holidays with children in Pattaya
If you live away from the sea, rivers or lakes suitable for swimming, your kids in Pattaya will be very happy to have the opportunity to swim in the warm sea and play on the beach of soft sand with other children under the warm sun of Thailand. Since the sea in Pattaya itself cannot boast of the highest transparency and cleanliness, it is better to relax with children not in the city itself, but on the coral island of Koh Lan, nearest to it, where the conditions are much better: there is no city noise, more warm and clean water and etc. In addition, you can get from Pattaya to Koh Lan island by ferry for only 30 baht per person one way, which is less than $ 1.
This is not the only way to get to the island. If you want to slightly reduce the travel time, you can buy tickets for 150 baht (round trip) and get to Koh Lan by a large boat, which immediately goes to the excellent Samae Beach. Finally, there are high-speed speedboats that will take you to any of the island's beaches for 300 baht. Read more about this in the article "How to quickly get to Koh Lan Island from Pattaya." The truth is that on a child's speedboats it can be rocked, which is not very useful during a vacation, therefore, when choosing this option, individual characteristics of the child should be taken into account.
It should be noted that the island of Koh Lan is not uninhabited and secluded and there are really a lot of people there. But even at the peak of the season there are always plenty of free places, because many beaches of the island of Koh Lan have over 500 and more meters, and such beaches on the island, despite its not too large size, are many. Given the fact that many people come to the island for just a few hours, the best time to relax there is in the morning and after five in the evening, when most tourists leave the island. The latter circumstance allows us to think about not just relaxing with children on this island in the midst of, but also arranging for ourselves a long vacation in a hotel on the island of Koh Lan, which has many advantages.
If you do not want or do not have the opportunity to leave the city during your holidays with children in Pattaya even to visit a nearby island, good quality entertainment can also be found in the city. Earlier, I did not recommend going to Pattaya with a child to the central beach, since there is murky water and very noisy (a busy street nearby), however, after reconstruction in 2019-2020, the beach became several times wider and the water can be quite clean, especially in northern part of this beach. Therefore, a vacation with not the smallest children in Pattaya there may also be normal. But for young children, it is better to choose beaches in the north or in the south of Pattaya, because on the Central Beach there is now great depth already a few meters from the coast and there can be big waves.
In the article "All Pattaya Beaches: Overview and Detailed Description" you can find out the location and main features of each of them, their main advantages and some disadvantages. Ultimately, this should help to choose the most suitable for families with children in Pattaya hotel. Many of the resort's beaches are not so bad in reality, as you can read about it on the Internet, and almost every one of them has a standard set of necessary beach activities that all children in Pattaya will be happy with. However, I still advise at least once to go to Koh Lan Island, because you will get your own idea of ​​the differences between city and island beaches only by visiting both of them. Just remember that you need to sunbathe in Thailand correctly, otherwise your vacation will be ruined.
To Pattaya with a kids: which hotel to choose
Going on vacation with your kids to Pattaya, you must take care of a suitable hotel in advance. Many hot tours, which can be purchased shortly before departure, do not at all correspond to a family vacation with children, because their location in the city center and the absence of their own territory greatly complicates the vacation, especially for parents of children in Pattaya. To understand where it is better to relax with children in Pattaya, I advise you to read the article "Which area in Pattaya to choose for living and relaxing" by clicking on the link.
The best choice for a family holiday would be hotels that have their own territory with a landscaped garden and pool (with a children's section). As a rule, this ensures that in addition to you and your children, the hotel will also have other couples with children, with whom your children will be interested to play together, which will allow you to take a break from them. To be guaranteed to settle in a good hotel with a swimming pool and its own territory, you should take care of finding it in advance. To do this, you can either book a pre-arranged tour, or book a hotel yourself, using the list of the best family hotels in Pattaya.
Holidays with children in Pattaya: precautions
When planning to relax in Pattaya with a child, it should be remembered that children have less immunity and stamina than adults, so when you relax in hot countries, including Thailand, you should be careful about their health. Ultimately, this will save you from many problems and allow you not to spend precious days of rest on the treatment of completely unnecessary diseases and the consequences of improper rest. By the way, I advise adults and especially children to take out travel insurance abroad, which in many cases allows you to feel more secure, because according to the "law of meanness" all kinds of troubles happen to those who do not have such insurance.
If we talk about other precautions, be sure to take care of the availability of medicines that can be useful for your children in Pattaya and you doubt that you can buy them in Thailand. In general, I advise you to read the article "What medicines to take to Thailand", which will allow you to collect a balanced and not too heavy first-aid kit, and also warn against possible problems at the border when transporting certain medications.
I think it's not even worth reminding that for most of the year children in Pattaya will be hot, because Thailand is a country of eternal summer. Therefore, children's clothing should be light and breathable. The ideal option is to bring along clothes made from natural cotton and linen. By the way, all kinds of cotton t-shirts can be bought in Pattaya at ridiculous prices, so you should not get a lot of them from home. Details about what clothes, shoes and other useful things should be taken with you on vacation can be found in the article "What to take to Thailand for relaxation," so I will not dwell on this issue.
The issue of food while relaxing with children in Pattaya is one of the most important. Even in the process of choosing a hotel, I advise you to clarify the issue of the presence of European cuisine familiar to children. I think in 95% of cases the answer will be yes, but it never hurts to check. Of course, you should not deprive children of the opportunity to try real Thai cuisine, whose dishes with not too many spices are tasty, nutritious and healthy.
Just do not let the children eat a lot of everything at once, because in this case you will not be able to understand what exactly the child's body is not quite willing to accept (if this suddenly happens). By the way, this also applies to the fruits of Thailand, many of which do not mix well with each other, so it is better not to try many new species at once. If you are resting in Pattaya with a child, carefully monitor that he drinks plenty of water and other liquids, which will protect him from dehydration under the hot sun.
Going on vacation to Pattaya with young children, there is no need to purchase a large number of baby food, diapers and wet wipes – all this is easy to find both in large stores in the city and in many small stores in Thailand, for example, in the SevenEleven network. I hope this article gave you the necessary answers to questions about relaxing with children in Pattaya and now you know for sure that you can and should go to Pattaya with your kids, because children in Pattaya will certainly find interesting entertainment for themselves. And after reading this article and other articles on this site, you will help them with this. I wish you a pleasant and memorable vacation in Pattaya with your kids
[ad#end]