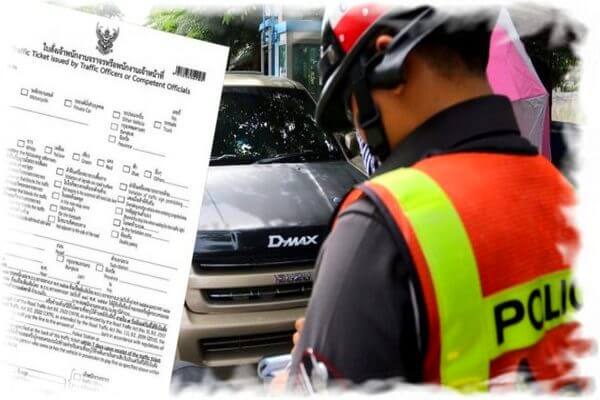 A few days ago, amendments to the Administrative Code came into force in Thailand concerning the amount of the fine for violation of traffic rules in the Kingdom. In accordance with the amendments, all violations were divided into 4 large groups, each of which implies a certain amount of fine: from 200 to 1,000 Thai Baht (THB). Below you will find information about the fine you will have to pay for driving without a license, for using a mobile phone by a driver while driving, driving on a sidewalk, violation of the use of light and sound signals, etc.
The law that regulates the rights and obligations of drivers, passengers and pedestrians in Thailand has been in force since 1979 and is called the Ground Traffic Law. Since September 2020, all traffic violations have been divided according to their severity into 4 large groups.
The first group of violations, the fine for which is only 200 THB, included driving a vehicle (including a motorbike) without a driver's license (including when the driver has a valid driver's license, but cannot present it to a traffic police officer). In fact, this is great news for foreigners who use rented motorbikes in Thailand, but do not have an international driver's license or Thai driving license. Until now, such a violation was considered more rude and ended with the need to pay a fine of 500 THB.
The second group of traffic violations in Thailand included: creating obstacles on the road and reckless driving. The fine for such violations is 400 THB, regardless of the type of vehicle. Another 100 THB more will need to be paid for exceeding the speed limit in settlements and outside them, for driving a vehicle without state registration or established license plates, for non-observance of road markings and road signs, for using a mobile phone without additional equipment (hands free). Also, 500 THB is assessed for driving at a red traffic light, not giving an advantage on the road to an ambulance, for parking a vehicle in the wrong place or leaving a vehicle in such a way that it obstructs the movement of other road users or pedestrians.
The maximum amount of the fine is 1000 THB. It is intended for drivers who drive vehicles carrying dangerous objects or explosives without special identification marks. Also, a fine of 1000 THB will have to be paid by drivers of vehicles that are a source of increased noise or smoke. Finally, unscrupulous taxi services (for example, not taking a client to the final destination of the route or using a deliberately longer route in order to increase the cost of the service) were included in the same category.
Thus, the new fines are now clearly spelled out in the legislation and it is hoped that the Thai traffic police will use only these fixed fines. Unfortunately, I have found no information on the amount of the fine for riding motorbikes and motorcycles without a helmet. And in any case, I recommend not to relax with the reduction in the penalty for driving without a driver's license. After all, the absence of a helmet can significantly increase the amount of the fine, and driving while intoxicated can generally lead not only to a fine, but also to criminal liability and problems with visiting Thailand in the future. Good luck on the road!
[ad#end]